People of the Bookshelf, Organize!
Earlier this week, Pulitzer-winning author Geraldine Brooks wrote an article for the Guardian entitled "People of the Bookshelf" (and if you're reading this, you're certainly one of us). In it, she talks about her unusual method of organizing her bookshelves:
"I start out conventionally enough, alpha by author. But while I take account of the first letter of the writer's surname, I have other ambitions for my shelves that transcend the conveniences of mere alphabetical accuracy. It's impossible for me to place one book alongside another without thinking about the authors, and how they would feel about their spine-side companion.
"I arrange my shelves as I would seat guests at a dinner party. Anne Tyler and Anthony Trollope both seem devoted to a diligent scrutiny of manners. So I imagine them, shelved side by side, comparing notes on the mores of their respective eras.
"I thought I was alone in my craziness, until I confessed it to a friend whom I consider a model of sanity in most respects. 'That's nothing,' he said. He confided that he had a 'punishment shelf' in his garage, reserved for writers he does not like."
My own shelves are arranged, very very loosely, by category in nonfiction. But in fiction, a nearly complete set of Tarzan books (the original editions, from my father) shares space with Shakespeare and Dorothy Parker. I call them all classics.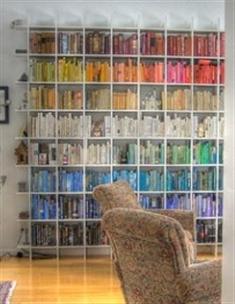 We wondered, on Twitter and Facebook, how you shelve your books. A good number of you don't organize at all (Deborah wrote: "very randomly--life's more adventurous that way"), while most stick with the tried-and-true alphabetical; shelving by color is popular, too. @bookletting replied: "1st, by when I read them." @Peacock10 does it "By height. Tall to short then to tall again. My eye needs symmetry." And @StaceyLMason organizes "by how a book made me feel."
Hmm, I think I feel the urge to reorganize.... --Robin Lenz, managing editor, Shelf Awareness