The Neversink Library
Melville House's recently launched Neversink Library (named after the frigate in Herman Melville's White Jacket) is ferreting out books that most of us have never seen and bringing them to readers in handsome editions at reasonable prices. Among the first 22 titles: My Autobiography by Charlie Chaplin, A Country Doctor's Notebook by Mikhail Bulgakov, The Polyglots by William Gerhardie and I Await the Devil's Coming by Mary MacLane.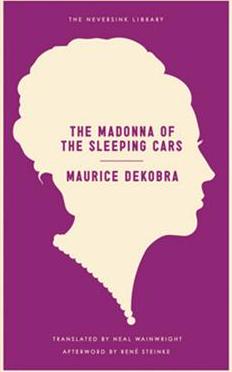 One of the long-lost novels is The Madonna of the Sleeping Cars by Maurice Dekobra. Such was its popularity upon publication in 1927 that Dekobra's prose style earned its own adjective, dekobrisme. Originally published in French and translated by Neal Wainwright, the novel details the travails of Lady Diana Wynham, faced with the prospect of financial ruin. She and her secretary, Prince Gerard Séliman, the perfect gentleman, must find a way to regain the fortune that Lady Diana needs to preserve her way of life. The adventures of poor Gerard are interspersed with Dekobra's encyclopedic knowledge of the world just after the Russian Revolution, and how badly it has shaken Europe.
Gerard must face spies, old and new loves, secret police and all the hazards to hygiene that a true gentleman abhors. And why is Lady Diana called the Madonna of the Sleeping Cars? Because she boards trains in search of her next sponsor--and is always successful.
The novel was so popular that several authors mention Dekobra and The Madonna in their own books, like Alan Furst did in The Foreign Correspondent: "The dark adventures of Lady Diana Wynham, siren of the Orient express, bed-hopping from Vienna to Budapest, with stops at every European watering place."
Surely a book well worth resurrecting. --Valerie Ryan, Cannon Beach Book Company, Ore.