The Great Pumpkin Lives
It all started with a book cover. In the latest University of Washington Press catalogue, one cover caught my eye: vibrant orange, the word "pumpkin" in white. I instantly visualized bright bookstore displays with the book as centerpiece. But it's more than a pretty cover--Pumpkin: The Curious History of an American Icon by Cindy Ott is a fascinating look at how a simple squash became mythic. We drive to the country to harvest a vegetable (really a fruit) that we don't eat, but could; instead, we buy canned pumpkin for our pie fillings. We carve pumpkins into elaborate shapes.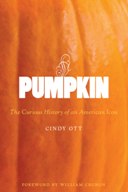 As William Cronon says in the introduction, our world is filled with things we take for granted: "Only when we ask how they came to be... do we recognize how strange and wondrous they truly are." That's what Ott does with Pumpkin. When and why did we relegate the pumpkin to a twice-a-year appearance? Before the late 19th century, pumpkin appeared in beer more often than dessert, although with Lincoln's 1863 proclamation of Thanksgiving as a national holiday, the pie die was cast. In contrast to the humble, nurturing, quintessentially American pie is the jack-o'-lantern: the "wild and mischievous" master of ceremonies for pranks and trick-or-treating. But Ott doesn't just discuss dessert and Halloween; farming practices, our ideas about nature and the purity of rural life, the creation of a pumpkin that does not reproduce but is easy to paint, the infusion of pumpkin patches with moral values--all contribute to a captivating book about an iconic American symbol.
But back to the painted pumpkin idea. I got this site from Robert Gray, one of our writers: Carving Hacks. When I wondered, Where are the pumpkin Daleks?, he sent this. Get out the knives! --Marilyn Dahl, book review editor, Shelf Awareness