Books About Bookstores
We've already noted that there are plenty of books about books and reading this year (see our October 9 and October 12 issues). And, of course, there are books about bookstores.
Wendy Welch is a bookstore owner and author (The Little Bookstore of Big Stone Gap, St. Martin's Press). She and her husband had always dreamed of owning a bookstore, so when they moved to an Appalachian coal town in Virginia, they did it. Without experience: she said, "Clearly, we need more inventory." He said, "Clearly, we're out of money." But as they figured out how to run the store, they became part of a community, and "it quietly returned us to a balanced and honest way of living, neither smug nor grim.... We are so very, very rich."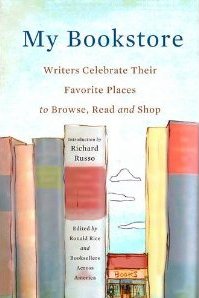 In My Bookstore: Writers Celebrate Their Favorite Places to Browse, Read and Shop, edited by Ronald Rice (Black Dog & Leventhal), 84 well-known writers pay homage to the stores they love, where, in the words of Ivan Doig, they feel blessed. Doig has a charming story about a signing where a young woman who had "I am haunted by waters" from A River Runs Through It tattooed in a circlet on one ankle, and wanted words of his for the other. They decided on "Fell love's music everywhere." Delightful.
But not all customers are as delightful. In Weird Things Customers Say in Bookstores (Overlook), bookseller Jen Campbell has collected, with the help of other booksellers and librarians, almost 200 pages of hilarity from her blog (and she is collecting more for a sequel). From asking an employee to fake Margaret Atwood's signature to asking a bookseller to babysit for just a moment to asking if a bookstore sells used e-books, customers are featured in all their craziness (and no doubt waiting for their turn at compiling a book). --Marilyn Dahl, book review editor, Shelf Awareness