The Silver Linings Playbook
After some early festival showings, the movie The Silver Linings Playbook opens today, and I will be at a theater--with anticipation because The Silver Linings Playbook is one of my all-time favorite novels; and with trepidation, because we all know what can happen with screen adaptations. I asked author Matthew Quick what he thought about the movie, and he had no hesitation with his enthusiasm.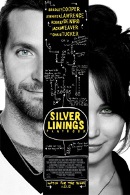 Quick loves David O. Russell's adaptation and feels as though "the spirit of what I was trying to do is respectfully preserved. It's a Russell film, and he had to make changes to make the story work in two hours of visual time, but my friends and family have seen it and they saw me and my story up there as well, which is a beautiful thing. Like the book, it's a love song to Philly, my home city. Jennifer Lawrence is amazing as Tiffany, and her interpretation is closest to the book. Anupam Kher plays Dr. Cliff and he also stays very close to the book. He has starred in hundreds of Bollywood films, but it was his dream to be in a film with De Niro. When he got the part, he wrote me an e-mail thanking me for writing a well-rounded Indian character that gave him a chance to fulfill his life-long dream. When you put art into the world, you create opportunities for others. I never dreamed that would happen when I was writing, but it did. So as you can see, it's been an exciting time. I fully embrace the film, and encourage people to read the book first. You need both for the complete experience."
Now in a movie tie-in paperback, the novel--engaging, poignant and sweetly funny, with some wild forays into the blood sport of Eagles fandom--is about a man's search for happiness after heartbreak, and learning about true silver linings, not pretty happy endings. It's a gem. --Marilyn Dahl, book review editor, Shelf Awareness