Gift Books: Cheep
Today we highlight some delectable bird books, with one detour into the realm of boids: Ralph Steadman has produced 100 portraits of Extinct Boids (Bloomsbury, $50). With commentary by Ceri Levy,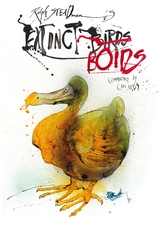 Steadman's paintings include true extinct avians like the Lanai Hookbill, mixed with imaginary birds like the Blackened Thront, which "looks like how we have all felt on certain mornings in our lives. Pretty damn shabby."
Delicacy and lushness fill Drawn from Paradise: The Natural History, Art and Discovery of the Birds of Paradise with Rare Archival Art by David Attenborough and Errol Fuller (Harper Design, $45). Introduced in the 16th century to Europe from their New Guinea habitat (where they were revered), birds of paradise stun and amaze with their exotic beauty. This book certainly does them justice. More striking beauty can be found in Beautiful Pigeons by Frank Povah, photos by Andrew Ferris (Ivy Press, $19.95 paper; also available as a calendar). From the Jacobin on the cover, alluring in its coy flamenco pose, to the Chinese owl with reverse neck feathers, these pigeons are all captivating.
The Mating Lives of Birds by James Parry (MIT Press, $29.95) is also captivating, in both text and photographs. The description of the Superb Lyrebird's monumental tail feather display, accompanied by "a dramatic supporting artillery of movement and sound," sent us straight to YouTube. A more practical book, filled with lovely watercolors, is The Illustrated Guide to Ducks and Geese and Other Domestic Fowl by Celia Lewis (Bloomsbury, $20). How to choose fowl, raise them, even advice on how to catch your peacock if you need to.
Columbia University Press has published the charming Bright Wings: An Illustrated Anthology of Poems About Birds ($16.95 paper). It's edited by Billy Collins, with paintings by the renowned David Allen Sibley; it's sure to include a poem of your favorite bird (like "Redwing Blackbirds" by Robert Penn Warren: "If singing is what you call that rusty, gut-grabbing cry/ That calls on life to be lived gladly, gladly.") --Marilyn Dahl, book review editor, Shelf Awareness