Gift Books, Miscellany
Yes, we have still we have more gift books to suggest: the University of Alabama has published Circling Faith: Southern Women on Spirituality, edited by Wendy Reed and Jennifer Horne ($29.95). In this rich collection, 20 writers--"crossing faith, class and denomination"--have contributed essays on, among other subjects, growing up as a Jew in Tennessee, finding healing through art and Eastern Orthodoxy, calling God "Mama."
Part of spirituality is being in the moment, but how? Christina Rosalie has written and illustrated a guide "exploring the fabric of the present tense": A Field Guide to Now (Skirt!, $18.95). Each chapter is bookended by the front and back of a postcard, with a specific invitation to engage in the moment. Specific moments of joy are the subject of A Private History of Happiness by George Myerson (BlueBridge, $19.95), with 99 descriptions of everyday happiness from different ages and places--from "A Tasty Dinner in a Rustic Tavern," written by Cyrus P. Bradley near Sandusky, Ohio, in 1835, to "A Handful of Refreshing Well Water" by Lady Sarashina, Kyoto, in 1050, to Marcus Aurelius's "The Urge to Linger in a Warm Bed."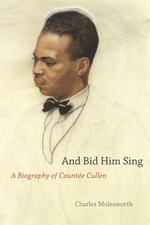 If you are familiar with Countée Cullen, you'll be drawn to And Bid Him Sing by Charles Molesworth (University of Chicago, $30), the first comprehensive biography of "the poet laureate of Harlem." If you are not familiar with the poet whose most familiar line may be "What is Africa to me?" you will be drawn to the book by the cover: Winold Reiss's striking pastel portrait. --Marilyn Dahl, book review editor, Shelf Awareness