Gift Books, Miscellany the Next
Still shopping? We have more ideas for your gift-book needs. Curious about eccentric characters or cross-cultural pioneers? Check out Professor Risley and the Imperial Japanese Troupe by Frederik L. Schodt (Stone Bridge, $35). Risley was an American acrobat who brought Japanese performers to the U.S. and Europe in 1867, helping trigger the craze for Japanese culture.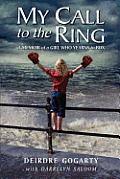 I picked up My Call to the Ring: A Memoir of a Girl Who Yearns to Box by Deirdre Gogarty with Darrelyn Saloom (Glasnevin Publishing, $20 paper) to read just a few pages. I finished it hours later, because this story of an Irish girl determined to become a pro boxer is absolutely captivating, even for someone (like me) who's not a fan of the sport. Tim Forbes left his corporate job for a dream job in sports; 10 years later, he was maxed out, so he traveled across North America to attend 100 games involving 50 different sports, hoping to rekindle his passion. In It's Game Time Somewhere (Bascom Hill, $15.95 paper), he does, with incisiveness and irreverence.
One of the funniest (and astute) books of the year is a collection of Caitlin Moran's columns: Moranthology (Harper Perennial, $14.99). Read her sharp take on Michael Jackson's memorial service, her paean to the new BBC Sherlock ("The Frumious Cumberbatch") or her assessment of Elizabeth Taylor ("She was a storm front of a woman, in sapphires") and you will be hooked.
The Comedy Film Nerds Guide to Movies (Morgan James, $19.95 paper) is a useful guidebook that's also a hoot; compilers Graham Elwood and Chris Mancini had me at "And please, for the love of all that is holy, stop making western comedies. Blazing Saddles stands alone for a reason."
Speaking of film, Downtown Abbey fans will love The Chronicles of Downton Abbey by Jessica Fellowes and Matthew Sturgis (St. Martin's, $29.99), with over 300 pages of text and illustration. --Marilyn Dahl, book review editor, Shelf Awareness