Comfort Books
In times of grief and sorrow, we turn to comfort food. Chicken soup, hot chocolate, chamomile tea, ice cream. But how do we feed our souls? With comfort books.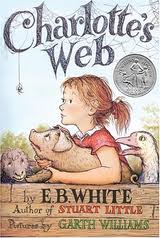 Now is the time to pull out your family's favorite books: Charlotte's Web, The Little Prince, Winnie the Pooh, The Wind in the Willows. Their association with happier days comforts us during this time of distress. These are books the entire family--including teenagers--can gather together to read and reread.
Remember that your children's responses will vary, depending on their age and how much they are able to process of the events in Newtown last Friday. The school psychologist at the Bank Street School for Children, Dr. Anne Santa, encourages parents and teachers to reassure children that home and school are two of the safest places they can be. Hold your youngest on your lap and sit close together on the couch: make new memories with good books.
A few recent favorites include Masterpiece by Elise Broach, which features a friendship that approaches Wilbur and Charlotte's. Where the Mountain Meets the Moon and Starry River of the Sky, both by Grace Lin, weave together a quest tale with Chinese folklore, lushly illustrated. Callie's close friendship with a grandfather no one else seems to understand lies at the core of The Evolution of Calpurnia Tate by Jacqueline Kelly; the author also wrote Return to the Willows, a "sequel" to The Wind in the Willows.
Don't be surprised if your child asks for The Tale of Despereaux and Bridge to Terabithia--two novels that help combat fear and process loss from a safe distance. A mouse who bravely entered the dungeon and emerged triumphant, and a boy who honors his friend who has died give us hope. Let your children choose what they wish to read, and then be there to listen, to answer their questions and to hold them close. --Jennifer M. Brown, children's editor, Shelf Awareness