Gift Books, Travel and More
There comes a point in the holiday season when eyes glaze over at the wealth of good books, and it's hard to choose one over the other; for booksellers, it's the point at which the only difference between Fifty Shades of Grey and Fifty Shades of Chicken is which is closer to hand. We're here to help with suggestions.
Cycling Science: How Rider and Machine Work Together by Max Glaskin (University of Chicago, $30). Text, charts and art answer questions: How does my brain help me ride? How can I calculate the perfect fit? Does skin really affect riding efficiency (or, should I shave my eyebrows as well?)? Great for recreational riders to pros.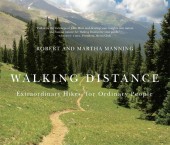 Long-distance walking helps focus our lives, according to Robert and Martha Manning. Walking Distance: Extraordinary Hikes for Ordinary People (Oregon State University Press, $35 paperback) showcases 30 of the world's great long-distance trails, from inn-to-inn walks to backpacking. It will have you dreaming of your next trip to the famous Camino de Santiago or the Ocala Trail in Florida.
Lonely Planet's Best in Travel 2013 ($14.99 paper) covers destinations and trends. Besides the top 10 cities, regions and countries, included are some intriguing (and wacky) categories, like Snakes Alive!, Best Places to See Elephants, Oddest Food Museums, Best Capital Cities Built from Scratch, Great Wall Walks and Marvelous Meteorological Sites.
Closer to home is the Grand Canyon: for Reconstructing the View (University of California, $75), photographers Mark Klett and Byron Wolfe spent five years exploring the Grand Canyon with repro­-photography--identifying sites of historic photographs and making new photographs at the precise locations. The original images are "brought into dialogue" with the new, resulting in a stunning volume.
Eliot Porter: In the Realm of Nature by Paul Martineau (Getty Publications, $39.95) is an absolutely exquisite collection of 110 photographs from the man who transformed the concept of nature photography books, and whose images were instrumental in getting the 1964 Wilderness Act passed in Congress. --Marilyn Dahl, book review editor, Shelf Awareness