Milkshakes and Martinis for Mom
Mothers deserve treats along with the standard flowers and flowery cards. Two books provide the means with panache. Malts and Milkshakes by Autumn Martin (St. Martin's Griffin) offers scrumptious recipes for basic shakes, like vanilla, fresh mint, and blackberry lavender; plus boozy shakes like chocolate espresso whiskey malt and jalapeño tequila, with a few cookie recipes thrown in, like killer Bacon-Oatmeal Raisin (breakfast?).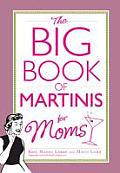 If a shake is too gentle for mom after a hard day, check out The Big Book of Martinis for Moms by Rose Maura Lorre and Mavis Lamb (Adams Media): 250 pages of accomplishments ("Taught Your Child How to Wipe") and rewards (a Pooh-tini, with honey, vodka and cold chamomile tea).
Another way to make it through the day (or parenthood) is by baking, according to novelist Marian Keyes, in Saved by Cake (Plume). Learning to bake helped her recover from depression. The recipes are divine, often unusual (Balsamic, Black Pepper and Chocolate Cake) and annotated with Keyes's characteristic wit.
While the cake is baking, mom can sit down with a martini or malt and read. Reconstructing Amelia by Kimberly McCreight (Harper) is the stunning story of a mother 's quest to discover why her daughter jumped to her death (or did she?).
Bristol House by Beverly Swerling (Viking) is also a thriller, with supernatural elements: historian Annie Kendall, the ghost of a Carthusian monk and a handsome investigative reporter. Both books are mesmerizing.
For good laughs, give mom a copy of Henri, le Chat Noir by William Braden (Ten Speed Press), existential musings taken from the popular website and videos of the justly famous angst-filled cat. Or Maddie on Things by Theron Humphrey (Chronicle Books), photographs of the coonhound who can balance on anything, taken from an absolutely addictive website--one of the coolest books of the year.
Recipe for a perfect Mother's day: dessert and drinks, a novel and a furry animal (disdainful or not). --Marilyn Dahl, editor, Shelf Awareness for Readers