A Grand Slam
The Clinton (Iowa) LumberKings are the Class A Midwest League team of the Seattle Mariners--the lowest rung of full-season baseball. They play in a community-owned, WPA-built field, on the banks of the Mississippi. Clinton is dominated by an ADM corn-processing plant, punctuated with the melancholy sound of a train whistle and the unusual crowd noise of a baseball game. Here Lucas Mann sets Class A: Baseball in the Middle of Everywhere (Pantheon), his story of the 2010 season in the town. It's a chronicle of baseball, an exploration of a once-thriving Midwest town and a bit of a memoir. Lucas writes, "I set all my happiest memories on baseball fields."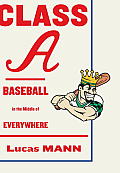 Does one need a childhood experience of baseball to love the game as an adult? "It would seem hard to come to baseball without that background. Baseball can be incredibly boring, but if you have memories, there is so much open space--it's made for digression and story-telling. Football, soccer, basketball are perfect sports for our frenetic modern consciousness. With baseball, it's a time warp, it's nostalgic, so evocative. It's ripe with metaphor and story. I wanted the feeling and the structure of the book to mimic the long hot summer of baseball in a small town. How easily your mind can wander there. So it digressed into memoir and history, and the weird fugue-like state of being a fan and investing so much into the team." The fans are a constant, the players are itinerant.
The "intoxicating" proximity between players and fans can be both horrifying and pleasing. "Fans invest significance in the game, in the players, and the players just want to leave for the next level. The tensions between the fans' desires and the players are most present at A level."
Lucas writes about the Clinton fans and the players—most of whom will not make it farther than Class A--with affection, passion and poignancy, in this deft portrayal of a slice of America. He knocks it out of the ballpark with ease. --Marilyn Dahl, editor, Shelf Awareness for Readers