A Look Back at the Holiday Season
It's been heartening to read about indie bookstores having such a great holiday sales season, and interesting to see which books have done particularly well.
We asked Joe Foster at Above the Treeline for some analytical help in rounding up titles that sold in high numbers from October through December 2013. Hard Luck, number 8 in Jeff Kinney's astoundingly popular Diary of a Wimpy Kid series, topped the charts, followed by Malcolm Gladwell's David and Goliath and Donna Tartt's long-awaited novel The Goldfinch.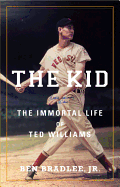 One of the most notable bestsellers was The Kid: The Immortal Life of Ted Williams by Ben Bradlee, Jr.--not only is it, in the words of our reviewer, "The definitive biography of a complicated, controversial and often elusive baseball legend," but it wasn't published until December 3; its sales soared in a very short time. Another latecomer with hefty sales was Amy Tan's epic novel about a courtesan in early 20th century Shanghai, The Valley of Amazement, published in November.
Several backlist YA books made the top 50 list, with the Hunger Games series going strong, along with The Book Thief by Markus Zusak--a movie tie-in (but read the book)--and two John Green titles: his debut novel, Looking for Alaska, and The Fault in Our Stars. Our reviewer said this story of a trio of teens diagnosed with cancer who fill their lives with love and laughter is his best book to date. Another excellent "older" book is Laura Hillenbrand's magnificent Unbroken: A World War II Story of Survival, Resilience, and Redemption.
Hyperbole and a Half by Allie Bosh--a semi-graphic memoir (or perhaps a memoir heavily illustrated) is subtitled Unfortunate Situations, Flawed Coping Mechanisms, Mayhem, and Other Things That Happened, including stories about dogs, insights into depression, and wackiness; it's a particular favorite of the Shelf staff. As are so many others, like The Boys in the Boat. We could go on and on.... --Marilyn Dahl, editor, Shelf Awareness for Readers