Growing a Feast: Kurt Timmermeister
In his first book, Growing a Farmer, Kurt Timmermeister gave us his story of a city-raised restaurateur who grew unsatisfied with his cafe's stacks of Cyrovac-packaged chicken breasts, and decided he needed to be closer to real food and to the land. He bought a few blackberry-covered acres littered with rusting cars, with dilapidated greenhouses, on Vashon Island, a 15-minute ferry ride from Seattle.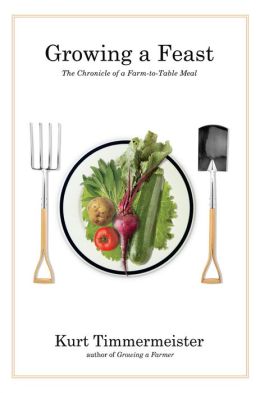 He cleared the property while living in the chicken coop. Eventually, he sold off his cafes to focus on living off his new land. Through trial and error, Kurt learned to harvest honey from bees, raise chickens, grow vegetables and manage a raw dairy farm. In the beginning, Kurtwood Farms was supported by weekly farm-raised-only dinners in the Cookhouse. His new book, Growing a Feast, is the story of the last Cookhouse dinner. It's not about who hogged a conversation, flirted or drank too much, but a chronicle of how the meal enjoyed by 22 people that night got to the table. The journey begins two years earlier, with the birth of Alice, the Jersey cow whose milk provides the butter and cheese. Then to the planting of a neighbor's prized "extra meaty" tomato seeds, mushrooms foraged in a nearby forest, currants plucked and pickled and quince paste gelled. He collects eggs from his chickens to make the pasta. Finally, there is the unforgettable slaughtering of a steer on a cool September morning.

photo: Claire Barboza
I was lucky to enjoy one of these meals years ago, and I think of it still today: a butter--almost orange in color--the first bite so exceptional, it wrecked me for any other butters. We hear the phrase "farm to table" often, but to understand what this truly means, read Growing a Feast. Then go find Dinah's Cheese, now the farm's breadwinner: a Camembert available on the West Coast and even in New York City, and taste for yourself why "farm to table" is incomparable. --Jenn Risko, publisher, Shelf Awareness