Jane Green: Tempting Fate
"Recording definitely feels more comfortable this time around," said author Jane Green, chatting during a short break from recording her newest audiobook, Tempting Fate (Macmillan Audio, March 25). "The last book had lots of teenage tantrums; I got pretty into the screaming and yelling. Now this is a little more temperate."
Green explores the fallout of betrayal and the effects of guilt in Tempting Fate; Gabby, who has been happily married for 18 years and has two teenage daughters, puts everything at risk with what begins as just an "emotional affair." As things spiral out of control, she struggles to keep her life together.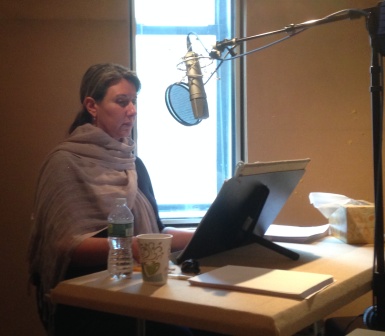 Tempting Fate is Green's 16th book, but only the second audiobook that she's narrated. Another Piece of My Heart, which came out in March of 2012, was her first foray into the recording studio. Although the audiobook received positive reviews, Green, who is English, drew some complaints for doing the voices of American characters.
"I fell off the wagon and read the reviews," explained Green, laughing. "I saw the complaints, and I thought: I can correct that. So now I've done all British characters."
Green spent three days recording at Beatstreet Productions in New York City, overseen by Laura Wilson, Macmillan's director of production. Green read straight ahead through her novel, pausing only occasionally to repeat lines. Said Wilson: "It's been great. She's perfect." --Alex Mutter