A Good Month to Read a Short Story
"I would really hope this would make people see the short story as an important art, not just something you played around with until you got a novel," Alice Munro said after winning the Nobel Prize in Literature last fall. I hope so, too. If you already read Munro and know that May is Short Story Month, then my work here is done. If not, allow me to spin you a brief tale.

When I think about short fiction, it's not really collections that come to mind, but particular stories. All kinds of stories. I can summon titles that open again in my memory like fans: Grace Paley's "Wants," James Baldwin's "Sonny's Blues," Colum McCann's "Fishing the Sloe-Black River," Tillie Olsen's "I Stand Here Ironing," Jim Shepard's "Batting Against Castro," T.C. Boyle's "Beat," Yasunari Kawabata's "First Snow on Fuji," Jamaica Kincaid's "Girl." We don't memorize short stories like we memorize poems, but something tangible, recoverable, lingers from the stories that strike us most deeply.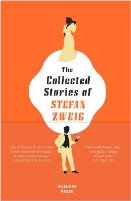 Inspired by Wes Anderson's new film The Grand Budapest Hotel, I've been reading The Collected Stories of Stefan Zweig. It's an extraordinary collection. One tale in particular that has lingered is "Mendel the Bibliophile," in which Zweig writes that "you create books solely to forge links with others even after your own death, thus defending yourself against the inexorable adversary of all life, transience and oblivion."

A month of stories is not enough, of course, any more than a year or a lifetime of stories would be. But if you're looking for something new to read, why not check out some of the collections we've reviewed here in May: Chestnut Street by Maeve Binchy, Thunderstruck by Elizabeth McCracken, The Wall: And Other Stories by Jurek Becker and American Innovations: Stories by Rivka Galchen. Celebrate Short Story Month before it's too late. Okay, there's no deadline. You can read some in June, too. --Robert Gray, contributing editor