Happy Birthday, Malala!
Malala Yousafzai entered the world's consciousness on October 9, 2012, when a member of the Taliban shot her on her way to school in Pakistan. She had been speaking out about the right of all girls to an education. On her 16th birthday, July 12, 2013, which the UN Secretary proclaimed "Malala Day," she addressed 1,000 delegates to the UN Youth Assembly. She's the youngest person ever to be nominated for a Nobel Peace Prize. Her book, I Am Malala (Little, Brown, 2013), tells her story (a version for young readers, written with Patricia McCormick, is coming in August from Little, Brown).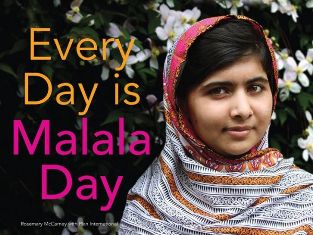 The photo-essay Every Day Is Malala Day by Rosemary McCarney, with Plan International (Second Story Press, $18.95) documents the impact Malala has made on children around the world. It shows girls in Peru writing letters, girls listening to Malala's recordings in El Salvador, girls in school uniforms in Nicaragua releasing balloons, and smiling girls in school hallways in Brazil. "People everywhere wondered why it was so hard for girls to have an education," reads the text. "But you and I know the answer," says the caption below a girl alone in a classroom in Myanmar. Hard realities come to light--a child bride, "poverty" in the Philippines and "violence" in Indonesia (shown in shadows that spare readers direct exposure).
But most photos show children standing strong, especially a powerful image of a girl in a schoolyard in Kenya: "[Y]ou have shown the world that these things will not stop you," says the caption, echoing Malala's words in her UN speech (excerpted in the book). "No one can stop us," Malala said to the UN delegation. "Our words can change the world. Because we are all together, united for the case of education.... One child, one teacher, one pen, and one book can change the world." May every day be Malala Day. --Jennifer M. Brown, children's editor, Shelf Awareness