California Dream
No one knows for sure, but apparently Amazon has been punishing major publisher Hachette for the past two months because the e-tailer wants to keep at least half of the revenue of e-book sales and wants to charge Hachette for all kinds of "services," such as having buy buttons on the book's page--which is kind of like a bricks-and-mortar bookseller charging a publisher for each use of its cash register.

Still, we do know a couple things about the dispute. For one, it's a reminder again of the value of independent bookstores: no matter what tensions might exist between a publisher and retailer, indies would never do what has been done to Hachette. They will gladly let customers order any available forthcoming title in advance. They display all publishers' titles that they have in stock, and will special order any they don't have. For indies, it's more important to give customers access to books than try to improve their bottom line because investors are getting nervous.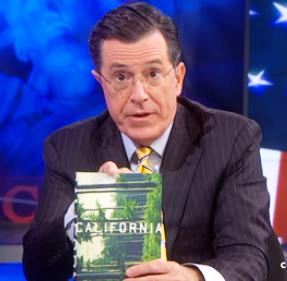 Stephen Colbert displays Edan Lepucki's California.
The other thing that we know about the dispute is that California by Edan Lepucki, published last week by Hachette's Little, Brown imprint (see our review below), is getting the kind of publicity that must be like a dream for the debut novelist. It began early last month on the Colbert Report, when, on a recommendation from author Sherman Alexie, Stephen Colbert touted Lepucki as the kind of author being especially harmed by Amazon's punishment of Hachette. Colbert asked members of the Colbert Nation to pre-order California at Powells.com and other indie sites to show their support for the book, Hachette--and, of course, Colbert. Overnight, the book and author became the subject of news stories across the country, and many indies have done special promotions and displays.

Join the many other readers in showing support for retailers that truly serve customers: buy California--and other books--in print and/or e-book editions, in person or online, from your local independent bookstore! --John Mutter, editor-in-chief, Shelf Awareness