Conquering the New Year's To-Do List

We all start off the year with a clean slate. But some of the things you didn't do in 2014 will creep into 2015. Never fear, here's a short list of ways to excel at list-making:
1. Evaluate: Look at your goals and to-dos; decide what the priorities will be. If getting new furniture doesn't really matter to you anymore, scratch it off your list. Be realistic and downsize.
2. Consolidate: There is even more you can do to shrink the list. Put all the similar projects together.
3. Delegate: If you ask for help and look for ideas, resources and another set of hands, you can be more efficient with your project. You'll save time and money by doing a little research and outsourcing to the best person for the job.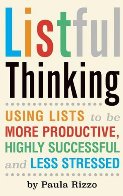 Book Lovers Bonus!
We've heard about guilt over unread books (tsundoku) and towering stacks of half-read books on the nightstand threatening to topple over and crush your dreams, literally. You can also vanquish that with list-making! Make a do-able to-read list:
1. A "change your life book" to start the new year afresh: a career, self-management or motivational book to kick-start your 2015. For me, David Allen's Getting It Done was revelatory.
2. A "change-it-up book": switch up your reading habits. Maybe you always read literary fiction and the occasional biography. Add a top-notch sci-fi or fantasy title--The Bone Clocks covers ALL your bases there.
3. A "change your mind book": neuroscience and the mysterious inner workings of the brain are more fascinating than ever--my editor recommends The Power of Habit to anyone and everyone. Learn why you do what you do! --Paula Rizzo
Rizzo is an Emmy-winning television producer and founder of the productivity site ListProducer.com. She's the author of Listful Thinking: Using Lists to be More Productive, Highly Successful and Less Stressed (Viva Editions).