20 Minutes a Day
Happy 2015! A new year offers an opportunity to start fresh and form some good habits. Here's one that's easy and will plant a love of reading in children and guarantee family bonding: read together 20 minutes per day.
Long after children learn to read independently, they still enjoy listening to someone else read aloud to them. How many of us listen to audiobooks while driving or running on the treadmill?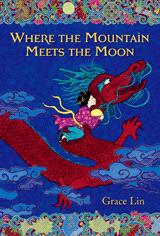 Many people probably already read picture books to younger children. But what about reading aloud as a family, with the children clustered around you on the couch? Choose one that was a favorite of yours as a child--Charlotte's Web, The Little Prince. Tell them what you loved about it. Or pick one that's new to everyone. Travel to Korea in A Single Shard by Linda Sue Park or to China in Where the Mountain Meets the Moon by Grace Lin (with sumptuous pictures as a bonus).
Pick up a contemporary book brimming with humor, such as The Great Green Heist by Varian Johnson, Three Times Lucky by Sheila Turnage or a book with a touch of magical realism, such as Savvy by Ingrid Law. Children will likely find Harry Potter, Percy Jackson and the Wimpy Kid on their own, so reading aloud together is a chance to introduce them to books they might not discover themselves.
Picture books for older readers can also be a great way into family reading--Brian Floca's Locomotive and The Pilot and the Little Prince by Peter Sís include detailed drawings to examine closely, allowing kids to pause in the narrative and absorb the information on each page (and Sís's bio of the author of The Little Prince leads nicely back to the novel). Anything by Kate DiCamillo and Katherine Paterson also work well as family read-alouds. Happy reading! --Jennifer M. Brown, children's editor, Shelf Awareness