Reading the Seasons
Because I live in the Pacific Northwest, the end of January can feel like the farthest point from carefree summer days. The days are getting longer but not fast enough. I'm not warm enough until I'm wearing three sweaters, a blanket and a cat. These days make it easy to forget the discomforts of August--sweltering heat, stifling humidity, sunburns, dehydration--so I find myself longing for the rising peaks of the thermometer's mercury.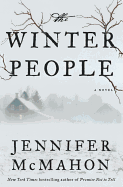 I've realized recently that I tend to read with the season. A year ago, I devoured two harrowing novels set amidst snow flurries and freezing temperatures: Jennifer McMahon's New England ghost tale, The Winter People, and Laura Kasischke's psychological thrill ride, A Mind of Winter. Then, seven months later, when Seattle temps were breaking record highs, I was entranced by Tiphanie Yanique's gripping Caribbean saga, Land of Love and Drowning, and Cynthia Bond's haunting Texas love story, Ruby.
Maybe I can't say I always read within the current season. One never really knows a novel's climate fully before investing a certain amount of time in the book. But there's something appealing about a whiskey-soaked Southern romance when the days I'm living in are long and the sun above me is hot. Just like it's easy for me to pile blanket upon feline upon blanket and crack open the kind of book that will send shivers down my spine. Maybe I'm just a glutton for punishment. Maybe it's a type of Stockholm syndrome.
It's not something I've thought about too much before, so that makes me curious enough to risk reading outside that pattern. Meanwhile, I wonder if other people pair their reading habits the same way. Do you read hot books in the summer and cold books in the winter? Or do you read against the seasons? Reading habits are worth paying attention to. Maybe it's time to mix it up. -- Dave Wheeler, publishing assistant, Shelf Awareness