Pioneering Journalists
In our interview below with Ravi Howard, author of Driving the King, he mentions journalist Almena Lomax, an intriguing real-life figure in the novel who founded the Los Angeles Tribune in 1941. In Howard's story, narrator Nat Weary first meets her in that city as she's bicycling by his porch, delivering her weekly paper, the "third Negro newspaper in this town. Small family operation." The Tribune was known for fearless reporting, and in 1956, Lomax went to Montgomery, Ala., to report on the civil rights movement. When she died in 2011, at age 95, her papers were given to Emory University--we hope someone is writing a book about this amazing newspaperwoman.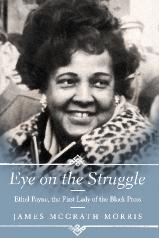 Lomax was not the only groundbreaking black woman in journalism. In the early '50s, Ethel Payne was hired by the Chicago Defender and took over its Washington, D.C., bureau a few years later. She covered international news and civil rights, including the Montgomery bus boycott. She reported from Vietnam, from China, from Africa with Henry Kissinger. Payne was known as the "First Lady of the Black Press," and James McGrath Morris has written a biography of this remarkable woman, Eye on the Struggle (Amistad, February 17).
Due out around the same time is yet another book about a pioneering woman of the national black press and mentor of Payne: Alone Atop the Hill, the autobiography of Alice Dunnigan, edited by Carol McCabe Booker (University of Georgia Press). Dunnigan was a typist during World War II, then a reporter, then the first black female reporter accredited to the White House. As chief of the Associated Negro Press Bureau in Washington, D.C., she overcame racial and gender barriers (she later had a career as a sports reporter--she was initially denied access to a major league baseball game not because she was black but because she was a woman).
These women--journalists and activists, all notable, extraordinary, brave--are finally getting their due. --Marilyn Dahl, editor, Shelf Awareness for Readers