Will Spring Ever Come?
As the classic Tony Bennett song goes, "You Must Believe in Spring," though some of us have nearly lost faith. Here are some of our favorite books that pay tribute to the season as we await its arrival.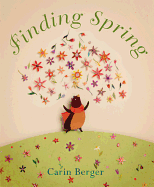 Carin Berger's three-dimensional collages in a bouquet of sherbet colors illustrate a bear cub's first change of seasons in Finding Spring. Everyone knows that spring brings new life to the farm. In Click, Clack, Peep! by Doreen Cronin, illustrated by Betsy Lewin, Baby Duck is born, but won't sleep, wreaking havoc on Farmer Brown's cows, pigs and chickens.
Children learn about the entire life cycle of a robin in Nest by Jorey Hurley. With one word per page in an exquisite series of compositions, the book's deceptive simplicity makes it enjoyable to everyone from toddlers to adults. Egg by Robin Page and Steve Jenkins, illustrated by Steve Jenkins, goes a step up in scientific sophistication and includes eggs of many different animals, from birds to fish, reptiles to mammals, depicted in stunning collage.
A pair of picture books pays homage to spring's unpredictable weather. In rhyming text, When the Wind Blows by Linda Booth Sweeney, illustrated by Jana Christy, spans one afternoon, the changing light and the movement of one family as a spring storm approaches a seaside town. Last Stop on Market Street by Matt de la Peña, illustrated by Christian Robinson, depicts a gentle Sunday morning rainstorm as a boy and his nana board a city bus, and readers go on their transformational journey.
If you can't get to Yellowstone National Park in person, let Tor Seidler take you and your family there in Firstborn, as a magpie named Maggie forms an unlikely friendship with Blue Boy, the firstborn of his wolf pack. With these books as companions, spring will be here before you know it. --Jennifer M. Brown, children's editor, Shelf Awareness