Susan Hill: No Brooding
Susan Hill's novels and short stories have won many awards, and she's been shortlisted for the Man Booker Prize. The play adapted from her famous ghost story, The Woman in Black, has been running in the West End in London since 1989; it was made into a film in 2012, starring Daniel Radcliffe and Ciarán Hinds. Her crime novels featuring Detective Chief Superintendent Simon Serrailler are being adapted for TV--good news for the many Serrailler fans. We recently spoke to her about the latest in the series, The Soul of Discretion (Overlook Books).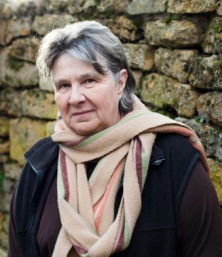 Susan Hill (photo: Andrew Fox)
We've always wondered why some authors choose real places, while others construct a fictional town. Hill created Lafferton, England, because she didn't want to be tied to a real location. Serrailler lives in the cathedral close, in a flat where he guards his privacy. But now he has started a new relationship, which he's not very good at. We asked Hill if, when she started writing about Serrailler, she envisioned him as shy, perhaps even "on the spectrum," but evolving. She said, "Everything comes over time, nothing is very planned. Yes, he emerged as I went on writing. Though he isn't socially awkward in a general way, he's very engaging, personable and easy--it's the intimate stuff he can't cope with well."
The Soul of Discretion is sometimes difficult to read, due to the nature of the case, in which Serrailler infiltrates a ring of child pornographers. How did Hill handle writing about such dark matters? "I just do it.... I try not to think about it deeply, just go on. I certainly don't brood about it. I think I couldn't have written it if I had done that."
While Hill has the most fun writing ghost stories, she is also a small publisher and has just launched a children's book imprint, Little Barn Books. "I'm writing the first three books. Two are done, onto the third. After that....??"
We're hoping for another Simon Serrailler mystery. --Jessica Howard, blogger at Quirky Bookworm