The Past Is Ever with Us
William Faulkner wrote, "The past is never dead. It's not even past." That has never been truer than for Armenians, who cite the date of April 24, 1915--when several hundred Armenian intellectuals were rounded up and executed by the Ottoman government--as the beginning of the Armenian genocide; Turkey, however, heatedly rejects this. For an understanding of this fraught past--and its conflicting narratives--we look to history, memoir and fiction.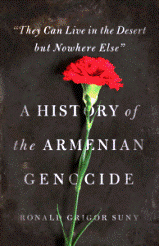 "They Can Live in the Desert but Nowhere Else": A History of Armenian Genocide by Ronald Grigor Suny (Princeton University Press, $35, April 22, 2015), is a compelling narrative of the events of 1915-1916. Operation Nemesis: The Assassination Plot That Avenged the Armenian Genocide by Eric Bogosian (reviewed below), relates the story of a group of young Armenians who assassinated perpetrators responsible for the genocidal "solution." Eugene Rogan contributes an overview of the time and the wider regional conflicts in The Fall of the Ottomans: The Great War in the Middle East.
In Black Dog of Fate: A Memoir, reissued in 2009 by Basic Books (paperback, $16.99), Peter Balakian tells of growing up Armenian-American in a family "haunted by a past... fraught with terror" and his investigation into their history. Armenian-American journalist Meline Toumani also felt compelled to explore the "terrifying idea" of Turkey in an attempt to understand her community and its fundamental assumptions in There Was and There Was Not: A Journey Through Hate and Possibility in Turkey, Armenia and Beyond. For her, the "dominance of the genocide narrative felt like an artistic and emotional chokehold." Our reviewer called it "an engaging and deeply personal exploration of ethnicity, nationalism, history and identity."
Aline Ohanesian has written a novel, Orhan's Inheritance (our review is below), about an elderly Armenian woman and a young Turkish man--her past and his future intersect in a story "full of pain and heartbreak," but revealing "beauty and truth in the most unexpected of places." Ohanesian has said that fiction presents the possibility for transformation; one hopes that all these books do. --Marilyn Dahl, editor, Shelf Awareness for Readers