Fathers (and Grandfathers) We Wish We Had
With Father's Day coming up, we'd like to suggest a few books for young people that celebrate dads (and granddads).

Pete's a Pizza by William Steig gives readers all the ingredients they need to make a pizza--with the child as the dough--based on a game Steig played with his daughter. In Mitchell's License by Hallie Durand, illustrated by Tony Fucile, a boy gets to drive his dad; Mitchell checks the tires (his father's feet) and engine (stomach) before taking the driver's seat. And just before 8 a.m., Every Friday (by Dan Yaccarino) Dad and the boy narrator head to the diner, "even if it is cold, sunny, snowing, or raining."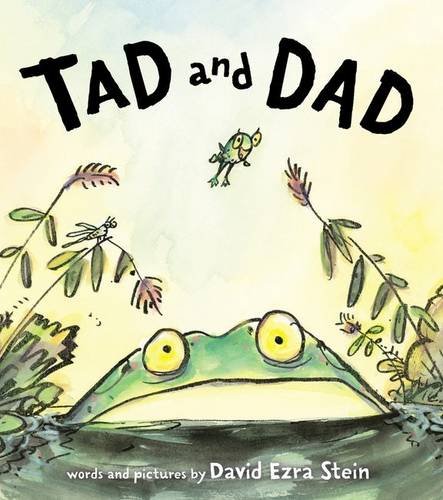 Tad and Dad by David Ezra Stein zeroes in on a tadpole who refuses to leave Dad's side--even at bedtime--which gets more complicated as Tad gets bigger.

Two warmhearted picture books celebrate grandfathers: Abuelo by Arthur Dorros, illustrated by Raúl Colón, and Noodle Magic by Roseanne Greenfield Thong, illustrated by Meilo So. In the first, Abuelo and the child narrator share a close relationship, riding the plains together on horseback. When the boy moves to the city, his grandfather's teachings sustain him. In Noodle Magic, young Mei learns from her grandfather how to make his famous noodles, and to find the magic within herself.

Tiger Boy by Mitali Perkins, illustrated by Jamie Hogan, takes middle-grade readers to the Sunderbans of West Bengal, where Neel's chance to win a scholarship forces him to make hard choices--especially when he must stand up to his beloved father. And don't forget Kate DiCamillo's Because of Winn-Dixie, whose dog hero helps 10-year-old Opal open up her single father, or the incomparable dad in Dead End in Norvelt by Jack Gantos, whose tough-guy exterior is cracked by his loving narrator son. And for a madcap adventure, there's Neil Gaiman's Fortunately, the Milk, with its time-travel conundrum, aliens and pirate ships. Happy Father's Day to all! --Jennifer M. Brown, children's editor, Shelf Awareness