Choosing Your Next Book
Selecting a book can be tricky: dust jacket copy helps, blurbs maybe, reviews--sure. Trying out the first page? Yes. Some people read that and an arbitrary other page; some may open and read at random. I recently picked up American Housewife: Stories by Helen Ellis (Doubleday, $24), described as "a delightfully unhinged collection of stories set in the dark world of domesticity." That sounded good, so I started at the first page with "What I Do All Day":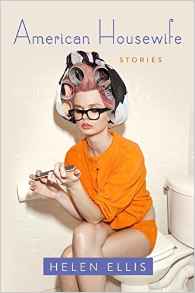 "Inspired by Beyoncé, I stallion-walk to the toaster. I show my husband a burnt spot that looks like the island where we honeymooned, kiss him good-bye, and tell him to be home in time for our party.
"I go to the grocery store and find that everyone else has gone to the grocery store and, as I maneuver my cart through Chips and Nuts traffic, I get grocery aisle rage. I see a lost child and assume it's an angry ghost. Fearing cold and flu season, I fist-bump the credit card signature pad."
Promising. So I open to the middle--"Hello! Welcome to Book Club":
"Aretha's the glassy-eyed woman scooping Bethany's store-bought potato salad into her hand. She came to Book Club through Marjorie, who makes her sales targets every quarter because Aretha--to escape her kids---spends an inordinate amount of time shopping at Talbot's.
"Dr. Uh-Oh keeps Aretha highly medicated. You know the saying: happy wife, happy life? Dr. Uh-Oh's mantra is: you asked for it, you muddle through. Like the majority of his patients, Aretha gave birth in her forties. She defied God's will, she shouldn't complain."
I check out "The Wainscoting Wars," a series of e-mails between two women who share a common hallway:
"Regarding your vandalism, I expect you to hire a professional contractor to repair the damage done to my wallpaper within the week. When I am satisfied that it has been restored to its original pristine condition, I will return your doorknob and number."
Sold!