Shakespeare 400: All the Year's a Stage
I'm looking forward to a complete William Shakespeare immersion experience in 2016, which marks the 400th anniversary of his death. I've had the great fortune of seeing four magnificent productions in recent years, including three from Shakespeare's Globe and Mark Rylance-- Measure for Measure, Twelfth Night and Richard III--as well as the Royal Shakespeare Company's As You Like It in a stunning replica of its Stratford-upon-Avon Theatre, constructed within Manhattan's Park Avenue Armory. I hope to add to the list this year.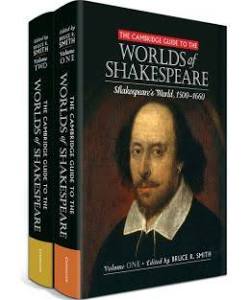 Shakespeare 400's reach goes well beyond the stage, including the BBC comedy series Upstart Crow and Kenneth Branagh's Shakespeare on Screen project; not to mention a flood of entertaining miscellany like a pie chart tallying deaths in the plays or an infographic analyzing characters.
There are--and will be--new books, of course. The Folger Shakespeare Library is sending Shakespeare's First Folio on a 50-state tour. The Millionaire and the Bard: Henry Folger's Obsessive Hunt for Shakespeare's First Folio by Andrea Mays offers some intriguing background.
The Hogarth Shakespeare series, in which the plays are re-imagined by contemporary authors, was launched in October with Jeanette Winterson's The Gap of Time, a reinvention of The Winter's Tale. Coming later this year are Howard Jacobsen's Shylock Is My Name (The Merchant of Venice), Anne Tyler's Vinegar Girl (The Taming of the Shrew) and Margaret Atwood's as-yet-untitled variation on The Tempest.
A two-volume Cambridge Guide to the Worlds of Shakespeare gathers 300 of the world's leading experts. Shakespeare and the Countess: The Battle That Gave Birth to the Globe by Chris Laoutaris is fascinating, as is Women of Will: The Remarkable Evolution of Shakespeare's Female Characters by Tina Packer. The Year of Lear: Shakespeare in 1606 by James Shapiro explores how tumultuous events in England shaped King Lear, Macbeth and Antony & Cleopatra.
"In our lifetimes, this will be the biggest Shakespeare extravaganza," said Shapiro. We'll be checking back occasionally during the year with Shakespearean updates. My advice: "Go, make you ready." --Robert Gray, contributing editor