Literature & Libations
Once again, I find myself with a cocktail in one hand and a book in the other.
Since I live in Seattle, I'm partial to things that set my city's history apart. Sunil Yapa has written such a book with Your Heart Is a Muscle the Size of a Fist (Lee Boudreaux, $26; reviewed below). Set during one day of the 1999 WTO protests in downtown Seattle, the novel focuses on the tumultuous histories of several (fictional) people involved.
And much like Yapa, the very real bartender Murray Stenson of Seattle's Zig Zag Café is credited with keeping history alive with the nearly forgotten Last Word. It's a tasty gin cocktail with equal parts lime, green chartreuse and maraschino liqueur.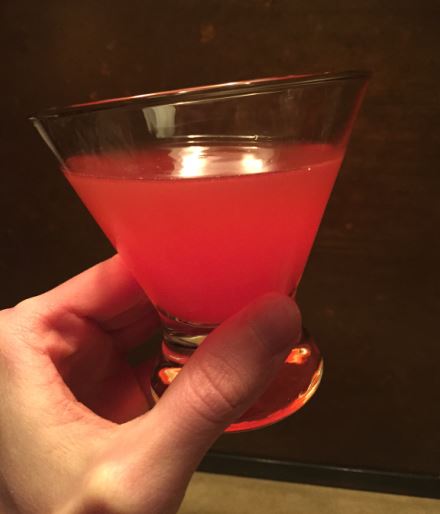 the Jack Rose
Winter's a time, though, when I really like to dig into something chilling and eerie. In Travelers Rest (Little, Brown, $27; reviewed below), Keith Lee Morris puts a snowbound family up in a spooky old hotel, where waking life starts to slowly sink into an alluring but dangerous dream state. It's a classic predicament that deserves a classic cocktail, so I'd recommend the Jack Rose. Favored by Hemingway's The Sun Also Rises protagonist as he too waits in a hotel, the drink features a sweet-tart complement of applejack, grenadine and lime juice.
Psychological thrills don't end there, though. In Ann Morgan's debut novel, Beside Myself (Bloomsbury, $26; reviewed below), identical twins make a game of switching places, only to wind up stuck in the wrong identity. In order to keep tabs on which is which, I suggest keeping the right hand on the book, and the Left Hand Cocktail firmly in place. With bourbon, sweet vermouth, Campari, Angostura bitters and chocolate bitters, it's not something you'd want to lose track of.
Shake, stir and pour, then sit a spell with any of these.