International No Diet Day
Bathing suit season looms. But for those who've been watching waistlines and counting calories, there's good news. Today is International No Diet Day, which celebrates body acceptance, including fat acceptance and body shape diversity. The day also seeks to raise awareness that diets don't always work. Very often, pounds lost return--and in earnest. INDD seeks to promote healthier lifestyle choices via mindful eating. But before you break out the pasta, martinis or ice cream, why not supplement your day with some mentally aware, eating-inspired reads?
In her funny, enlightened memoir, Big Girl: How I Gave Up Dieting and Got a Life, Kelsey Miller comes to terms with--and works through--food challenges via "Intuitive Eating," a body-image strategy.
Mark Mincolla, a "holistic problem solver," transforms the energy of negative thoughts and feelings in order to re-align a person's metabolism in The Whole Health Diet: A Transformational Approach to Weight Loss.
For readers longing to graze beyond the psychology of eating, treat yourself to these delicious books:
Carnivores will rejoice in the anecdotes and wit of Marta Zaraska in Meathooked: The History and Science of our 2.5-Million-Year Obsession with Meat, which explores all aspects of the growing global appetite for animal protein.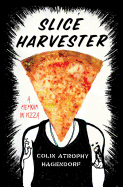 Cheese and pepperoni lovers will be eager to journey along with Colin Atrophy Hagendorf as he traverses Manhattan on a quest to eat a slice of pizza at every city pizzeria in Slice Harvester: A Memoir in Pizza.
And for the passionate sweet tooth, there's no way to resist Theo Chocolate: Recipes & Sweet Secrets from Seattle's Favorite Chocolate Maker by Debra Music and Joe Whinney, a mouth-watering cookbook of inventive chocolate-inspired recipes--not just desserts, surprises like salads and pastas.
So, go on--give in to temptation. Pick up a good book and indulge in the spirit of "no diet" day... guilt-free!