Garrison Keillor: First Encounter
Garrison Keillor will be leaving A Prairie Home Companion on July 1, and while legions of fans mourn, they know there will no doubt be more books to come from the beloved raconteur. Neil Nyren, executive v-p, associate publisher, and editor-in-chief at Putnam, remembers his first encounter with Keillor.
It was 1979. I was paging through the New Yorker when a faux-noir story set me laughing, and I flipped to the end of the piece to see its author (that's where the magazine stuck the names then). In tiny type, it said "Garrison Keillor." I wrote, asked if he had more, and he replied that, actually, he'd been writing them for a while (blame that tiny type for my not noticing, I guess) and he had a contract to write a novel. But he thanked me.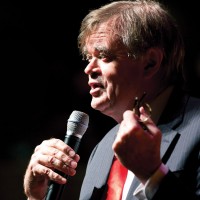 Garrison Keillor (photo: Erik Hageness)
Several months later, his agent called. Garrison hadn't finished the novel and she'd offered the publisher (I won't say who) a collection of his pieces instead--but they weren't interested. Was I? Oh, yes. I persuaded my boss to let me buy it for a princely four figures, and we got to work.
Eventually, Garrison came to town and we met for the first time, and at lunch he casually mentioned that he had a radio show back in Minnesota. "You have a what?" Nobody had said a thing. It was a local show, Garrison said, on public radio, but it was going national soon--he thought I'd be interested.
I was, of course--but had no idea what was about to happen. By the time we published Happy to Be Here, bearing a picture of a heavily bearded Keillor, A Prairie Home Companion had become a sensation, with profiles and articles everywhere. Pub date was scheduled for early 1982, but there was such a demand in Minnesota, we rushed out an early printing there for Christmas, which immediately sold out, and when we did distribute the book nationally, it went immediately onto the Times bestseller list.
So, I'm kind of glad he mentioned that show to me. Thanks, Garrison--and congratulations on a brilliant 42 years.