Hallo Spaceboy
In John Cameron Mitchell's seminal rock opera Hedwig & the Angry Inch, Hedwig, East Berlin's internationally ignored songwriter, lists among her many influences the American masters Iggy Pop, Lou Reed and Anne Murray ("who was actually a Canadian working in the American idiom"), alongside David Bowie ("who was actually an idiom working in America"). There is no more apt a characterization for Bowie than Hedwig's, in my opinion, but that doesn't mean anyone's going to stop defining and redefining him; he certainly didn't.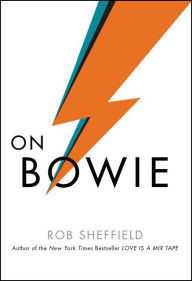 Five months after the Starman made his final ascent, Rob Sheffield (Turn Around Bright Eyes) published On Bowie (Dey Street, $19), a devotee's-eye retrospective of the artist and his influence. "When I was in my early twenties, I assumed my Bowie fandom was something that had peaked in my teens.... And as it turned out, I became far more obsessed with Bowie in my late twenties.... In my thirties, forget about it--I got more Bowie-mad than I'd ever been."
As an ardent fan pushing 30, I can relate to Sheffield's evolving relationship. (However, I will never forgive him for calling Outside "dull"; that's deranged.) The Bowie catalogue is vast and referential in way similar to great works of literature, making rereading it a pure delight. I visited Berlin this spring, and it has dramatically altered the way I listen to "Heroes", one of several albums he recorded there (presumably during the fictional adolescence of our heroine Hedwig), as well as the wandering single "Where Are We Now?"
Of course, Bowie was famously well read, a fact that has inspired my colleague Kristianne to read selections of his top 100 books and discuss them with a friend on their thoughtful and entertaining podcast The Bowie Book Club. With On Bowie, Sheffield offers a galaxy of admirers a concise primer through which we may relive our favorite moments with the Thin White Duke again and again. --Dave Wheeler, associate editor, Shelf Awareness