Banned Books Week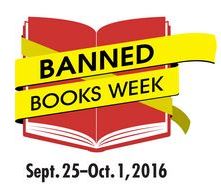 Banned Books Week begins this Sunday, September 26, an event that, sadly, continues to be a necessity. Many bookstores and libraries will have displays of banned books, and will offer events and material about book bannings and the First Amendment. Organizers of Banned Books Week has a directory of events broken down by state.
The American Library Association will again run the Banned Books Virtual Read-Out--readers can create videos celebrating the freedom to read that will posted on a dedicated YouTube channel. The ALA will also host a webinar on September 29 featuring authors Jessica Herthel (I Am Jazz), Christine Baldacchino (Morris Micklewhite and the Tangerine Dress) and Wendy Doniger (The Hindus), who will discuss their experiences with censorship. Also on the ALA website is the 2015 most-challenged book list, topped by John Green's Looking for Alaska.
The emphasis this year is on diversity--books that are frequently challenged are about people who are LGBTQIA, people of color and people with disabilities, about gender diversity and ethnic, cultural and religious minorities--"people or issues that, perhaps, that challengers would prefer not to consider," as Banned Books Week puts it. (For a list of some of these titles, click here.)
The Association of American Publishers cited statistics from the University of Wisconsin's Cooperative Children's Book Center and publisher Lee & Low from 1994 to 2012 that show that while 37% of the U.S. population are people of color, only 10% of books published focus on multicultural content. In addition, ALA's Office for Intellectual Freedom has determined that 52% of the books challenged or banned over the past decade are titles that are considered diverse content. As the AAP notes, "These statistics are troubling and create more questions than answers."