World Book Night Wants You!
Launched in the U.K. last year, World Book Night makes its debut in the U.S. this April 23, when, on that Monday evening 50,000 volunteers from coast to coast will each give away 20 specially printed copies of one of the 30 titles on the World Book Night list--a book that he or she has read and loved.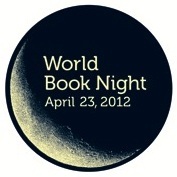 You can be one of those volunteers and distribute copies of one of the books in your community, whether at a hospital, school or even a diner--you choose the location. As an avid reader, you can help spread the love and joy of reading to light readers and nonreaders and help change lives.
The list of books is amazing, and you should find a favorite among the 30. The options include, for example, The Poisonwood Bible by Barbara Kingsolver, The Hunger Games by Suzanne Collins, The Kite Runner by Khaled Hosseini and The Book Thief by Markus Zusak.

April 23 is an important symbolic date for world literature. It is the anniversary of the birth and death of Shakespeare, as well as the anniversary of the death of Cervantes. In their honor, UNESCO made April 23 the International Day of the Book--which is now also World Book Night.

Please be a part of it and apply to be a World Book Night book giver at worldbooknight.org.