Tim Winton on the Necessary Art of Watching & Waiting
Whatever else we've told ourselves, we are not yet out of nature and nature is not done with us.
My summer beach reads recommendation list this year is quite simple: any book by Australian author Tim Winton, beginning perhaps with the recently released Island Home: A Landscape Memoir.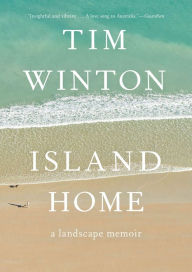 There's so much I could say about this prolific, award-winning and underappreciated author, but since summer is nearly here (and winter there, down under), I'll just share, in the spirit of the season, a brief passage that places human awareness in the context of surfing, one of the author's lifelong passions:
"It's easy to imagine surfing as mere sensation, mindless vigour; narcotic, repetitive activity. It's certainly that. But for me it was never only that," he writes in Island Home, noting that in addition to the moments of breathtaking intensity while catching great waves or wiping out, "there are hours more spent bobbing on the surface. This is when a surfer does little more than watch and wait.... This is how I came to understand nature and landscape. By submitting. And by waiting. Waiting sharpens the senses.... Forefront and backdrop, wave and shore, tree and stone, it was all network and linkage."
In Island Home, Winton trains his acute and lucid gaze on Australia's landscape and people, on himself and on our wounded planet. The connections are at once personal and universal: "I persisted with place as a starting point for all my stories. For me a story proceeded from the logic of an ecosystem.... For someone brought up with a modernist outlook, it's hard to swallow the idea that we belong to nature, tougher still to be owned by time."
If I had to narrow my Winton summer reading list to five titles, the other choices--today at least--would be the novels Breath, Dirt Music, Eyrie and Cloudstreet. If you haven't read his work, I envy your journey of discovery. Island Home has prompted me to reread him, and that promises to be a fine summer adventure, too. --Robert Gray, contributing editor