Gambling on a Summer Read
All in. Maybe the gambling theme initially drew me to Swimming with Bridgeport Girls by Anthony Tambakis (recently published by Simon & Schuster), which Jonathan Tropper called "a sad, smart, funny-as-hell novel with a broken heart that beats powerfully between the lines of every page...." But I stayed because it's irresistible, the perfect bookend (exacta?) to pair with another recent favorite, Jonathan Lethem's A Gambler's Anatomy.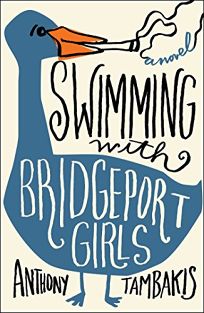 Swimming with Bridgeport Girls begins on the cusp of July 4th, and Ray Parisi is on a precipitous losing streak. Divorced from the woman he still loves, he's also lost his ESPN job, owes his bookie $52,000 and has maxed out his last credit cart "on a cash advance that led to a disaster at the blackjack table," which devolved into a brawl, a broken wrist and Ray's banishment from the Mohegan Sun casino. Then there's the unfortunate incident at Belmont Park with a losing jockey.
Time to get out of town. Time to get even. From Connecticut to Vegas to Memphis, Ray seeks the big score that will give him back his life. "Even when the dream of winning is gone, it's easily replaced by the dream of getting even, which can be almost stronger than the dream of winning," Tambakis writes. "After all, winning involves imagining what you don't have, while getting even merely requires you to remember what you did."
In addition to an entertaining, sometimes incendiary, cast of characters, the novel adeptly deals some well-played literary references. Ray buys Dostoevsky's The Gambler (mistakenly shelved in the "Games" section) and reflects: "No normal person could read that book and think gambling was anything but a dead end, but you're not a normal person." Fitzgerald's The Great Gatsby figures prominently. Even poet Stevie Smith makes a cameo appearance: "I was much too far out all my life/ And not waving but drowning."
Here's a hot summer tip: Take a chance on this sharply drawn tale of winning and losing... and the chasm in between. --Robert Gray, contributing editor