A Memory in Every Book
Our editorial about snacking while reading evoked enthusiastic responses from many readers, and one, bookseller Rene Kirkpatrick, was inspired to write about the joys of re-opening books marked with stains that recall the moment of reading: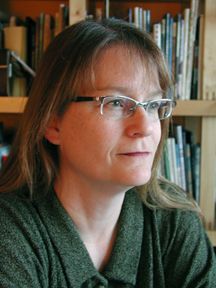 I read at meals and on my walks (and in bed, during baths, waiting for people...) and find that I can finish a book just in snatches; books as snack rather than meal. I'm sure that others read like I do. If I read at a meal, I read until I am done with that meal. There have been times when lunch has lasted for hours; as long as I don't get up, the meal continues, the sun goes down....
If eating at the kitchen table, I set the book off to the side and use the butter dish, the salt and pepper shakers, an unused knife or another book to hold the one I'm reading open. I've never worried about smearing a corner with butter or a wine bottle's scarlet circle.
I've never been a clean reader. I don't borrow other peoples' books so have never worried about getting a book messy. I love re-opening a book and finding red splotches skipping across a page (spaghetti), rippled pages (walking and reading in the rain), brown thumbprints on the edges (mud), sand deep in the gutters (beach), pages unglued and then used as bookmark (pressing the book flat enough to hold it when there wasn't something else to do it), yellow and green smears (dandelion juice). Each of those stains has a specific memory attached to it so when I re-open the book, I am immediately thrust back to the time and the place where it was read.
I dog-ear books, I've lost more dollar bills using them as bookmarks, and when I worked at a bar in Eugene after bookstore hours, beer was sloshed. Every reading experience should be just that, an experience: awash in music, filled with weather and noise, a memory held close in every book.