Spring Cleaning
Books Do Furnish a Room is the 10th novel by Anthony Powell in his 12-volume brilliant A Dance to the Music of Time. The title is also a favorite saying of mine whenever I contemplate weeding out my books; as spring calls up the tidiness gene, weed I must. This year I have inspiration for the process with a delightful book from Yale University Press that showcases authors' shelves.
Three years ago, Yale published Unpacking My Library: Architects and Their Books by Jo Steffans. Last November, Yale brought out Unpacking My Library: Writers and Their Books by Leah Price. She says in the introduction, "A self without a shelf remains cryptic; a home without books naked." In addition to the tactile and visual pleasure our books give us, we are curious about others' bookshelves, even as we wonder what others will think of our own displays. Leah Price has offered a glimpse into authors' book lives with this collection of photographs, interviews and Top 10 Books.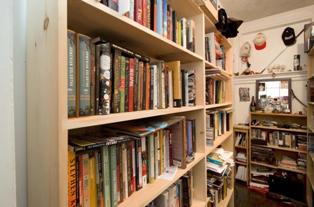 From the neat yet comfortable look of Jonathan Lethem's library to the pristine order of Rebecca Goldstein's shelves to the stacks and piles of Edmund White's bookcases, we can see what the pros do, décor-wise and otherwise. Alison Bechdel is an excessive marker-up of books--sticky notes, highlighters, extensive marginalia; a close-up of her desk reveals a passion for Edward Gorey, along with The American Puritans by Perry Miller and John Ciardi's children's books. Stephen Carter, who surrounds himself with books, tells a story about his 10th grade English teacher challenging him to read great literature. As with many authors, Philip Pullman's collection stretches back to his childhood--he started buying books as soon as he had enough money. Gary Shteyngart has some advice on throwing out books: "some crappy books remind you of certain times in your life and have to be kept. In the closet.
Here you can find inspiration when the mood strikes to rearrange, to cull, to give away--and also reasons to keep your overflowing shelves just as they are. --Marilyn Dahl