Lemons into Lemonade
There's been an outcry about the lack of a fiction Pulitzer Prize this year, with most booksellers bemoaning lost sales opportunities. Laurie Muchnick, in Bloomberg News, called the Pulitzer Board bumblers. Sig Gissler, administrator of the prizes, said, "It is not a statement about fiction in general--just a statement about the process." And the jurors agreed. Michael Cunningham said, "There's something amiss. They might want to look into that."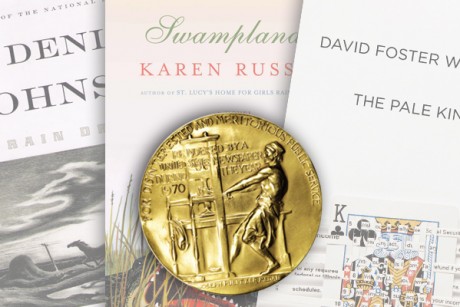 But perhaps, since there is so much news about the lack of a prize, with frequent mention of the three finalists--Swamplandia!, The Pale King and Train Dreams--all three books will get a boost instead of just one. And bookstores are figuring out ways to promote the three along with other worthy books.
However, it's interesting to look at past winners and finalists.
The Pulitzer winners' list is made up of novels that have become part of current literary canon. In part:
Olive Kitteridge by Elizabeth Strout
The Brief Wondrous Life of Oscar Wao by Junot Diaz
The Road by Cormac McCarthy
Gilead by Marilynne Robinson
The Known World by Edward P. Jones
Middlesex by Jeffrey Eugenides
Empire Falls by Richard Russo
Interpreter of Maladies by Jhumpa Lahiri
But most finalists aren't as familiar:
The Bright Forever by Lee Martin
The Echo Maker by Richard Powers
After This by Alice McDermott
Shakespeare's Kitchen by Lore Segal
The Plague of Doves by Louise Erdrich
In Other Rooms, Other Wonders by Daniyal Mueenuddin
Love in Infant Monkeys by Lydia Millet
The Privileges by Jonathan Dee
Which begs the question: Is long-lasting prominence the result of the prize, or of the brilliance of the book? The prize spurs sales, which engenders word of mouth, which leads to more sales. Of course, popularity would soon wane if the book wasn't worthy. But bottom line: a Pulitzer would have been more than nice. --Marilyn Dahl, book review editor