A Labor of Love
In today's issue, we have an interview with the estimable Buddy Guy, along with a review of his memoir, When I Left Home. We spoke with David Ritz, author of 20 "collaborative autobiographies," who worked with Buddy Guy on his book, to find out how he does it.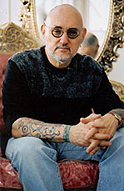 Ritz said, "It's a mystical process: it helps to love the person or love their artistry in order to capture them in a way that retains their musicality." And how could he not love Buddy Guy? "He's a complete joy. He let me do what I do, and when that happens, I really have a good time. He trusted me." Ritz enjoyed writing about Guy's music and his place in the musical pantheon: "Buddy Guy is very conservative in a sense--he loves and admires his elders, his musical elders. But for all of that, he was sort of an avant-gardeist. He paved the way for Jimi Hendrix, Jimmy Page."
Typically, Ritz does two to three months' of interviews before he writes. "Buddy is very country in a good way--he's used to working, to being on time." After the interviewing comes the difficult part: "Sometimes I struggle for months to get a voice right. Transcribing an interview doesn't work well because what the eye processes is different than what the ear hears. It helps to know the musical voice well. You can begin to hear the music in the voice.
"Buddy made very few changes; I think I nailed it with the first draft. Because he wears his heart on his sleeve, I didn't have to drag anything out of him. He knows who he is and is happy with who he is. I see myself as a surrogate so the reader can be where I am, to have that kind of intimacy.
"It really is a labor of love, and it's a privilege to do what I do." --Marilyn Dahl, reviews editor, Shelf Awareness