Remembering Maurice Sendak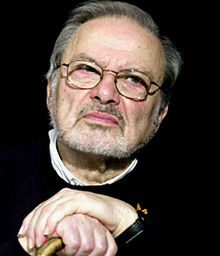 Legendary picture-book creator Maurice Sendak died on May 8 at age 83. Though he illustrated more than 80 books for children, he is perhaps best known for his 1964 Caldecott winner, Where the Wild Things Are, a watershed title in children's literature.
What will we do without Maurice Sendak?
With Where the Wild Things Are, he told us it was okay to be angry, that our dinner would still be warm after we got the rumpus out of our systems. He gave us permission to storm the night kitchen. Naked. With Ruth Krauss, he showed us "a hole is to dig" and "rugs are so dogs have napkins," and "mud is to jump in and slide in and yell Doodleedoodleedoo." And sometimes there is more to life than a round pillow upstairs and a square pillow downstairs.
He loved Mozart and Melville and Blake and Dickinson. He didn't write for children. He wrote, and someone said, "That's for children." He had great mentors: Ursula Nordstrom and Michael di Capua, Ruth Krauss and Dave "Crockett" Johnson. He loved what they taught him, and he loved teaching others.
The truth is, he taught us all. We are all changed by Sendak's vision. And we need not do without him. Because he is within us. We have only to look.
"I have nothing now but praise for my life," he told NPR last fall. "I'm not unhappy. I cry a lot because I miss people. They die and I can't stop them. They leave me and I love them more."
May you be with those you love, Maurice Sendak. We have nothing now but praise for your life.
And we miss you already. --Jennifer M. Brown, children's editor, Shelf Awareness
This piece is adapted from a longer work, first published in Shelf Awareness Pro.