All Animals A-Board
Animal books, like counting books and abecedaries, are part of the bedrock of children's literature. The following board books excellently showcase animals to teach about opposites, family and, well, the animals themselves.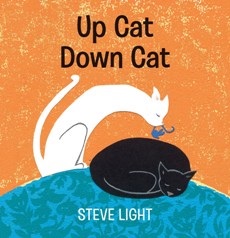 Steve Light's Up Cat Down Cat (Candlewick, $7.99) is a delightfully illustrated education on opposites for the under-three crowd. On each double-page spread, a black cat and a white cat are shown committing opposite acts through creative methods. "Long" is the white cat playing with a mouse toy, stretched on its back across the spread; "Short" is the black cat peeking into a mouse hole, curled up on only the right-hand page. Sparse text and bold, textured collage illustrations make this board book eye-catching and appealing.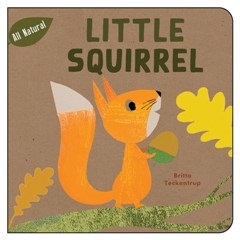 In the new All Natural series, Little Squirrel by Britta Teckentrup is one of two books currently available from Orca Book Publishers ($10.95, ages 0-2) "printed in Germany on 100% recycled paper using eco-friendly inks." Each title in the series focuses on a "young critter out and about in the... world." Little Squirrel makes a cozy home in an oak tree and works hard to save up beechnuts and acorns for the winter. By using a palette of slightly exaggerated colors from the natural world, Teckentrup makes her gentle story pop.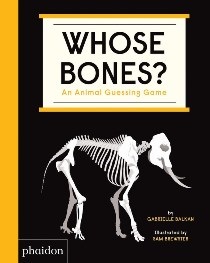 Caregivers looking for an unusual turn on the subject of animals might enjoy sharing Whose Bones? (Phaidon, $12.95) with their two- to four-year-old kids. Gabrielle Balkan and Sam Brewster introduce children to animals starting from the inside out, asking, "Whose bones are these?" On the left-hand page, there is a skeleton; on the right, a list of facts about the animal--then the right-hand page folds out to reveal the outside of the animal. A very cool way to de-creepify the skeleton for young children. --Siân Gaetano, children's and YA editor, Shelf Awareness