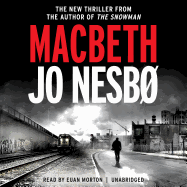 Jo Nesbø's (
Midnight Sun
) retelling of Shakespeare's
Macbeth
takes place in the 1970s amidst a rampant drug epidemic. Using the scaffolding of the original play and constructing his own dark plot full of misfortune and adversity, Nesbø clearly illustrates the universal nature of the Bard's classic work.
The character names mirror the 17th-century cast, but the individuals themselves receive the royal treatment of Nesbø's creativity. Inspector Macbeth, head of SWAT, was an orphan. While not married, he does have a monogamous relationship with Lady, the owner and operator of one of the town's two casinos. His best friend and surrogate father, Banquo, serves alongside Macbeth in the police department headed by Duncan, the chief of police. Hecate is the drug kingpin leading Macbeth around by his dark secret.
Euan Morton (Alice McDermott's The Ninth Hour and Candace Fox's Crimson Lake) narrates the audio version of this modern Macbeth with exceptional insight into each of the novel's characters. The dark tone, the driving ambition, the unmooring insanity seep into the audience through Morton's well-paced, dramatic reading. He unnerves the listener the same way the plot's circumstances rattle its title character.
Fans of Nesbø may find this work a bit jolting since it's a deviation from his contemporary norm, but
Macbeth
is cleverly layered with symbolism and complexity. Morton ensures the audience's reaction is as spinetingling as those experienced in the Globe. A fascinating novel and a stunning narration, the perfect combination. --
Jen Forbus
, freelancer