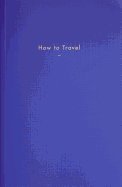 Combining elements of an activity book, journal and philosophical treatise, How to Travel reimagines the inspirational travel guide. It appropriately builds upon series editor Alain de Botton's ideas in books such as The Art of Travel, about daydreaming of holidays and appreciating mementos.
How to Travel first considers the destination, discussing exoticism, to sun or not to sun, and emotional resonance. It also unpacks travel related to families and romantic relationships--the layers of meaning, of memories, of expectations and realities. The volume explores ways to engage, with special attention paid to shyness and crowds, the power of observation, and the benefits of drawing rather than photographing a scene. There is advice about the holiday fling, the healing nature of a change in perspective, and the religious underpinnings of a pilgrimage. Lastly, the book discusses notions of home: whether to stay there, what coming back is like, and how to live in the present while preserving those precious memories.
Across 30 chapters, with 20 essays of advice and inspiration, thoughtful exercises, illustrations and photographs, and blank pages for jotting down notes, travelers are asked to consider where they are going and why, what they will do when they get there and why, and how to get the most out of the experience of traveling itself. -- BrocheAroe Fabian, owner, River Dog Book Co.