Week of Friday, April 8, 2022
Welcome to our new look! Your old favorites are still here--reviews of the best books out this week, Book Candy, Writer's Life and Great Reads--along with some new features.
In this issue we have reviews of What I See: The Black Flag Photographs of Glen E. Friedman, perfect for photography buffs and/or fans of the band Black Flag; the informative The Pendleton Field Guide to Campfire Cooking; bookseller Jeff Deutsch's In Praise of Good Bookstores; Jonathan Case's post-apocalyptic middle-grade graphic novel Little Monarchs; and much more!
The Best Books This Week
Fiction
Canadian artist Jessica Campbell (XTC69) introduces Rave with a provocative epigraph from controversial televangelist Pat Robertson that condemns feminism as "anti-family... encourag[ing] women to... kill their children, practice witchcraft... become lesbians." The graphic novel's opening image is of a church, the first text an "Amen!" But Campbell's potent coming-of-age narrative quickly turns subversive.
The sermon specifically addresses teens: "Sexual urges! Impure thoughts." The minister confesses to his own explorations with pornography and masturbation and then makes an example of his heavily pregnant 15-year-old daughter, Amber, by coercing her into bearing witness onstage to "God's love." Lauren watches, expressionless, from the audience. At school the next morning, Amber responds to Lauren's "Hey" with a "Fuck you," while blowing cigarette smoke in her face. Lauren is later paired on a class project about evolution with Mariah, whose home is where the girls meet to study; it's a weekend and Mariah's mother is away. Everything about Mariah seems antithetical to Lauren's beliefs: Mariah keeps a Wiccan altar by her bed, shoplifts and initiates kissing. While Lauren tries to reconcile her constricting religion with new feelings, Mariah disappears.
Presented in stark black and white, Campbell's coming-of-age story is also a remarkable visual overview of transforming perspectives. Most pages consistently move the story forward in six panels. Pivotal moments zoom in to a full page (Lauren staring into Mariah's bedroom) or zoom out to scenes cut into 12 panels (Lauren walking home alone from the school bus). As Lauren's awareness shifts, so, too, do the very pages, heightening Campbell's narrative and artistic synergy. --Terry Hong, Smithsonian BookDragon
Drawn & Quarterly, $22.95, hardcover, 168p., 9781770464605
The Pendleton Field Guide to Campfire Cooking
by Pendleton Woolen Mills
There are few images more idyllic than cooking over an open fire, but re-creating that experience for oneself might seem daunting. The Pendleton Field Guide to Campfire Cooking, the third in Pendleton's series of accessible handbooks on camping, offers an "evergreen helping hand for every camp cook's journey... designed for beginners and seasoned cooks alike," and provides all the information needed to cook gourmet meals over an open fire or camping stove.
A checklist of basic needs for campfire cooking, which includes cookware, appears before the recipes. There is also an explanation of types of fires, an illustrated guide on how to estimate measurements while cooking outdoors, and tips on setting up a camp kitchen and pantry. The recipes are grouped into three thematic sections: the forest, the shore and the desert. The writers--the recipes are by Sarah Keats and Lindsey Bro--also emphasize that this is, above all, a guide, and readers should feel free to improvise, modify, forage (if they are experienced and can do it safely) and make their food an opportunity to connect to the outdoors through all five senses.
The flexibility of the recipes is their real strength. Campfire cooking takes a certain degree of planning and preparation, which most recipes detail with sections labeled "before you head out." That flexibility is not limited to the campsite: because of the way the writers construct the recipes and instructions, those who feel a little less adventurous can also experience the delights of Blackberry and Herb Pancakes or Simple Mushroom Shakshuka from the comfort of their own kitchens. --Michelle Anya Anjirbag, freelance reviewer
Chronicle Books, $19.95, hardcover, 192p., 9781797207599
In Praise of Good Bookstores
by Jeff Deutsch
If anyone understands the struggles booksellers have faced in recent years, it's Jeff Deutsch, author of In Praise of Good Bookstores. Since 2014, he has been the director of Chicago's Seminary Co-op Bookstores. The likes of Amazon, he writes, have "helped us further devalue books," a galling development to a man who grew up among book-lined homes in an Orthodox Jewish community in Brooklyn. Yet, he acknowledges, "good bookstores have never made good business sense," given that their value is in being places that "create, for the unhurried, serendipitous literary discoveries" and that they help one live "a more meaningful life." What can they do to survive? In this unabashed celebration of good bookstores, Deutsch poses the question: What exactly, in this day and age, makes a good one?
He offers many ideas and includes thoughtful reflections on the most effective ways to design a shop's space; the importance of providing "customer service for solitaires"; the paradox of creating a sense of community for people who would rather be left alone with a good book; the store's role in helping readers "slow down, ruminate, and attempt to understand the world around us"; and more. At times, In Praise of Good Bookstores reads like an advertisement for his stores, but what bibliophile could get mad at a cheerleader this passionate about something as inclusive and inspiring as a good bookstore? "Not everything need be quantified," Deutsch writes. Like-minded solitaires will agree. --Michael Magras, freelance book reviewer
Princeton University Press, $19.95, hardcover, 216p., 9780691207766
What I See: The Black Flag Photographs of Glen E. Friedman
by Glen E. Friedman
Longtime fans of fabled Los Angeles punk band Black Flag will likely be immediately struck by two thoughts while looking at What I See: The Black Flag Photographs of Glen E. Friedman: "Where did my youth go?" and "So that's who took all my favorite pictures of Black Flag!"
Readers need not know anything about Black Flag or the punk scene of the 1980s to appreciate What I See. Friedman (Keep Your Eyes Open), who was just a kid with a camera when he started taking pictures of the band, writes in the introduction that punk rock's "rebelliousness, intellectualism, and creativity in the early years were something to behold." He captures this insurgent spirit through the evolution of one band. In both black-and-white and color photography that makes good use of a fish-eye lens, Friedman catches Black Flag as they rock their way through the early 1980s. He also captures changes in the band's lineup; this ultimately delivered the sculpted, tattooed and putty-featured frontman Henry Rollins, who wouldn't lose by much in a contest for the world's most photogenic human.
Many of Friedman's photos of the band midperformance include, critically, galvanized audience members, which reinforces the idea that early punk was a social movement. Friedman--who has also published photography books centered on Fugazi and, in a single volume, Run-DMC and Beastie Boys--has been fighting the good fight with his lens for decades. What I See documents a band standing in for any artist committed to questioning rules and living with integrity. --Nell Beram, author and freelance writer
Akashic, $40, hardcover, 256p., 9781636140360
A Few Collectors
by Pierre Le-Tan, transl. by Michael Z. Wise
French illustrator Pierre Le-Tan's parents cultivated his interest in art from an early age, even taking their young son to the residence of a Monsieur Wu to view catalogues of the astonishing porcelain collection the man once owned. Le-Tan's fond memory of this visit is one of 20 illustrated reflections on private art collections, including his own. Translated from the French by Michael Z. Wise, A Few Collectors is, by turns, wry, serene and melancholy.
Each slim chapter features Le-Tan's distinctive illustrations, elegantly crosshatched and gingerly tinted, of work that he saw in art-bedecked spaces; objects that his reminiscences call to mind, such as the red scarf reliably worn by one collector; and the oft-eccentric art owners. Le-Tan doesn't love all the collections that he writes about ("Everything was impeccable," he writes about one, "but it all had the same tenor as elevator music"), nor does he limit himself to collections comprising art in the traditional sense. Collectors he features include an accumulator of dolls, crumpled paper and 19th-century wax replicas of the heads of criminals.
The sole criterion for a collection's inclusion in Le-Tan's book seems to be his fascination or bemusement with the collector; regarding his own attitude toward art collection, he explains that it's "both essential and completely useless." There's both humor and a wistfulness to Le-Tan's late-in-life remembrances--he died in 2019 at the age of 69--that will incline readers to consume A Few Collectors as both a work of art and an elegy for vanishing splendor. --Nell Beram, author and freelance writer
New Vessel Press, $24.95, hardcover, 128p., 9781954404045
The Necessity of Wildfire: Poems
by Caitlin Scarano
The 38 gritty entries in Caitlin Scarano's second collection of poetry, The Necessity of Wildfire, boldly reckon with abuse and illness. Animal metaphors and the vocabulary of desire track the poet's movement from a traumatic childhood into womanhood. "Travel far from where they raised you/ and your blood will still burn," Scarano (Do Not Bring Him Water) warns in "Oxbow," which depicts family curses as inescapable. Autobiographical poems mine her father's death and her girlhood memories of molestation by her grandfather. Fear of passing on "defective" genes contributes to her decision not to have children of her own.
Ominous symbolism draws on nature, such as deer hunting or a snapping turtle turned to roadkill. The poem "Calf" alternates between her father's diagnosis of a life-threatening illness and an ailing "cow on her side,/ a trembling mass." But the natural world can also represent pure beauty, as it does in poems about the aurora borealis and the dignity of a wolf. Wildfire variously connotes carelessness, lust or, as per the title, an ironic act of care. Sometimes the titles of poems tell mini-stories: "Every disaster branches out from another" and "Not the ending (that came much later) but when we knew it was over." Self-deprecating humor surfaces in "I know we're all sick of poems with deer but let me explain." Alliteration, repetition, and internal or slant rhymes form the sonic palette. Compound adjectives ("cavernquiet" and "blood-bright") lend novelty. There's onomatopoeia in the "snap" and "crack" of a wishbone. Some prose segments verge on brooding essays.
Meditating on family's "pronged, bloodshot legacies," these visceral poems pack a punch. --Rebecca Foster, freelance reviewer, proofreader and blogger at Bookish Beck
Blair/Carolina Wren Press, $16.95, paperback, 92p., 9781949467789
Little Monarchs
by Jonathan Case
This prescient, thrilling, unusual and occasionally hilarious graphic novel uses scrapbook-style content to tell the story of two of Earth's human survivors of a sun shift that causes a fatal sickness in mammals.
It's the year 2101. In a MacGyvered copper van, Elvie, a plucky 10-year-old, and her wry, brilliant guardian, Flora, follow migrating monarch butterflies along the west coast of the United States. Their vital, life-sustaining purpose is to harvest scales from the butterflies' wings to use both in a medicine Flora produces to prevent sun sickness and also--they hope--in developing a vaccine. Along the way they must protect themselves from marauders, deepers (people who live underground during the day and scavenge at night), earthquakes, tsunamis and betrayal by the very people they hope to save with the vaccination. "Desperate people are dangerous," Flora warns Elvie.
In his magnificent Little Monarchs, Jonathan Case (Before Tomorrowland illustrator) uses a rich blend of journal entries, maps, diagrams, scientific illustrations, instructions on celestial navigation and hammock-hanging, and tips on foraging and scavenging to allow Elvie to narrate her strange yet normal daily experience. Just about everything one might need to survive post-apocalyptic life on Earth is packed into these colorful pages. Case's choice to use comic-strip style art is canny: the somewhat realistic human figures are highly expressive and the panels are representative of the constrained life the characters lead, never able to break out of their roles--or the boxes drawn around them. The stunning backdrop of abandoned buildings, crashed vehicles and nature left to its own devices tells the story as vividly as Elvie's words. Save the planet--read this book! --Emilie Coulter, freelance writer and editor
Margaret Ferguson/Holiday House, $22.99, hardcover, 256p., ages 8-13, 9780823442607
Witchlings
by Claribel A. Ortega
Three gutsy girl witches must defeat a legendary monstruo in this frolicking fun middle-grade Latine fantasy.
During the Black Moon Ceremony in Ravenskill, young witchlings are placed into covens. Twelve-year-olds Seven Salazar, Valley Pepperhorn and Thorn La Roux aren't assigned spots--they're Spares, outcast witches with weak magic. Worse, this puts the girls into a coven together that they fail to close, meaning they will lose their magic completely. Seven cannot abide being magicless, so she invokes the Impossible Task: they must fell a Nightbeast for another chance to seal their coven, or become toads forever. The girls are determined. "We're gonna prove every ugly butt-toad in this town wrong."
Unfortunately, the giant wolflike monstruo isn't taking their bait. And weirdly, the field of flowers that, if dead, would indicate the Nightbeast's presence has been enchanted to seem uneaten. Meanwhile, the Nightbeast's minions keep attacking nearby towns when their councils are voting to expand Spare rights. The witchlings suspect it's all connected, but the more pieces they uncover to the sinister puzzle, the more impossible their task seems.
Witchlings by Claribel A. Ortega (Ghost Squad) is nonstop fun. Ortega's worldbuilding is charming: the girls read Tween Witch! magazine and use the witchernet; distances are measured in toadstools and toad racing is a sport. The girls' sometimes tense, often hilarious attempts at magic demonstrate that being willing to make mistakes promotes learning and that trusting in a friend's knowledge facilitates teamwork. The way Spares are mistreated ("Your kind should be illegals") underscores how barriers to equality are harmful. Witchlings heralds the importance of giving everyone a chance to shine. --Samantha Zaboski, freelance editor and reviewer
Scholastic Press, $17.99, hardcover, 352p., ages 8-12, 9781338745528
Mama and Mommy and Me in the Middle
by Nina LaCour, illus. by Kaylani Juanita
Mama and Mommy and Me in the Middle is the heartwarming debut picture book from Printz Award-winning author Nina LaCour (We Are Okay) about a girl who misses her mommy while she's on a work trip.
For the young protagonist, the perfect spot can always be found right in between Mama and Mommy. But when Mommy leaves for a work trip, the girl can't get comfortable. As the days go by, she goes to school, runs errands and watches movies with her Mama. The two even video chat with Mommy but the girl is too sad--she misses Mommy "as deep as a scuba diver down in the ocean." On one of their walks to school, the girl shares an idea with Mama for a welcome-home surprise for Mommy. When Mommy finally returns, though, the little girl's joy is soured by the memory of missing her throughout the week.
Accompanying LaCour's comforting text is the cozy art of Stonewall Award-winning illustrator Kaylani Juanita (When Aiden Became a Brother). Juanita's distinctive mixed-media illustrations match and reflect LaCour's writing style, with comforting soft colors, realistic figures and tons of details. The artist visually connects the characters to each other through the girl: her hair, worn up in a puff that matches fair-skinned Mama's bun, has a white patch in the front that's twisted with a bead, just like Mommy, who's Black. LaCour's representation of a two-mom family in Mama and Mommy and Me in the Middle allows young readers, regardless of the gender of their parents, to relate to this sentimental, delightful story. --Natasha Harris, freelance reviewer
Candlewick Press, $17.99, hardcover, 32p., ages 3-7, 9781536211511
The Writer's Life
Reading With... Neema Avashia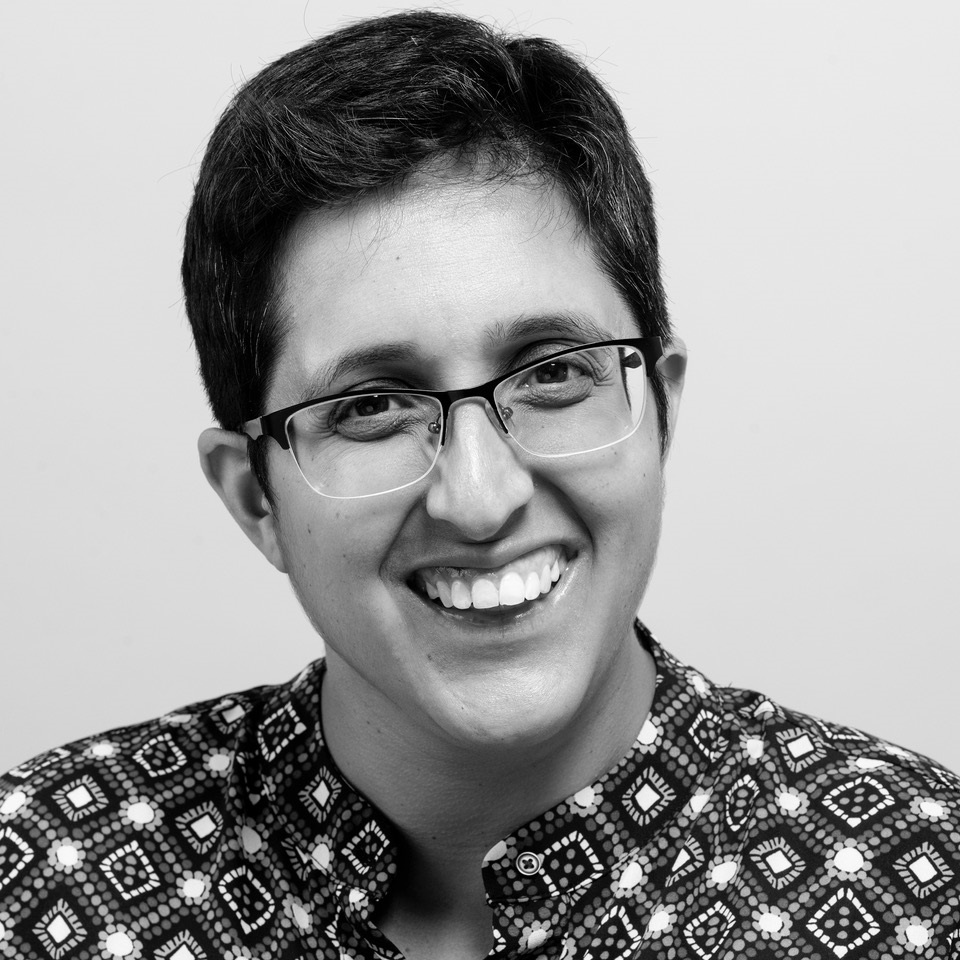 photo: Jennifer Waddell
Neema Avashia was born and raised in southern West Virginia to parents who immigrated to the United States. She has been a history and civics teacher in the Boston Public Schools since 2003. Her essays have appeared in the Bitter Southerner, Catapult, Kenyon Review Online and Lithub. Her first book, Another Appalachia: Coming Up Queer and Indian in a Mountain Place (West Virginia University Press) examines Avashia's identity as a queer desi Appalachian woman, while encouraging readers to envision more complex versions of both Appalachia and the nation as a whole.
Handsell readers your book in 25 words or less:
You didn't know there were Indian people in West Virginia? Do I have the book for you!
On your nightstand now:
I just finished two excellent short story collections: Filthy Animals by Brandon Taylor and Afterparties by Anthony Veasna So, each of which explores themes of queerness and identity in the context of insular communities--in Taylor's case, grad school in Madison, Wis., where I also went. In So's case, the Cambodian American community in the Central Valley of California. Now I'm reading Unprotected by Billy Porter, which is a beautiful memoir about growing up Black and queer in Pittsburgh, finding his way in the theater world at the height of the AIDS epidemic.
Favorite book when you were a child:
Ramona Quimby, Age 8 by Beverly Cleary. My first queer role model, even though neither she, nor I, really knew anything about queerness at the time!
Your top five authors:
Jesmyn Ward is hands-down the best writer of our generation, and I am left speechless by everything she writes. I am continually inspired by Louise Erdrich's ability to write in a way that is both prolific and profound. Carter Sickels's stories are grounded in places that are so familiar to me, but also ask hard questions about how our relationships in those places are shaped by our identities. Danez Smith's poems fill my classroom with the whole range of human emotion. And Jane McCafferty's characters live in my head for years after I've met them on the page.
Book you've faked reading:
Heart of Darkness by Joseph Conrad. We were assigned to read it in high school, and every time I'd start reading it, I'd fall asleep after three pages. I never finished it, and still managed to churn out a whole term paper about it.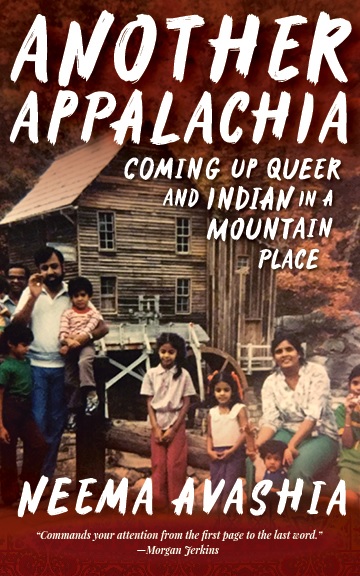 Book you're an evangelist for:
I've bought at least 20 copies of World of Wonders by Aimee Nezhukumatathil for friends and family members. I love the way in which Nezhukumatathil is able to use descriptions of the natural world as entry points into her exploration of the personal. I've never read another book where every time I finished an essay, I literally sighed in satisfaction.
Book you've bought for the cover:
F*ckface by Leah Hampton. That title! The gorgeous deep blue background and the warty toad on the cover. I couldn't resist it. And every story within it confirmed that buying it was an excellent decision.
Book you hid from your parents:
Every book! I would stay up really late at night reading under the covers with a flashlight, and only go to sleep when my dad got up at 4 a.m. to head out for work at the chemical plant. I'm fairly certain he knew what I was up to, but he never called me out on it.
Book that changed your life:
Just Mercy by Bryan Stevenson changed everything about the way I understand the relationship between race, class and our system of mass incarceration. His belief that sound policy can be made only when we are proximate to those most impacted has completely shifted the way I think about my work as an educator. I'm a better human, and better teacher, for having read his work.
Favorite line from a book:
"You may not see it now," said the Princess of Pure Reason, looking knowingly at Milo's puzzled face, "but whatever we learn has a purpose and whatever we do affects everything and everyone else, if even in the tiniest way. Why, when a housefly flaps his wings, a breeze goes round the world; when a speck of dust falls to the ground, the entire planet weighs a little more; and when you stamp your foot, the earth moves slightly off its course. Whenever you laugh, gladness spreads like the ripples in the pond; and whenever you're sad, no one anywhere can be really happy. And it's much the same thing with knowledge, for whenever you learn something new, the whole world becomes that much richer." --Norton Juster, The Phantom Tollbooth
Five books you'll never part with:
My signed copies of Southernmost by Silas House, Good Talk by Mira Jacob and The Sentence by Louise Erdrich. My teenage-self's heavily annotated Letters to a Young Poet by Rainer Maria Rilke. My West Virginia Encyclopedia.
Book you most want to read again for the first time:
I wish that I could have read The Stories of Breece D'J Pancake when I was in high school, instead of stumbling on it as an Expatalachian in my late 30s. I think that encountering his narrative voice, and seeing his rendering of home and characters who resembled my friends and neighbors, would have given me such better grounding for understanding the way that the place where I grew up was shaping the stories I was trying to tell.
The YA book people are trying to ban that I think every young person should have access to:
Stamped: Racism, Anti-racism and You by Ibram X. Kendi and Jason Reynolds. We can't build an equitable world if we don't understand the roots of inequity. This book helps young people understand the roots.

Easy Beauty
by Chloé Cooper Jones
The unexpected gift of motherhood and a yearning to live authentically in the present form the undercurrents running beneath Easy Beauty by Chloé Cooper Jones, a genre-defying travelogue and memoir by a gifted writer claiming spaces and embracing identities previously denied to her as a woman with a rare, painful and physically limiting congenital disability. Jones deploys wickedly clever humor to deconstruct some of her most difficult moments, a strategy that alerts readers early on to her endless capacity for grace and intellectual courage.
Easy Beauty is gorgeously crafted as a collage of experiences from childhood to the present day, scenes from a life in which the discomfort of others toward her disability limited Jones's interaction with the world, until the birth of her son, Wolfgang, forced her to critically examine her own defenses and reorient herself toward people rather than away from them. The author had spent her life waiting for people to reach their place of comfort with her physical appearance so that they would forget about it and only then would she be truly seen. She did not share her experiences, especially the cruelty of strangers, with anyone, keeping at a distance even her husband, Andrew, and her closest friends, lest they be negatively impacted by her physical and emotional pain.
"People usually notice my height first. I'm short," Jones says. "Then they notice the way I walk, then that my legs from the knees down and my feet are underdeveloped and disproportionate to the rest of my body. My spine is curved, which makes my back arch forward." Jones has hip dysplasia and she walks by rolling her hips, a painful movement that results in a noticeable side-to-side gait and draws unwanted and often hostile stares wherever she goes. Set apart from a very young age as someone who is not considered a whole person, Jones learned to disconnect by retreating to her mental "neutral room," a place where she could distance herself from the hurt of rejection. As Wolfgang grew, Jones noticed that he was learning to interact with the world by observing her. She used anger, self-righteousness and mental removal to insulate herself from people and hid behind distrust and disdain for all that she was excluded from. But the darkness that she welcomed and hid within was no place for her uncommonly sensitive child, who watched her closely and drank up her moods.
Jones is an award-winning journalist who moved to New York from rural Kansas to pursue a Ph.D. in philosophy. She was a finalist for the 2020 Pulitzer Prize in Feature Writing and is the recipient of the 2020 Whiting Creative Nonfiction Grant. With a philosopher's determined belief in the transformative power of beauty in art, music and nature, Jones decided to leave the safe borders of her Brooklyn home to explore and gain proximity to such beauty. She ventured to countries and cities where she would be confronted daily with reactions to her physical presence, a body visually marked by difference, on her quest to discover a new way of being that could guide and inspire Wolfgang as the able-bodied son of a disabled mother.
The chapters in Easy Beauty melt and flow into one another, linked by meditative musings on philosophical theories of beauty that are scattered throughout Jones's memoir, from the easy beauty of Grecian sculptural symmetry to the difficult beauty that requires time, patience and concentration to uncover. Jones's belief in the power of beauty as an agent of personal change was reinforced while experiencing the communal joy of singing along to opera with rapturous audiences in Rome and by the spiritual deliverance of being in proximity to Beyoncé's "blunt, triumphant beauty" at a concert in Milan. Channeling the ideas of Iris Murdoch (who provides the book's epitaph), Jones allows the beauty of movement she witnesses while watching Roger Federer play tennis in Palm Springs to take her out of herself, replacing self-centered thoughts with "the electric pleasure of seeing someone be so good at something."
Jones's own beauty is discernible only in the right light. "I waited for the new people I met to simply unsee my body, to forget to stare, which happened over time. Enough exposure to me dulled my effect." In order to be accepted as a whole person deserving of the whole range of human desires, she felt she had to make up for her body by being extraordinary in all other aspects of her life. Jones's mother, protective and practical, encouraged her to use her disability as a tool, which led to Jones taking advantage of other people's reductive assumptions about her to get what she wanted.
Humor, brutal honesty and wonder at her "deep, unwieldy love" for Wolfgang inspire a potent narrative as Jones unravels the experiences leading to her gradual inner transformation and growth as a mother and a role model. Easy Beauty finds Jones confronting her own complicity in allowing others to exclude her. "It is hard to leave the darkness and step out into bright and baring light," she declares, granting readers the privilege of observing a brilliant mind set itself blissfully free. --Shahina Piyarali
Avid Reader Press, $28, hardcover, 288p., 9781982151997
Experiencing Beauty
An Interview With Chloé Cooper Jones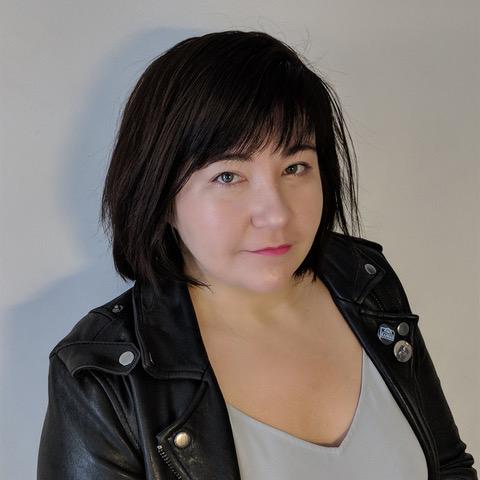 (photo: Andrew Grossardt)
Chloé Cooper Jones's work has appeared in publications including GQ and New York magazine. In 2020, she was a Pulitzer Prize finalist in Feature Writing. Jones also received the 2020 Whiting Creative Nonfiction Grant and the 2021 Howard Foundation Grant from Brown University, both of which supported the writing of her memoir Easy Beauty (Avid Reader Press).
How did the process of writing Easy Beauty blossom and unfold?
I wanted to know if the experience of beauty--in art, nature, music, performance, etc.--could create a shift in me. I needed to change but did not know how. I thought it was possible that beauty and aesthetic experience could play a role in being an agent of that change.
The book covers an 18-month period when I was traveling a lot and each chapter of the book finds me in a different city looking at/thinking about a site or example of beauty. I wrote the rough material for a first draft almost entirely in hotels, airports, on boats and trains, but I shaped those notes into the book and did all the revisions in my small Brooklyn apartment during Covid. The result, I feel, is a tension between expansive movement and anxious claustrophobia in the sentences that I welcome but didn't intend.
Easy Beauty offers magnificent insight into the universal human condition through the lens of female disability, but it goes far beyond being categorized as a disability memoir. Who is the ideal audience for your memoir?
Thank you, that's very meaningful to me to know you read it that way. It is important to me that this book be about something relevant to other people. Some memoirs read to me like very long Facebook updates--interesting if you want to know the status of this one particular person, and sometimes I do. But I wanted to write a book less about me and more about the urge to retreat from discomfort in all its permutations and the question of whether or not the experience of beauty can help us get better at being present in our lives, in the world, and with each other. I filter these questions through the lens of my life and my body, but I think they are universal concerns. My ideal audience is one that finds these questions worth exploring.
The concept of a mental "neutral room" where one can escape the difficulties of the present moment is fascinating. Do you think everyone could benefit from a protective mental retreat? What are the dangers of spending too much time in one's neutral room?
Yes, and I think most people already have their own "neutral room." Where do you go to retreat from the world? This is a question my father asked me in his last letter he wrote to me. He retreated into alcohol and affairs. My mother retreats into endless chores. My mother loves chores. For me, I retreat into the life of the mind. It's likely many people become writers because a retreat into their own minds and ideas is the safest place for them. This can be beneficial. My "neutral room" is a place of comfort, peace and autonomy. Placing value in the life of the mind has yielded me many good things. But I'm fascinated by thresholds: Where does a protective retreating instinct cross over into an avoidance of reality or a dodging of difficult but necessary work? I think one of the key dangers of retreat for me is that I was complicit in the discriminatory ableism I was trying to hide from by not thinking about it and developing a language to address it when I saw it. I'm trying to be better at recognizing these thresholds.
What are the greatest gifts your parents bestowed on you as a child struggling with feelings of otherness?
My mother can bring perspective to anything. I think she sees self-pity as a lack of vision and imagination. She turns her attention outward to other people and sees herself as part of a greater whole. She is the least self-centered person I know. In this way, I think she really helped me think of myself as not "othered" but as one point of a vast, complex, but connected spectrum of human experience. My father introduced me to some important intellectual traditions in literature, art and philosophy and encouraged me to try and find my own way into these enduring conversations. If I couldn't find my place with people, I could find it in ideas.
Easy Beauty tackles serious topics with grace, brutal honesty and strategic comedic relief, a winning combination. What role does humor play in the day-to-day realities of your family life?
I think most any situation, if you are paying close attention, is funny. Some of the most devastating things I've experienced are also hysterical in their absurdity. Life has range and so writing about life should have range too, I think.
One of the primary ways my family communicates is through teasing, laughing, telling fragments of inside jokes or repurposing jokes from shows or movies we've watched. It all becomes evidence of how much time we've spent together. The secret language of intimacy is one of my favorite topics--by which I mean I'm fascinated by the ways a language forms/reforms/degrades/is coded between people who truly know each other and have spent a lot of time together.
Can you share examples of relationship changes you experienced when you decided to embrace, fully and unapologetically, the disability space you occupy?
All my relationships have become stronger because I am not hiding myself, nor am I trying to convince others that my mind should "make up" for my body.
What do you most hope for readers to take away from Easy Beauty?
I hope my readers feel I am talking with them, not at them. I hope they feel this book is for and about them, and not a voyeuristic journey into the life of some strange and foreign person. A few people have said to me something like, "I felt connected to x part of your book, but I don't want to compare my life to yours" and I'm like, by all means! Let's see the ways we are more alike than dissimilar. I'm not interested in conflating experience, but I am interested in the connective tissue between seemingly disparate lives. Making and participating in art is often the work of probing that connective tissue.
With personal and work-related travel adventures such a vibrant part of your story, where do you plan to visit next? Do you plan to attend any more Beyoncé concerts?
I would love to go to another Beyoncé concert, of course! Or if Harry Styles wants to send me some tickets to his show, that'd be cool. But wherever I go next, I'll take my son. --Shahina Piyarali
Shelf vetted, publisher supported.
Rediscover
Rediscover: Todd Gitlin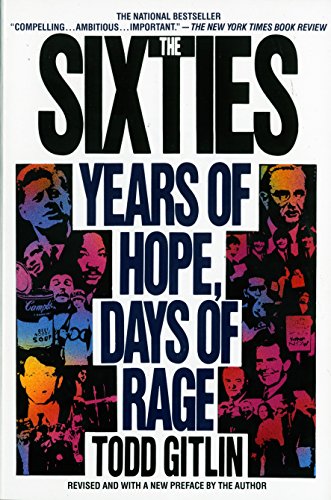 Todd Gitlin, "whose immersion in the student rebellions of the 1960s laid the foundation for his later work as a writer, a cultural historian and both a voice and a critic of the left," died February 5 at age 79, the New York Times reported. A professor of journalism and sociology, Gitlin was chair of the Ph.D. program in Communications at Columbia University, and an honorary professor at Ben-Gurion University of the Negev. Gitlin "personified the cultural and political ambitions of the '60s, with a continuous readiness to confront orthodoxies of whatever stripe," the Times wrote, adding that as a president of Students for a Democratic Society, he assisted in organizing the first national demonstration against the war and helped lead the first protests in the U.S. against apartheid in South Africa.

Gitlin wrote 16 books, including The Sixties: Years of Hope, Days of Rage; The Twilight of Common Dreams: Why America Is Wracked with Culture Wars; Media Unlimited: How the Torrent of Images and Sounds Overwhelms Our Lives; The Whole World Is Watching; the novel Sacrifice, which won the Harold Ribalow Award for Fiction on Jewish Themes; and co-author of The Chosen Peoples: America, Israel, and the Ordeals of Divine Election. His novel The Opposition will be published June 1 by Guernica World Editions.