Week of Tuesday, April 12, 2022
We hope you're enjoying our new look! Your old favorites are still here--reviews of the best books out this week, Book Candy, Writer's Life and Great Reads--along with some new features.
In this issue, we review Sarah Ellis's picture-book biography of unusual classical pianist Glenn Gould, As Glenn as Can Be, illustrated by Nancy Vo; Left on Tenth, A Second Chance at Life, a moving memoir by Delia Ephron; the gorgeous underwater world recorded by National Geographic photographer David Liittschwager in Octopus, Seahorse, Jellyfish; plus much more.
Let us know what you think at feedback@shelf-awareness.com.
The Best Books This Week
Fiction
Unlikely Animals
by Annie Hartnett
In Unlikely Animals, the wistfully charming tragicomedy from Annie Hartnett (Rabbit Cake), a chorus of all-seeing ghosts tied to a cemetery in Everton, N.H., relates an offbeat saga of peculiar animals, missing people and family ties, set against the backdrop of the opioid crisis.
Since birth, 22-year-old Emma Starling has possessed the power to heal with her touch. When the med school dropout arrives back in tiny Everton, everyone assumes she's come to heal her father. Professor Clive Starling is dying of a brain disease so mysterious it can be diagnosed only via autopsy, and he now spends his days with the ghost of naturalist Ernest Harold Baynes. Baynes has suggestions for susceptible Clive, like ordering an $18,000 semi-domesticated Russian fox. The ghosts know Baynes is real and initially find Clive's predicament "both funny and sad, the kind of story we like best." They're less amused, however, after they learn Emma can't help Clive "edge the Grim Reaper out by a nose." Her hands have lost the healing touch.
Loosely based on a real town and the obscure historical figure Baynes, Unlikely Animals feels like a fairy tale--if fairy tales encapsulated all the messiness of real life. It perfectly captures the tone and texture of a town where life is inescapably colored by the opioid crisis. Pops of humor abound, especially in Emma's interactions with her students and the occasional moments when the ghosts give one of the animal characters the main point of view. This unapologetically genre-bending tribute to life, death and the beautiful weirdness found in both has potential to spark exceptional book club discussions. --Jaclyn Fulwood, blogger at Infinite Reads
Ballantine Books, $28, hardcover, 368p., 9780593160220
Portrait of a Thief
by Grace D. Li
In Grace D. Li's suspenseful art-heist thriller, Portrait of a Thief, an art history student convinces others to help him steal priceless artwork and return them to China. Will Chen studied hard, got good grades and made his parents proud when he was accepted into Harvard. He's on track for success until he learns about the Summer Palace, an imperial residence in Beijing. British and French forces burned the palace to the ground in 1860 and looted the treasures within, including 12 ornately sculptured zodiac heads. Seven of them have been returned, but five remain the property of different museums across Europe and the U.S. Will writes an article arguing that the artwork should be returned. Suddenly, a Chinese company offers Will $50 million to steal the zodiac heads and return them to China.
Will enlists his sister, Irene, for help recruiting a team they can trust: Daniel, a medical student; Alex, a computer genius; and Lily, an engineering student with a penchant for fast cars. Like Will, the members of the group are squeaky-clean overachievers, standing on the precipice of their parents' version of success. Breaking into museums, five altogether, will ruin their futures--but only if they get caught. The high-stakes situation leads to mistakes, arguments and attractions that threaten the group before the five can get anywhere near their life-changing payout.
Debut author Grace D. Li makes a strong argument for why parent-pleasing students should and shouldn't derail their lives for money, even the kind that erases debt. But it's the sexual tension of the will-they-or-won't-they subplot melding with the will-they-or-won't-they-get-caught narrative that makes this novel a thriller. --Paul Dinh-McCrillis, freelance reviewer
Tiny Reparations Books, $26, hardcover, 384p., 9780593184738
A Tiny Upward Shove
by Melissa Chadburn
Melissa Chadburn's electrifying debut novel, A Tiny Upward Shove, opens with a gruesome death observed by "Aswang," a shape-shifting creature of Filipinx folklore, who knows "about the slow agonies of death" because she reanimates the body of 18-year-old Marina, "murdered on a pig farm in a place called Port Coquitlam," the penultimate victim of a serial killer. Aswang serves as partial narrator to a story that mainly belongs to Marina.
Marina's Lola (grandmother in Tagalog) ensured a happy childhood in Monterey, Calif. Mutya, Marina's Filipina mother, was a teenager when she was briefly married to Marina's Black father and Marina was born. But when another boyfriend convinces Mutya to move to Los Angeles, Marina is separated from Lola's nurturing protection and soon becomes a statistic of neglect and violence, landing at a group home. Marina's bunkmate Alex's childhood couldn't have been more heinous: five months into a perfectly matched adoption, Alex's birthmother reclaimed her, only to enable three years of torture. Marina, one year older than Alex, emancipates earlier from the court system. Her parting promise to find Alex's adoptive mother leads Marina to Vancouver, where no good deed goes unpunished--deception, drugs, slavery, slaughter await--until Aswang can finally wreak overdue revenge.
The violence is graphic and relentless, yet bearing witness seems equally mandatory: this horror is reality, especially for girls and women of color. Chadburn--who experienced foster care herself--grounds her novel in what she's seen, what children and adults have (not) survived. Writing with remarkable grace, even surprising moments of transporting joy, Chadburn creates a miraculous literary platform to claim these missing stories. --Terry Hong, Smithsonian BookDragon
Farrar, Straus and Giroux, $27, hardcover, 352p., 9780374277758
The Wedding Crasher
by Mia Sosa
Mia Sosa (Acting on Impulse) serves up an extra helping of fake dating in her steamy, laugh-out-loud romance The Wedding Crasher. After Solange overhears the bride confessing her love to someone else, she proceeds to ruin Dean's ceremony. What she doesn't know is that the wedding is a modern-day marriage of convenience.
Having a wife would help Dean's attempt to make partner at his law firm, so now Dean needs Solange's assistance. Because the partners seek someone to woo a potential new lawyer and only couples will do, Solange and Dean engage in their own fake-dating scheme. When Solange's aunt and cousin visit from Brazil, it becomes her turn to need a fake boyfriend. Solange, a continuing education teacher and a diehard romantic, may be leaving D.C. for a position in Ohio; Dean needs stability and doesn't want to risk a messy relationship. Despite all this, their inconvenient feelings are undeniable, turning their fake relationship into something real.
The Wedding Crasher is closely tied to Sosa's The Worst Best Man, but it can stand alone. The large Afro-Brazilian family the author has created is so warm, funny and nosy that readers will want to spend more time with them. Solange and Dean's banter alone is enough to recommend the novel, but Sosa manages to fill the prose with everything romance fans could want: food, family, heat and humor. --Suzanne Krohn, librarian and freelance reviewer
Avon, $15.99, paperback, 400p., 9780062909893
Left on Tenth: A Second Chance at Life: A Memoir
by Delia Ephron
Delia Ephron's beautifully measured, eloquent and moving memoir of illness, death and the possibility of finding love later in life is an emotional rollercoaster. Left on Tenth begins in 2015 when Ephron (Siracusa) is 71. After a decade-long battle with prostate cancer, her husband of 32 years, author Jerome Allan Kass, receives hospice care. "He was my true home," she writes. "My first safe place." She is left alone after his death in their 10th Street apartment in New York City's Greenwich Village. Three years earlier, her sister Nora Ephron had died after living with acute myelogenous leukemia (AML) for six years, which Nora had kept a secret. Delia had lived through more than a decade of dealing with two family members' chronic illnesses and death.
A year after her husband's death, she reconnects with a widowed doctor; Nora had set Delia up on a date with him when Delia was only 18. They quickly fall in love. Suddenly, her life is a lot like a rom-com script written by Nora and Delia Ephron. When Delia is diagnosed with AML, she undergoes chemotherapy, but her remission lasts only eight months. A bone marrow transplant with a survival rate of 20% is her only option. Her grueling and horrifying months-long hospitalization leaves her depleted, severely depressed and suicidal. The fact that she does indeed recover is remarkably uplifting and should give hope to others battling diseases.
Ephron's reluctance to portray herself as an ideal patient taps into readers' empathy and adds tremendous power to her brutally candid and moving memoir of her long battle with a very aggressive cancer. --Kevin Howell, independent reviewer and marketing consultant
Little, Brown, $29, hardcover, 304p., 9780316267656
Hello, Molly!: A Memoir
by Molly Shannon and Sean Wilsey
Hello, Molly! is a multi-faceted love story, a candid and touching memoir by Molly Shannon (Tilly the Trickster), Emmy-nominated actress and comedian. Shannon was a six-year cast member of Saturday Night Live, her inimitable humor steeped in paying close attention to the people in her life. Her psyche was imprinted at the age of four when a car crash claimed the lives of her mother, her younger sister and a cousin. The tragic accident was caused by her father, who was driving while tired and under the influence.
Shannon, adventurous from an early age, possessed an innately cheerful and positive disposition, which saved her. She drew upon humor to lighten her load--and also help dispel bouts of depression and guilt that plagued her usually colorful, open-minded father. The two served as cheerleaders, confidantes and touchstones for each other. This beautiful father-daughter story is woven throughout the memoir, which includes many funny anecdotes about Shannon's hard work, dedication, resilience and sacrifice on her road to stardom. She employed many laugh-out-loud, creative career strategies en route to SNL. Once there, she honed many memorable, quirky characters, including Catholic school misfit Mary Katherine Gallagher. Shannon's conversationally styled narrative reflects her wholly original brand of comedy.
Shannon expresses sincere gratitude for those who believed in and boosted her career. However, the story of her enduring love for her absent mother and sister--as well as the bond she shared with her bighearted father--casts Shannon in a new light, one that radiates with heartfelt sensitivity. --Kathleen Gerard, blogger at Reading Between the Lines
Ecco, $27.99, hardcover, 304p., 9780063056237
Bomb Shelter: Love, Time, and Other Explosives
by Mary Laura Philpott
Mary Laura Philpott (Penguins with People Problems; I Miss You When I Blink) is worried. According to her amusingly fretful essay collection Bomb Shelter: Love, Time, and Other Explosives, she's worried about her children's health, her aging parents' health, her own health, climate change, school shootings, the imminent empty nest, losing her looks, not being taken seriously and the turtle who lives in her Nashville neighborhood. Other than the turtle bit, these are fairly standard anxiety arenas, but Philpott has a leg up in the Handwringers' Olympics even beyond her snappy sentences, disarming self-awareness and winning self-deprecation.
When he was in 10th grade, Philpott's son had an epileptic seizure on the bathroom floor. Philpott greeted this harrowing sight with a "sense of recognition": "Oh. There it is... the worry had finally materialized." Call it an affirmation of a life spent wearing "disaster-colored glasses." Philpott's son's newfound vulnerability is a recurring touch point throughout Bomb Shelter, whose essays explore worry-churning developments, both immediate (Philpott's father's triple bypass) and ongoing (Philpott has a cache--"my secret showcase of gullibility"--of pricey anti-aging skin creams). Throughout her book, whose occasional lapses into mawkishness are soon enough undercut by humor, Philpott makes a persuasive case for the worrywart.
Readers of Bomb Shelter will see, and they may well join Philpott as, felled by worrisome herniated discs, she lies on the floor and stares at the ceiling, working through her anxieties, a supine but proud poster child for nervous Nellies everywhere. --Nell Beram, author and freelance writer
Atria, $27, hardcover, 288p., 9781982160784
The Devil's Half Acre: The Untold Story of How One Woman Liberated the South's Most Notorious Slave Jail
by Kristen Green
In The Devil's Half Acre, Kristen Green (Something Must Be Done About Prince Edward County) excavates the remarkable, long-erased story of a woman who survived slavery, built a better life for her children and ultimately converted the jail building that her enslaver operated into a Black men's seminary.
Mary Lumpkin was around 13 years old when she was forced to bear the children of her enslaver, Robert Lumpkin, who ran an infamous slave jail in Richmond, Va. Robert gave the jail to Mary in his will, and it eventually became what is now Virginia Union University. Lumpkin left behind some letters to the school but no personal papers or journals. Through examinations of property and school records in several states and mentions in other documents about the Lumpkin jail, Green painstakingly reconstructs the story of how Lumpkin kept her children from being sold away from her and arranged for them to be educated in Philadelphia. Lumpkin, claiming to be widowed, lived there with her children as a free woman through the Civil War--before then returning to Robert until his death in 1866.
Green acknowledges that we will never know the exact arrangement Mary and Robert Lumpkin made, the one that brought her back to him just before his death in 1866, when she was indisputably a free woman and which resulted in her inheritance of his real estate. But Green's research offers readers a moving, insightful picture of the families and friendships of enslaved women, those whose stories have long been erased. --Kristen Allen-Vogel, information services librarian at Dayton Metro Library
Seal Press, $30, hardcover, 352p., 9781541675636
Don't Worry: 48 Lessons on Relieving Anxiety from a Zen Buddhist Monk
by Shunmyo Masuno, transl. by Allison Markin Powell
Anxiety can be overwhelming, but what if there were small ways to learn to refocus anxiety triggers so that everyday life could become more manageable and enjoyable? Shunmyo Masuno (The Art of Simple Living), the head priest of a Buddhist temple in Japan, leads readers through a Zen approach to life in Don't Worry: 48 Lessons on Relieving Anxiety from a Zen Buddhist Monk. In lessons imparted through phrases derived from scriptures (zengo) and anecdotes that "help us understand the wisdom and practice of Zen," Masuno seeks to teach readers to "focus on the here and now," instead of "agonizing over what might happen in the future" so that they can "enjoy a calmer, more relaxed, and positive version" of themselves.
The book of teachings, translated from the Japanese by Allison Markin Powell, organizes its 48 lessons into five parts of varying lengths; each lesson comprises a short, meditative chapter. Readers can move through it cover to cover or dip in and out. All Zen sayings discussed in the book are indexed at the end, which provides another way to use the text: readers can find a zengo that resonates with one's current moment and then read Masuno's meditation on that lesson. It adds up to an approachable yet flexible guide to making Zen practice a habit. Rather than prescribing one way to let go of anxieties, Masuno creates a format in Don't Worry that lets readers take what they need and form their own Zen awareness. --Michelle Anya Anjirbag, freelance reviewer
Penguin Life, $22, hardcover, 224p., 9780143136705
Octopus, Seahorse, Jellyfish
by David Liittschwager
To visit an aquarium is to know the unsurpassed peace and wonder that comes from a proximity to the underwater world. Photographer David Liittschwager (Archipelago, with Susan Middleton) agrees, and his Octopus, Seahorse, Jellyfish offers a stunning glimpse into this world, a view into those mysterious depths now made accessible from homes or libraries. With a foreword and essay by Pulitzer Prize-winning science writer Elizabeth Kolbert, who admires the "stunning, sinuous beauty" that Liittschwager captures with his camera, and additional essays from Olivia Judson and Jennifer Holland, the collection makes wise use of the engaging and informational texts. However, it is the artistry of Liittschwager that will draw readers in, while inspiring awe on every page.
In this brilliantly designed book of photography, truly beautiful to behold, every detail has been considered--the fonts, the judicious use of white space, and the selection and layout of the dozens of vivid photographs. But it is more than just a visual stunner: it also highlights humanity's role in the destruction and preservation of these and countless other species, while simultaneously contextualizing humans within the broader sweep of nature. "When I remember that an octopus has a more efficient eye design than we humans have," Liittschwager explains in the introduction, "I am persuaded that humans are maybe not the pinnacle of evolution, but an untidy work in progress." All art is perspective, and this book invites readers to shift their perspectives toward those creatures not usually seen but still worthy of admiration and protection. --Sara Beth West, freelance reviewer and librarian
National Geographic, $35, hardcover, 256p., 9781426221798
As Glenn as Can Be
by Sarah Ellis, illus. by Nancy Vo
"Glenn loves to play the piano. He loves it more than anything." In As Glenn as Can Be, Sarah Ellis (Dodger Boy) succinctly and whimsically relates the unusual nature of this artist. Nancy Vo (The Outlaw) complements Ellis's prose with winsome illustrations that bring form to the quirky and talented prodigy. Together they introduce young readers to the Canadian classical pianist Glenn Gould (1932-1982) and his music.
Ellis uses Gould's likes and dislikes to sketch his portrait: Glenn "likes nature.... he does not like being cold"; he "likes the company of animals.... he finds people more difficult.... He does not like parties." Ellis explains in her author's note that while she took liberties with the timeline, the picture book is entirely factual. Her choices of details and events to include in this brief biography make the initiation into Gould's world particularly engaging. Meanwhile, Vo's mixed-media art includes thematic emulations of waves of sound or the form of a musical staff. Vo's art has a sense of texture and her exquisite use of shading creates atmosphere. Especially powerful is a spread depicting Gould performing in front of throngs of faceless individuals--the blacks, browns and grays of this layout convey an intensity from both performer and audience.
As Glenn as Can Be is an accessible entry into Gould's life for young readers. And for those who may feel they're different from other children, the unconventional Gould may suggest to them that different isn't so bad. --Jen Forbus, freelancer
Groundwood Books, $19.99, hardcover, 40p., ages 3-6, 9781773064680
Alone Out Here
by Riley Redgate
Alone Out Here by Riley Redgate (Noteworthy) is an emotional and fast-paced YA space thriller that examines the cost of humanity surviving an apocalypse.
When the volcanic eruptions that were forecast to destroy Earth occur months early, First Daughter of the U.S. Leigh Chen is one of 53 teens (all children of Global Fleet Planning Commission members) who manage to board a prototype spaceship. The Lazarus, however, has only enough food for four months. Eli, daughter of the Lazarus's intended pilot, jumps into action unflinchingly, choosing leaders and steering the ship toward a failed terraforming colony in search of plant seeds. But getting there will mean strict rationing. And "hungry people start trouble." Debates soon arise over why Eli and her trusted few, Leigh included, are in charge. As resentment leads to fighting, Leigh can't help seeing how the overtaxed and starving crew is already mirroring the hostile culture that doomed Earth.
Leigh's first-person narration beautifully encapsulates the struggle of executive decision-making without compromising one's integrity. "You've never said anything for yourself your whole life," one crew member accuses Leigh, who purposefully acts like "a suit of armor" with her "visor slammed shut." The multinational group also allows Redgate to include issues of corrupt politics, class inequality and military rule. The teens' desperation to both survive and do better than their parents generates an intensely heated atmosphere of dangerous secrets, jaw-dropping betrayals, steadily increasing violence, breakneck action sequences and probing conversations about what they stand for. A thoughtful and breathlessly paced science fiction survival story. --Samantha Zaboski, freelance editor and reviewer
Disney-Hyperion, $18.99, hardcover, 400p., ages 12-up, 9781368064729
The Writer's Life
Reading with... Kellye Garrett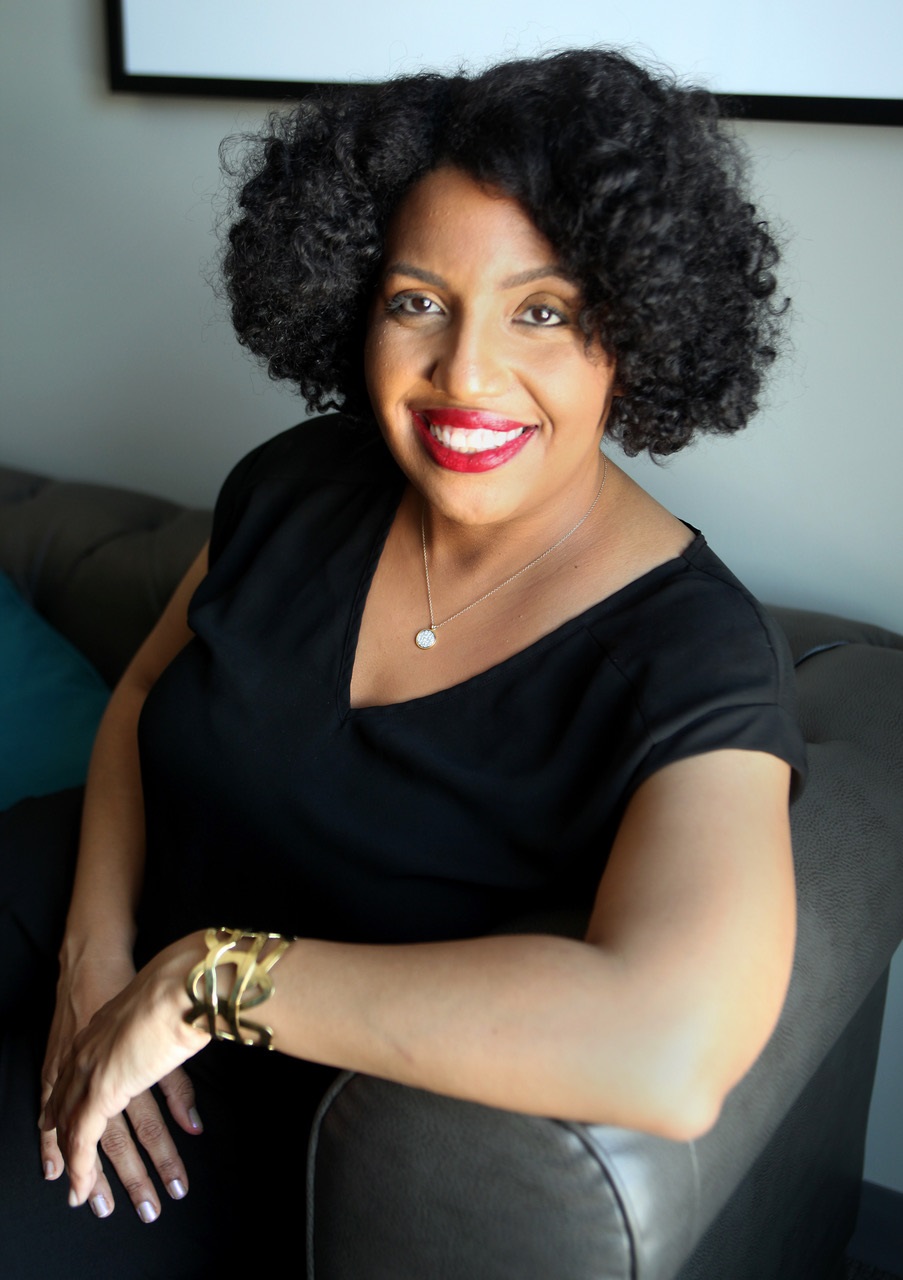 photo: Carucha L. Meuse
Kellye Garrett is the author of the Detective by Day mysteries, which have won Anthony, Agatha, Lefty and IPPY awards. She serves on Sisters in Crime's national board and is a co-founder of Crime Writers of Color. Her new novel, Like a Sister (Mulholland Books, March 8, 2022), is about a Black woman in New York City searching for the truth about the death of her estranged reality star sister.
Handsell readers your book in 25 words or less:
How did a glam reality star go from partying it up for her birthday in downtown Manhattan to dying alone of an overdose in the Bronx?
On your nightstand now:
Homicide & Halo-Halo by Mia P. Manansala. It's the second book in her Lefty Award-nominated Tita Rosie's Kitchen series. Mia has such a great voice and has created an amazing--and much needed--character in the cozy genre. Lila Macapagal is a Filipina-American Gen-Zer who loves to bake and always seems to run into murder. The second book deals with another guilty pleasure of mine: beauty pageants.
Favorite book when you were a child:
Even as a kid, I loved book series. My favorites were Encyclopedia Brown by Donald J. Sobol, Sweet Valley Twins by Francine Pascal and the Baby-Sitters Club by Ann M. Martin.
Your top five authors:
Barbara Neely, Janet Evanovich, Laura Lippman, Sue Grafton, Walter Mosley.
Book you've faked reading:
I went to high school in the '90s so best believe I had quite the CliffsNotes collection. However, one book I will admit I've never read is Murder on the Orient Express by Agatha Christie. I can fake it pretty well because I do know the ending since it's so iconic. As both a crime fiction writer and reader, I haven't read a lot of Agatha Christie. Okay, I admitted it. I just hope the Crime Fiction police don't come and take my Mystery Author card!
Book you're an evangelist for:
B Is for Burglar by Sue Grafton. I've loved Kinsey Millhone since I first discovered her on my mom's bookshelves when I was a teenager. This is (obviously) the second book in Grafton's Alphabet series and it has the most iconic twist ending. It set my "twist bar" very high at an early age because it was surprising yet still made complete sense because of how she plotted the story. I re-read it every couple years and still manage to be surprised.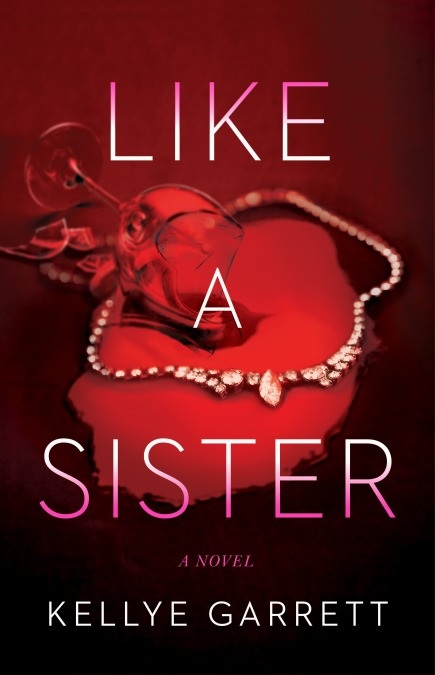 Book you've bought for the cover:
My mom used to drop me off at the Barnes & Noble by my house and I'd spend hours looking at book covers in the mystery section. That's normally how I'd make my selections and I still do a lot of time. The first one that pops into my head was The Wife by Alafair Burke. The beauty is in the simplicity, it's literally a close-up of an abandoned wedding ring wedged in beach sand. You immediately have so many questions when you see it. I had to pick it up, then tore through it in a couple of days.
Book you hid from your parents:
My mom is also a huge reader who always gave me free rein with her bookshelf, which meant I was reading Jackie Collins at like 12. So I didn't really need to hide books from my parents. I do know the book I should've hidden from my grandmother--I'm with the Band: Confessions of a Groupie by Pamela Des Barres. I made the mistake of leaving it out for her to find after I went to sleep. I still don't know what she did with that book. I should have never brought it to her house. But what can I say? I was young. (Too young to be reading it, according to her!)
Book that changed your life:
When Death Comes Stealing by Valerie Wilson Wesley. I think if you've always seen yourself represented, you don't realize how much representation matters. This is the book where I first felt seen in the pages of something I read. It's about a woman PI in Essex County, N.J., which is near where I grew up. This book was the first time I read a Black woman in a mystery and the first time I recognized the places in it. I was so excited about both. I believed that I could one day write my own mystery about a Black woman. It's also the reason I have so many real locations in my books.
Favorite line from a book:
" 'Got any kids?' she asked." --from Blanche Passes Go, the fourth book in the Blanche White series by Barbara Neely. Barbara was one of the first Black women to be traditionally published in crime fiction and just an inspiration for both breaking barriers and her ability to write an amazing story.
That line is the callback of all callbacks. In the first book in the series, Blanche on the Lam, she has a brief encounter with an obnoxious, disrespectful white grocery boy that leads her to put a half-serious hex on his private parts.
So when she recognizes him eight years later in book four, of course, she wants to know if her hex worked.
Five books you'll never part with:
Waiting to Exhale by Terry McMillan
Devil in a Blue Dress by Walter Mosley
And Still I Rise by Maya Angelou
Their Eyes Were Watching God by Zora Neale Hurston
When Death Comes Stealing by Valerie Wilson Wesley
Book you most want to read again for the first time:
I'm a mystery lover so I want to read them all again for the first time so I can truly be surprised by a good twist. I'll pick a more recent one because I loved both the story and the ending: The Collective by Alison Gaylin. It's such a high concept about a group of grieving mothers who enact their own revenge on their children's murderers when the law lets them down. Yet she manages to tell the story in such a believable way that I really was like "Why isn't there a group like this?"
Rediscover
Rediscover: Patricia MacLachlan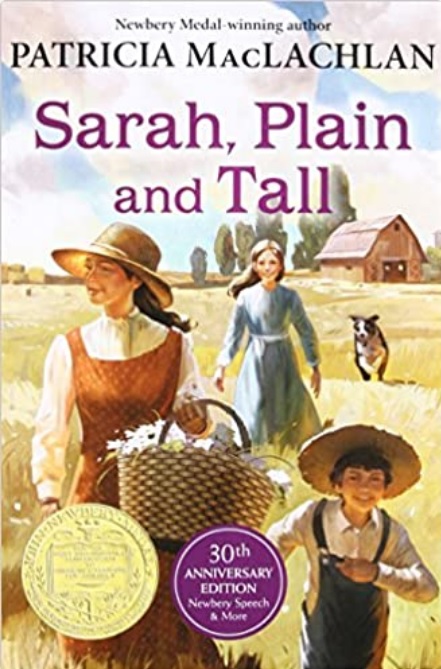 Patricia MacLachlan, "known to millions of young readers as the author of Sarah, Plain and Tall, a novel about two motherless farm children and the gentle woman who comes to the prairie to make them whole," died March 31 at age 84, the Washington Post reported. MacLachlan wrote more than 60 children's books during her career. Sarah, Plain and Tall received the Newbery Medal and has sold more than seven million copies since it first appeared in 1985. The book was adapted into a 1991 Hallmark Hall of Fame TV movie starring Glenn Close as Sarah and Christopher Walken as Jacob Witting, the father of Anna and Caleb. MacLachlan co-wrote the script.

She also wrote several sequels to Sarah, Plain and Tall including Skylark (1994), Caleb's Story (2001), More Perfect Than the Moon (2004) and Grandfather's Dance (2006). MacLachlan's other books include Journey (1991), Baby (1993) and Cassie Binegar (1982). She wrote several books with her daughter, Emily MacLachlan Charest, including Once I Ate a Pie (2006), Fiona Loves the Night (2007), I Didn't Do It (2010), Cat Talk (2013) and Little Robot Alone (2018). A 30th anniversary edition of Sarah, Plain and Tall is available in paperback from HarperCollins ($7.99).