Week of Tuesday, April 26, 2022
In this issue, we review Start Without Me (I'll Be There in a Minute), Gary Janetti's funny and poignant collection of autobiographical essays; Kaikeyi by Vaishnavi Patel, a reimagination of the villainized stepmother from the ancient Sanskrit poem Rāmāayana; Chesil's YA debut, The Color of the Sky Is the Shape of the Heart, which mixes outstanding storytelling with searing societal commentary; plus much more.
In the Writer's Life, Sheila Roberts discusses the origins of Sand Dollar Lane, her sixth entry of the Moonlight Harbor series, in which an unlikely romance blossoms between two rival real estate agents.
The Best Books This Week
Fiction
Kaikeyi
by Vaishnavi Patel
Vaishnavi Patel boldly reimagines the life of Kaikeyi, the villainized stepmother from the ancient Sanskrit poem Rāmāayana, in her epic, exhilarating debut novel, Kaikeyi.
Yuvradnyi Kaikeyi, the only daughter of the raja of Kekaya, is no ordinary princess. Gifted with magical knowledge by her banished mother, she can see and sometimes manipulate the bonds between people. Years of training in secret with Yudhajit, her twin and dearest of her seven brothers, make her a superb spearwoman, archer and charioteer at a young age. When her father marries her off to the raja of the powerful kingdom of Kosala, Kaikeyi uses her gifts to save his life in battle. She requests as a reward a seat on his council, which she uses to better the lives of girls and women in Kosala. The respect of her people, the friendship of the raja's other wives and the love of her son and stepsons bring a happiness Kaikeyi never thought possible. When her stepson, Rama, becomes entangled in a struggle between gods and demons, Kaikeyi's desperate bid to save her family and her kingdom may destroy them all.
Patel does for Kaikeyi what Madeline Miller did for Circe in her novel of the same name, transforming a minor character cast by male storytellers as an antagonist into a strong, sympathetic woman determined to build "a place where we could stretch our wings and belong." Woven from a mixture of legends, ancient literature and Patel's own vibrant creativity, this spellbinding story of destiny, divine battles and family ties is intricate and action-packed. --Jaclyn Fulwood, blogger at Infinite Reads
Redhook, $28, hardcover, 496p., 9780759557338
Young Mungo
by Douglas Stuart
In Young Mungo, the follow-up to his Booker Prize-winning debut, Shuggie Bain, Douglas Stuart delivers a gay bildungsroman suffused with drama and gorgeously realized emotion.
In the postindustrial gloom of the early 1990s, Glasgow's East End is an environment of deprivation and strife. Fifteen-year-old Mungo Hamilton, born to a Protestant family and named for the city's patron saint, seems ill-quipped to navigate it. With neither his sister's headstrong practicality nor his brother's warlike machismo, Mungo is naturally, helplessly sincere: "It was a funny thing to be a disappointment because you were honest and assumed others might be too." Although seemingly incapable of dissembling (his good looks are undercut by a facial tic that betrays his nerves), Mungo must hide the truth when he falls in love with James Jamieson, a Catholic boy from a nearby tenement. Under threat from a culture that enforces its codes of masculinity with violent zeal--embodied by Mungo's sadistic brother, Hamish, who treats his hatred of Catholics like a blood sport--the two boys find their futures imperiled.
Stuart's depiction of a powerful, enveloping first love is rendered with stunning emotional clarity. No less poignant is the protagonist's relationship with his mercurial, alcoholic mother. Despite her selfishness and casual cruelty, Mungo's love for his Mo-Maw is abundant: "It was a harvest that no one had seeded," Stuart writes, demonstrating a disarming facility for metaphor, "and it blossomed from a vine that no one had tended." With the author's profound capacity for feeling and a canny sensitivity to the nuances of class and sexuality, Young Mungo confirms Douglas Stuart as an artist of rare talent. --Theo Henderson, bookseller at Ravenna Third Place Books in Seattle, Wash.
Grove Press, $27, hardcover, 400p., 9780802159557
Search
by Michelle Huneven
Michelle Huneven (Off Course; Blame) takes readers inside the complicated dynamics of a pastoral search committee--complete with recipes--in her warm, wry fifth novel, Search. Food critic and memoirist Dana Potowski is casting about for a book idea when she's asked to join the committee that will choose her Unitarian Universalist church's next pastor. Thinking it might provide good fodder, Dana reluctantly agrees, only to find herself much more caught up with her fellow committee members, and invested in the outcome, than she expected.
Huneven creates a diverse and appealing ensemble cast at once very particular to its context (a mostly white, not-very-"religious" church community in an affluent area east of Los Angeles) and universally recognizable. As the group settles into a rhythm of considering, interviewing and endlessly discussing candidates, they learn about themselves, each other and the challenges of reaching consensus--the difficulty of choosing between their own desires and what is best for the church. Hilarity sometimes ensues when members' priorities and personalities clash, but rather than playing her characters for laughs, Huneven treats them with respect while still winking occasionally at readers.
The novel's true pleasure isn't in the outcome of the decision or its aftermath. It's in the sharp, insightful yet compassionate way Huneven handles her characters--all of them flawed, yet wanting, on some level, to do the right thing. Huneven's food descriptions are a delight and she includes delicious recipes at the end, but the narrative is the pièce de résistance: a multilayered account of an oddball community that somehow manages to be both spicy and comforting. --Katie Noah Gibson, blogger at Cakes, Tea and Dreams
Penguin Press, $27, hardcover, 400p., 9780593300053
Pay Dirt Road
by Samantha Jayne Allen
Samantha Jayne Allen hits the ground running in her poignant debut about a young woman torn between the familiarity of her small hometown and a different future in the Tony Hillerman Prize-winning Pay Dirt Road.
Annie McIntyre graduated four months ago from a private college she attended on scholarships. It's expected she will attend law school, but her LSAT books languish under her bed as she tries to decide what to do. Meanwhile, she works at the diner back in her hometown of Garnett, Tex., lives with her cousin who's her best friend, attends parties with former high school friends and acquaintances she hasn't seen in a few years. "If growing up in a town like this made you a dreamer, coming back made you aware of wanting too much," she says. A part-time job in the private investigative firm run by her grandfather, Leroy McIntyre, and his business partner, Mary-Pat Zimmerman, may be the jumpstart Annie needs. Annie taps into her sleuthing skills when the firm looks into the death of fellow waitress Victoria Merritt, who was murdered after they attended the same drunken party.
Allen's vivid prose delves into Annie's angst as she struggles to find her purpose in the place where she knows she is "loved and loved well" by her family. Pay Dirt Road evocatively explores an economically depressed town that may be saved by a pipeline, but which also may ruin the land. This mystery ushers in a new author to watch. --Oline H. Cogdill, freelance reviewer
Minotaur Books, $27.99, hardcover, 304p., 9781250804273
City on Fire
by Don Winslow
Operating at the peak of his game after a string of grimly captivating crime sagas, including The Force and the Border Trilogy, Don Winslow makes his Homerian ambitions explicit in City on Fire, transforming The Iliad into an operatic story about warring crime families. The conflict in City on Fire is pettier and grubbier than that of Homer's epic poem. Instead of "the face that launched a thousand ships," Winslow's conflagration begins with the harassment of a beautiful woman at an alcohol-soaked clambake at Rhode Island's Goshen Beach. After a series of escalations, protagonist Danny Ryan finds himself at the center of an increasingly vicious war between local Italian and Irish crime families. Winslow has always excelled at portraying the seedy exploits of mobsters and corrupt police on an operatic scale; here, he echoes characters and plot points from The Iliad, this time with drive-by shootings and car bombs.
City on Fire thrives on its regionalism, taking place almost entirely in tiny Rhode Island. Providence neighborhoods, particularly the historically Irish neighborhood of Dogtown, are depicted as fiefdoms ruled by ethnically-based gangs. Set in 1986, Winslow's story includes plenty of talk about "Dunkin' runs" and creative uses of the word wicked. But it's more than just local flavor: the novel's escalating tragedy hinges on the tight bonds of a community in which everybody seems to know everybody and parochialism can be mistaken for destiny. When the bodies start inevitably piling up, the stakes of this local gang war couldn't seem higher. --Hank Stephenson, manuscript reader, the Sun magazine
Morrow, $28.99, hardcover, 384p., 9780062851192
Sand Dollar Lane
by Sheila Roberts
Pacific Northwest author Sheila Roberts (The Nine Lives of Christmas) presents the delightful sixth entry in her popular Moonlight Harbor series, Sand Dollar Lane. After divorcing her adulterous husband, real estate broker Lucy Holmes decides she needs a radical change. She leaves Seattle for a quirky town on the coast of Washington to set up shop and generally start over. However, local real estate agent Brody Green isn't excited about the new competition. After being dumped by his fiancée, he's also grumpy--and unwilling to admit his attraction to Lucy. When his son and Lucy's daughter develop a relationship, however, Brody and Lucy are forced to reassess their prickly interactions. Both have suffered romantic betrayal and disappointment in their past, and a happily-ever-after is far from assured. Can these two wary people find a way to trust again or will their fear of emotional intimacy end a budding romance?
For readers not familiar with Roberts's Moonlight Harbor series, this engaging novel can easily be read as a stand-alone. It boasts warm humor, a vibrant saltwater beach setting, authentic main characters who demonstrate refreshingly mature attitudes and a supporting cast of characters who endear themselves to readers. The solid plot is enhanced by the amiable small-town atmosphere and Lucy's emotional growth as she finds her place in the community. --Lois Faye Dyer, writer and reviewer
Mira, $28.99, hardcover, 336p., 9780778386391
Sweet Paris: Seasonal Recipes from an American Baker in France
by Frank Adrian Barron
Frank Adrian Barron takes readers on a soothing and inspiring culinary adventure in Sweet Paris, a sugary balm for the weary soul. Barron moved to Paris in 2012 with his now-husband and, while adjusting to his new life, found his homesickness manifesting as a longing for the cakes he grew up with in the United States. The recipes in Sweet Paris are the result of Barron's years of experimentation and success in blending French traditions and ingredients with the ones he knows well as an American.
Just as the seasons of a year guide French cooking, so, too, do they give this recipe book its organizational structure. Each section features available produce and dining preferences. The city itself is always present, especially in Joann Pai's images of Parisian markets, parks and sidewalk cafés. Her use of light in ephemeral photographs of sumptuous cakes and pastries elevates Barron's transportive prose.
Recipes like Cinnamon Swirl Bundt Cake and White Chocolate & Cassis Bûche de Noël showcase the range of complexity and mix of culinary traditions found in Sweet Paris. Though the recipes vary in complexity and true beginners may initially be intimidated, Barron writes like a new friend recalling a decade of love, friendship and delicious pastries, inviting even hesitant cooks to enjoy the sweet life with him. Brief digressions, such as when he highlights "must-not-miss" experiences, will remind readers--even from the comfort of their own homes--of the joys of novelty and travel through the lens of food. --Suzanne Krohn, librarian and freelance reviewer
Harper Design, $29.99, hardcover, 240p., 9780063040236
Start Without Me (I'll Be There in a Minute)
by Gary Janetti
Gary Janetti's second collection of autobiographical essays, Start Without Me (I'll Be There in a Minute), is as funny as the first (Do You Mind If I Cancel?), but what is unexpected from the writer and producer of Will & Grace and Family Guy is the tender poignancy that laces this one. His memories of the numerous gay restaurants in 1990s Manhattan are wistful and hilarious: "The food was terrible but it was a gay restaurant," he writes, "you didn't go for the food, you went for the gay." His religion also gets some of his best one-liners, including: "The Catholics are the RuPaul's Drag Race of religions. We put on a show, honey."
One chapter details his childhood tradition of watching the once-a-year broadcast of The Wizard of Oz, "the gayest motion picture ever made." What wasn't there to love for a gay kid? Dorothy gets to wear ruby slippers, kill two witches, "gets her hair blown out" and sings. "Do you know how hard it is to learn every line of a movie when you see it only once a year?" he asks. "Kids then had to WORK. No rewinding, no play it again." One gets the feeling Janetti was always wise (and wise-ass) beyond his years. Scamming a high school guidance counselor for an excuse slip to avoid gym class, he keeps her enthralled by inventing drama at home. "Eventually, I just start rehashing plotlines from Knots Landing," he writes.
An abundantly funny and nostalgic collection of memories of growing up gay that leaves a sweet aftertaste. --Kevin Howell, independent reviewer and marketing consultant
Holt, $27.99, hardcover, 208p., 9781250225856
Broken Horses: A Memoir
by Brandi Carlile
Cross-genre musical artist Brandi Carlile seemed to burst on the scene following a multiple Grammy-winning evening in 2019. The most nominated woman at the 61st annual awards (six), Carlile blew audiences away with her Song of the Year performance, "The Joke," an anthem for those who struggle to fit into the world's divisive molds. Thanks to Carlile's intimate memoir, Broken Horses, the story of how the "overnight sensation" struggled and strived for years can be known beyond the fans who have followed her religiously even prior to her first studio album in 2005.
Carlile's childhood in Washington State was marked by alcoholism, poverty, religion, health problems, instability (14 different homes) and, as the first-born grandchild, her own "inflated sense of self-importance and burden of perceived responsibility." That said, her family was warm, close, musical and filled with characters that lay a good storytelling foundation. But it is Carlile's sense of self and her ability to be deeply vulnerable and introspective before an audience that allow her to plumb the depths of her upbringing and forge her trail to center stage.
A brilliant lyricist, Carlile adapts her gift to the long form without missing a beat. Her style is conversational, whether the topic is music, charity work, motherhood (Carlile and her wife have two daughters), LGBTQ+ rights, Barack Obama or Carlile's beloved "gay pen pal father figure," Elton John. Overflowing with thoughtfulness, wicked humor, photographs and song lyrics, Broken Horses, named a Best Book of the Year by NPR, is an epic sit around the campfire. --Lauren O'Brien of Malcolm Avenue Review
Crown, $18, paperback, 352p., 9780593237267
While Justice Sleeps: A Novel
by Stacey Abrams
With While Justice Sleeps, Stacey Abrams (Lead from the Outside) marks her first foray into the political thriller genre--bringing her experience with courts, politics and the justice system to a world of imagined suspense and intrigue, with great success.
Supreme Court Justice Howard Wynn has few family ties. He has dedicated his life, instead, to his role on the Supreme Court, and to his definition of justice. "He felt equally dismissive of willful ignorance--his description of the modern press--and smug stupidity, his bon mot for politicians." Avery Keene serves as Justice Wynn's law clerk, overworked and underpaid while juggling care for her mother, who suffers from drug addiction and pops in and out of Avery's life.
When Justice Wynn slips into an inexplicable coma, his papers shockingly name Avery his legal guardian. And as people around Justice Wynn start to disappear or turn up dead, Avery quickly realizes she's in deeper than she thought possible. She is drawn into an international plot surrounding the possible merger of an American tech company and Indian genetics research lab in a Supreme Court case, for which Justice Wynn was likely to be the swing vote.
There are a lot of layers to the central mystery of While Justice Sleeps, which can feel labyrinthine at times. But a bit of patience is more than worth it, as Abrams weaves a suspenseful tale of politics and power that feels grounded in the realities of American politics--even while the case and story surrounding it are purely fiction. --Kerry McHugh, blogger at Entomology of a Bookworm
Anchor, $17, paperback, 480p., 9780593310939
The Color of the Sky Is the Shape of the Heart
by Chesil, transl. by Takami Nieda
Debut author Chesil commemorated the end of her 20s by writing a novel based on her childhood experiences. The result, The Color of the Sky Is the Shape of the Heart, is a literary triumph that's both outstanding storytelling and searing societal commentary.
"High school was as cruel as ever," Ginny Park comments. She's facing expulsion at her latest school in Oregon after being forced out of Hawaii and Tokyo. To understand why is to return to her Tokyo middle school where Ginny was Jinhee Pak, a Zainichi Korean, someone born in Japan of ethnic Korean heritage.
When Jinhee transferred from a Japanese to Korean school in sixth grade, whatever cultural and social benefits she might have gleaned from being educated by and with other Zainichi was initially overshadowed by her inability to speak Korean, making her an easy target for bullies. When a North Korean missile flown over Japan makes headlines, Jinhee--and all Korean students--become prominent public scapegoats, immediately identifiable by their school uniforms. The children's actions pale in comparison to those of vicious and indifferent adults. Jinhee's attempts to reclaim some semblance of justice and autonomy sets in motion her international odyssey.
First published in 2016 and awarded multiple major prizes in Japan, The Color of the Sky Is the Shape of the Heart arrives in English translation from Takami Nieda who also translated Kazuki Kaneshiro's GO, another incandescent young adult novel about the Zainichi experience. The contentious history of Korea and Japan continues to lead to a devaluation of ethnic Koreans as second-class citizens in Japan. The specific and universal quests to belong echo back to Chesil's original title, Jini no pazuru (Jini's Puzzle), searching for all the ways to fit the pieces together and finally make herself whole. --Terry Hong, Smithsonian BookDragon
Soho Teen, $18.99, hardcover, 168p., ages 13-up, 9781641292290
The Book of Sisters: Biographies of Incredible Siblings Through History
by Olivia Meikle and Katie Nelson
Olivia Meikle and Katie Nelson are podcast hosts (What's Her Name) and sisters who worked together to create this fascinating middle-grade historical retrospective of 33 extraordinary sororal bonds. The Book of Sisters begins with ancient folklore and then moves through time to showcase the real-life struggles and triumphant moments of the historical siblings.
The collection includes modern-day icons readers are likely to recognize, such as tennis pros Venus and Serena Williams, British royalty Queen Elizabeth II and Princess Margaret and the mountaineering duo Tashi and Nungshi Malik. Through these and similar duos, Meikle and Nelson demonstrate the immense source of strength sisters can be for each other as they wield unconditional love like a superpower. But not every example of sisterhood included is one to emulate. Several of the relationships highlighted are fraught with tension or tragedy: Mughal Empire princesses Jahanara and Roshanara Begum found themselves on opposing sides of a deadly battle between their brothers; sisters Lum Guey and How Jiu would eventually be separated for life because of the Chinese Civil War.
The authors astutely draw parallels to pivotal global events--the slave trade, the Industrial Revolution, the Age of Enlightenment and World War II--throughout the text, which is visually supplemented with eye-catching illustrations. Meikle and Nelson use historical examples to prove there's nothing females of the same lineage can't accomplish when committed to working as a team. --Rachel Werner, author and teaching artist at Hugo House, Lighthouse Writers Workshop and The Loft Literary Center
Neon Squid, $19.99, hardcover, 128p., ages 8-up, 9781684492008
The Writer's Life
Sheila Roberts: On Writing Literary Dessert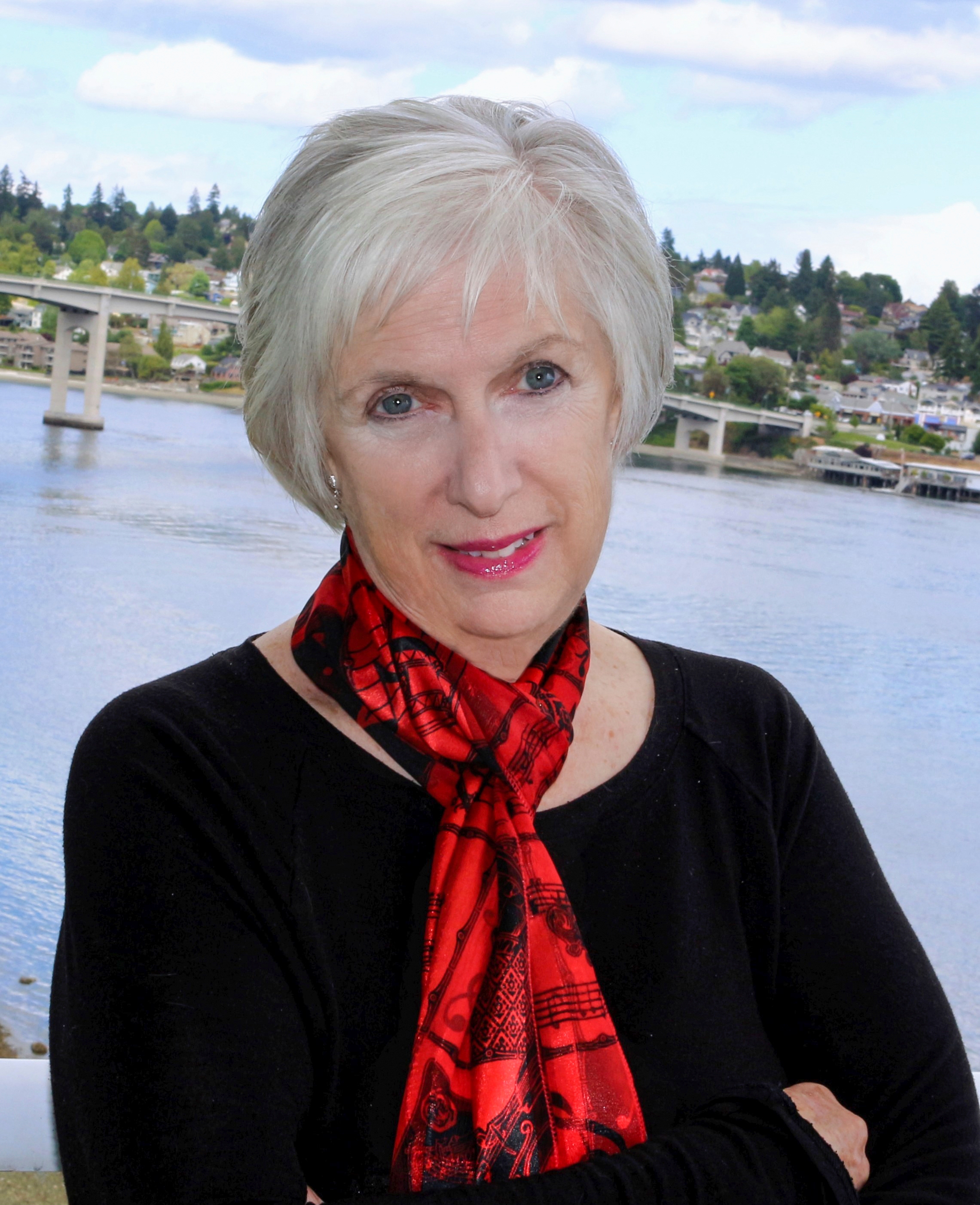 Sheila Roberts
(photo: Robert Rabe)
In Sand Dollar Lane (Mira, $28.99, reviewed in this issue), the sixth in her Moonlight Harbor series, Sheila Roberts explores life after relationship failure with warmth, humor and optimism. When divorce finds successful realtor Lucy Holmes leaving the city for a new life at the beach, she must cope with unfamiliar surroundings, unique friends, and an unexpected romance with real estate competitor Brody Green. Roberts lives on the Pacific Northwest's Puget Sound with her husband.
How did you come up with such distinctive, fun features for the novel's world on the Washington coast?
It wasn't hard. My fictional town of Moonlight Harbor was inspired by Ocean Shores, a fun and funky, fast-growing beach town on the Washington coast. They do, indeed, have a tourist shop with an entrance shaped like a giant shark's mouth, as well as a beautiful beach and a system of canals built by the Army Corps of Engineers way back in the '60s. We go there often and love it. It's such a friendly, happy place, I felt someone needed to pay homage to it.
The secondary characters who make up Lucy's group of friends are precisely the sort of people every woman wants for her own "crew." Did you set out to assign specific traits to each friend or did they organically evolve from the novel's circumstances? Do you feel a supporting cast is essential to a woman's successful post-divorce journey?
Some of the characters in this book either kicked off the series or have made ongoing appearances in later books, which, I hope, adds to the small-town flavor. So, some of the characters have been developing their personalities over time. A new woman introduced in this book, Lucy's neighbor Bonnie, plays in an all-girl band called The Mermaids. Bonnie is a bit of a mystery in this book, but I'm working on her story and that of the other Mermaids for the next Moonlight Harbor novel. I especially love Bonnie and Jenna Jones, who kicked off the series and usually play a part in all the Moonlight Harbor tales. And, yes, I sure do feel every woman needs her posse--that group of friends who will be there to share both the laughter and the tears, who will support her and help slay the dragons in her life, whoever or whatever they may be. IMHO, girlfriends are more valuable than buried treasure.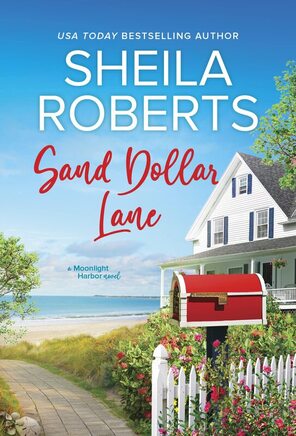 Lucy's character growth while renovating her new home seemed crucial to rebuilding her life. Did you draw from personal experience for this element of the plot?
Yes, I have done a ton of this kind of thing, starting many years ago when our children were young. My family owned a huge chunk of property that my parents had bought before I was even born and my oldest brother was already living there. We decided to join him, turning a little cabin into a full-time residence. We had no idea how stressful that would be. As we added on to the cabin, the kids slept in the two bedrooms and we slept on army cots in the tiny living room. The foundation was poured--too small--and the weather conspired against us. A huge snowstorm hit the Pacific Northwest and we were snowed inside that 600-square-foot cabin together, keeping our food packed in snow on the front porch. And then the rains came. The only place my husband and I could get romantic was in the bathtub in the one and only bathroom. With no lock. I'll let you use your imagination on that. I remember one day telling my mother-in-law, "I hate your son. I'm going to poison him." I can't remember when that was. Maybe after we discovered the disadvantage of not having a lock on the bathroom door. I didn't poison my sweetie, and we're still together, but I did have his parents a little worried about my mental state.
Since then we've built two different houses, remodeled a condo and are currently renovating a darling waterfront cottage that needs some TLC. I have declared it is our last house. Because I am never moving again and I'm certainly never building or renovating anything after this. Ever.
Fixing houses, like any other big project, can be rewarding if you just hang in there. It's the same with fixing our lives. I felt Lucy's new house was a good metaphor for the changes she was making in her life.
Lucy and Brody's struggles to set aside their differences as business competitors to create a truce for their children's sake is certain to resonate with contemporary readers. Did you purposely set out to weave a picture of how successfully to navigate a rocky post-divorce/relationship journey? Or was it a happy coincidence?
I think coming ashore from the wreckage of a divorce is traumatic for everyone. I certainly hope that reading about how Lucy and Brody finally manage to unpack their baggage and get together will be encouraging to anyone who's gone through that and is trying to rebuild her life. Looking forward and not back, I believe, is key to moving on from any difficult past.
Whether or not Lucy and Brody are brave enough to rise above their fear of future heartbreak to forge a happier, more fulfilling life as a couple is a central conflict in this novel. Hope and belief in a better future is a key theme in many of your novels. Is this purposeful on your part?
This does appear to be a continuing theme. And frankly, that's a hard question to answer. I've been writing since dust, so my writing has definitely evolved. I would say that, yes, I always want to leave the reader with a smile on her face along with a bit of encouragement that she can turn her life around. There's enough misery in the world. Who wants to close a book and feel even more miserable? Not me. That doesn't mean the reader won't shed a few tears along the way because life is both sweet and sour. But I prefer to end my stories on a sweet note. Literary dessert. --Lois Faye Dyer, writer and reviewer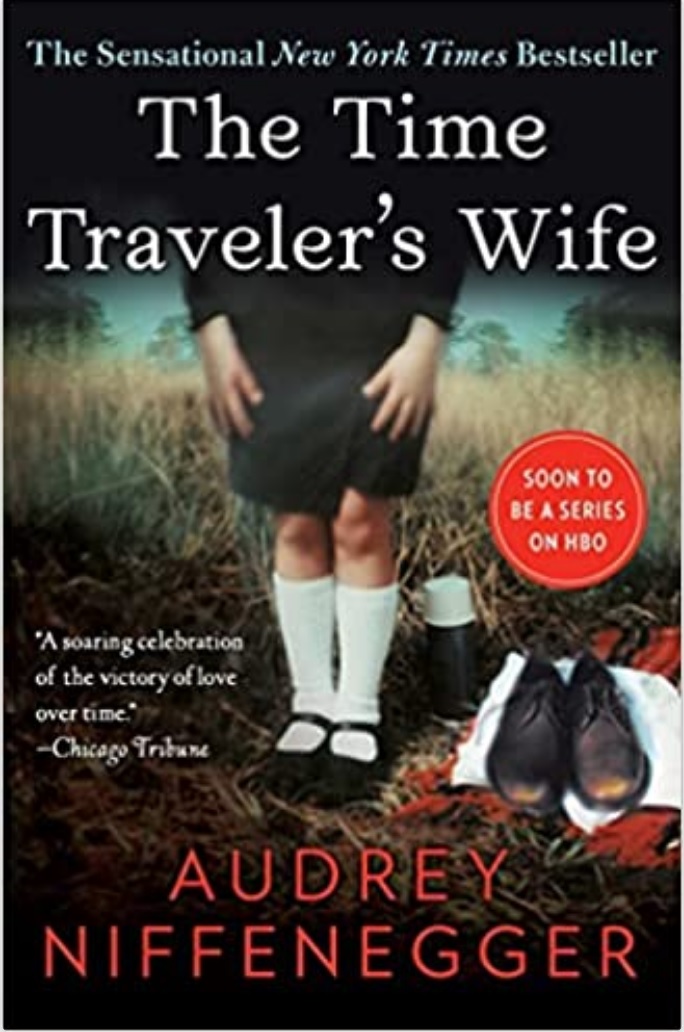 The Time Traveler's Wife by Audrey Niffenegger (2003) is a science-fiction romantic drama about the wife of a man with a genetic disorder that causes him to travel through time outside of his control. Niffenegger's debut alternates the first-person perspectives of Clare and Henry, one experiencing time linearly, the other struggling with abrupt changes across decades. The novel was a surprise bestseller, won the British Book Award and was adapted into film starring Rachel McAdams and Eric Bana in 2009. On May 15, The Time Traveler's Wife is once again coming to screens via a new series on HBO Max. Rose Leslie (Game of Thrones) and Theo James (Divergent) star in six episodes directed by David Nutter (Game of Thrones). Audrey Niffenegger serves as executive producer alongside Steven Moffat (Doctor Who), who also helped write the series.

Niffenegger is also author of the novels Her Fearful Symmetry (2009) and Raven Girl (2013), nine visual novels, an anthology and several short stories. She has been reportedly working on a sequel to The Time Traveler's Wife, The Other Husband, since 2013. The Time Traveler's Wife is available in paperback from Scribner ($18.99). --Tobias Mutter