Week of Friday, January 20, 2023
In this week's issue, you'll find reviews of Kevin Powell's Grocery Shopping with My Mother, 36 "smooth poems with a distinctive voice" that mingle "the personal and the political, the praiseworthy and the reprehensible"; Kenneth C. Davis's "delightfully accessible" Great Short Books, 58 fact-filled reviews of "a smorgasbord of titles sure to entice readers"; and Just Jerry, the "resplendent and candid" memoir that Caldecott Medalist Jerry Pinkney was working on during the decade before he died. And so many more!
In The Writer's Life, poet, novelist and journalist Eileen Myles discusses Pathetic Literature, an anthology they edited of 106 pieces, ranging from poetry to prose, including lesser-known works by the likes of Rumi, Kafka and Gwendolyn Brooks--plus the book that saved her life.
The Best Books This Week
Fiction
Pets of Park Avenue
by Stefanie London
Stefanie London (Kissing Games; Forever Starts Now; Bad Bachelor) delivers a hearty helping of dogs and romance in her endearing second entry in the Paws in the City series, Pets of Park Avenue. Scout Myers, a 26-year-old New Yorker, works for a premiere pet social media and talent agency, run by her successful best friend Isla, the winning protagonist from The Dachshund Wears Prada, the first novel in the series. When Scout is tasked with doing a makeover of a socially connected Bichon Frise for a photoshoot, things go awry: the dog's cottony-white coat is suddenly transformed into hot pink. Scout, in a bind, is left no choice but to ask her ex, Lane, if she can borrow his Bichon--a well-behaved near-lookalike named Twinkle Stardust (who goes by "Star")--to serve as a stand-in. Lane and Scout had a whirlwind romance and marriage that flopped five years ago, and they never officially divorced. What starts as a one-shot deal to borrow Star soon reunites the former lovers. Lane, a tech genius who runs a multimillion-dollar company, still has a soft spot for Scout, who left him after only one month of marriage because she felt she could not measure up to him and his ideals. Lovable Star serves as a bridge in this smart, sexy rom-com that unravels the couple's challenging personal pasts and explains why things soured between them. Can they make amends?
London's likable characters resonate with hidden depths as she mines their hearts to deliver a fun, revealing story that will have readers rooting wholeheartedly for love--and dogs--to conquer all. --Kathleen Gerard, blogger at Reading Between the Lines
HQN, $15.99, paperback, 336p., 9781335498199
Parsi: From Persia to Bombay: Recipes & Tales from the Ancient Culture
by Farokh Talati
Parsi: From Persia to Bombay: Recipes & Tales from the Ancient Culture by Farokh Talati opens with a tribute to the Parsi people, a religious group that settled in India in the seventh century after fleeing persecution in their Iranian homeland. Talati, an acclaimed British-Indian chef and member of the Parsi diaspora, captures the joyful spirit of community in his debut cookbook, honoring Persian and Indian flavors in his everyday recipes as well as festive dishes designed for sharing. With user-friendly recipes enhanced with photos and family anecdotes, Talati invites readers to sample potent spice mixes and vibrant pickles, including the charmingly named "wedding pickle." Vegetable, rice and lentil recipes abound, while meat and fish play an integral part in the curries, kebabs and pulao dishes that Parsi celebrates. Talati's version of kedgeree, with "a hint of Parsi flair," includes saffron, turmeric and basmati rice scented with cloves and cinnamon. Sweet-toothed readers are in for a treat. A chapter devoted to "sweet things and ice creams" is followed by a tempting selection of biscuit (cookie) and cake recipes. The decadently layered Knickerbocker Glory, a throwback to Talati's childhood, plays a starring role.
The head chef at London's St. John Bread and Wine, Talati hopes to open a Parsi restaurant and preserve the venerable food traditions of the world's rapidly dwindling Parsi population. His cooking philosophy is anchored in the belief that one should not hesitate to experiment beyond the prescribed borders of a given recipe. "Remember," Talati writes, "there is no right or wrong, only deliciousness." --Shahina Piyarali, reviewer
Bloomsbury, $35, hardcover, 368p., 9781472988690
Great Short Books: A Year of Reading--Briefly
by Kenneth C. Davis
Delightfully accessible, Great Short Books: A Year of Reading--Briefly presents 58 fact-filled reviews of short books, a smorgasbord of titles sure to entice readers. Kenneth C. Davis (Strongman), author of the Don't Know Much About series, despairs that "literary sizeism... exists against short fiction." At a book a week--Davis includes six "bonus" books--it's a reasonable expectation, he writes, that one could read these 58 titles, each 100 to 200 pages in length, in the span of a year. Davis, writing during the pandemic lockdown, was inspired by the Italian writer Boccaccio's Decameron, 100 brief tales completed in 1353 during the Black Death.
Davis lists his eclectic top 58 titles alphabetically and, without a chronological or thematic structure, each entry feels like a surprise. (An "arbitrary" choice was the exception of following Mrs. Dalloway with Michael Cunningham's The Hours, inspired by the Virginia Woolf novel.) Each review follows a pattern: first lines, plot summary ("NO SPOILERS!" Davis promises), an insightful author bio, a "why you should read it" critical analysis and "what to read next" by the same author. He includes men and women writers equally, "established classics" (Ethan Frome; The Great Gatsby) as well as "works that reflect the current atmosphere of politics and society" (Jamaica Kincaid's Lucy, for example). A passionate reader, Davis appends to his 58 reviews a short essay on titles he left out and his favorite 15 short books. Great Short Books, a satisfying read itself, is a useful addition to any collection, well beyond the suggested "year of reading." –Cheryl McKeon, Book House of Stuyvesant Plaza, Albany, N.Y.
Scribner, $28, hardcover, 448p., 9781982180034
I'm No Philosopher, but I Got Thoughts: Mini-Meditations for Saints, Sinners, and the Rest of Us
by Kristin Chenoweth
Pint-sized powerhouse performer and Emmy and Tony award-winner Kristin Chenoweth (A Little Bit Wicked) offers upbeat and heartfelt philosophical musings in I'm No Philosopher, but I Got Thoughts. Much of her philosophy is reminding readers there is rarely perfection: "no one gets through life perfectly in place like a bubble at the center of a carpenter's level," she writes. "Who would even want that?" But there are measures that can be used to help keep one's equilibrium, such as cultivating a circle of supportive friends and creating a lifestyle of self-care. Her Christian faith supports her, but she also discusses thinking beyond spoon-fed dogma and writes: "We should always be ready to question our faith."
Although she usually leans toward humor--"When in doubt: Think WW DOUBLE D! (What would Dolly do?")--Chenoweth also shares her own stories of growing up adopted and dealing with depression and loss. She writes of a longtime friend taking his own life during the Covid-19 quarantine. "The magnitude of this loss laid my bones bare," she writes. "The magnitude of my anger scared me." It took her a while to realize: "Pain is our invitation to the privilege of empathy. And loss--that brutal SOB--is evidence of love."
Her chapter on screwing up includes a hilarious tale of sending a basket of cookies and a note reading "Congratulations!" to what she thought was an event honoring an old friend, only to later find out it was the friend's funeral. This breezy and buoyant self-help guide should find a lot of eager followers. --Kevin Howell, independent reviewer and marketing consultant
Harper Celebrate, $22.99, hardcover, 224p., 9781400228492
Remainders of the Day: A Bookshop Diary
by Shaun Bythell
Difficult customers, colorful employees and contempt for "monopolistic American booksellers driving the rest of us to penury": it's all here in Remainders of the Day, Shaun Bythell's third diary about his experiences running Scotland's largest secondhand bookshop. Fans of the first two books will be charmed once again by Bythell's snark and dedication.
In 2016, Bythell (Confessions of a Bookseller; The Diary of a Bookseller) still fulfills orders and manages his rotating staff, the former being particularly challenging after Amazon suspends his account as an affiliate. Among the people in this third diary are Petra, an Austrian woman who "leans heavily towards conspiracy theories"--aircraft vapor sends mind-control chemicals to earth, for instance--and who "is convinced that she can make a living in this impoverished corner of Scotland by teaching belly-dancing." Familiar figures are back, too. They include Emanuela, known as Granny, the young co-worker with whom Bythell exchanges raised middle fingers in greeting every morning; Sandy the tattooed pagan, who "claims to be the most tattooed man in Scotland"; and Anna, Bythell's American former partner. And then there are the customers: the man who is shocked to learn Bythell doesn't have a café ("So, no refreshments at all?") and the woman who chastises him because "you don't have any books about cooking with roadkill"--and who just happens to have written an "excellent one" she wants him to stock.
Bythell shares one anecdote after another, all of them written with his delightfully caustic touch. Just another year in Scotland's national book town. --Michael Magras, freelance book reviewer
David R. Godine, $27.95, hardcover, 376p., 9781567927566
Good for a Girl: A Woman Running in a Man's World
by Lauren Fleshman
Lauren Fleshman, five-time NCAA running champion at Stanford University and two-time national champion at the professional level, always displayed obsessive dedication, commitment and drive. In her superb memoir, Good for a Girl, she opens a door into her athletic and personal life, baring honest, hard truths about her path to becoming "one of the most decorated American distance runners of all time." She also fearlessly exposes the often dark, demanding underbelly of female sports and how she believes it needs to be reformed.
Fleshman was born in 1981 and grew up in a middle-class family that ate dinner together every night. Fleshman's father was a contradiction: big-hearted and charismatic, gruff and hot-headed. But Fleshman's abiding love for him--and her constant seeking of his love and approval--became a driving force. Her father instilled principles of excellence that carried over into Fleshman's life--especially when she found sports. She was a gifted runner in middle school PE, but after being beaten by a boy in a school race, she started showing up late. The track coach gave Fleshman an ultimatum: he would waive her "punishment" of collecting 150 soda cans for recycling if she'd agree to compete in a track meet. This launched Fleshman into competitive running; she excelled throughout high school, college and beyond, was sponsored by Nike, and later became a sought-after coach and entrepreneur.
Straightforward and well-structured, this memoir traces the many challenges, setbacks and confusions on Fleshman's road to success. Good for a Girl is a necessary, important read that will enlighten athletes of all genders, their coaches and those who cheer for them. --Kathleen Gerard, blogger at Reading Between the Lines
Penguin Press, $28, hardcover, 288p., 9780593296783
So When Are You Having Kids? The Definitive Guide for Those Who Aren't Sure If, When, or How They Want to Become Parents
by Jordan Davidson
So When Are You Having Kids?, a nonfiction guide by Jordan Davidson, tackles what might be familiar topics with a fresh, clear-eyed wisdom. The result is vital candor for those considering or expecting children. It's a book with an expanded audience, including as it does those with perspectives and identities typically excluded or marginalized from the dialogue of parenting.
So When Are You Having Kids? begins with the essential questions parenting advice often skips--the first two parts pose the questions "Do You Want Kids?" and "Should You Have Kids?"--and then discusses fertility methods in detail ("How to Have Kids") before concluding with a section ("You Don't Want Kids") that recognizes the value of a life without children. Davidson, a health journalist and reproductive health advocate, validates potential parents at many stages of their journeys. She also places people who elect to forgo children squarely within the bounds of acceptable discourse on the subject, which grants the necessary dignity and respect to all adults making their lives' most important choices.
Davidson fills the book with facts, synthesized scientific findings, laundry lists of necessary supplies (and their price tags), and statistics and testimonies from people across the U.S. of many races, genders, sexualities, jobs, income levels, ages and geographies. So When Are You Having Kids? is a one-two punch of informative guidance and empathetic human storytelling. --Walker Minot, freelance writer and editor
Sounds True, $28.99, hardcover, 368p., 9781683649250
The Good Life: Lessons from the World's Longest Scientific Study of Happiness
by Robert Waldinger and Marc Schulz
In The Good Life: Lessons from the World's Longest Scientific Study of Happiness, authors Robert Waldinger and Marc Schulz share a valuable trove of narrative data on that most elusive of human quests: understanding what it takes to craft a meaningful and fulfilling life, despite the trials and tribulations that are an inevitable part of the human experience. Although American culture brims with assumptions on what a good life looks like, factoring in money and status, the authors' findings, "built on a bedrock of scientific research," guide readers towards a more wholesome, evidence-based truth: personal relationships are critical in that the frequency and quality of our contact with other people are two major predictors of happiness.
Waldinger and Schulz are the director and associate director, respectively, of the Harvard Study of Adult Development, a project launched in 1938 to understand what makes people thrive, and "the longest in-depth longitudinal study of human life ever done." Acknowledging the limitations of research originally based on white male Bostonians, the authors meticulously cross-referenced their data with racially and geographically diverse longitudinal studies. Study after study, they conclude, reinforces the connection between good relationships and health, regardless of a person's location, age, ethnicity or background.
Readers intrigued by Waldinger and Schulz's findings will appreciate the actionable advice they share, and the good news that approximately 40% of our happiness is within our control through our efforts and the choices we make. It is never too late to build relationships, the engine of a good life being not the self but rather our connection to others. --Shahina Piyarali, reviewer
Simon & Schuster, $28.99, hardcover, 352p., 9781982166694
Grocery Shopping with My Mother
by Kevin Powell
Kevin Powell's 15th book, the music-inspired poetry collection Grocery Shopping with My Mother, is both a reckoning with family history and a celebration of Black pop culture. In the title poem that opens the collection, Powell (The Education of Kevin Powell) helps his ailing mother with daily tasks to prevent another fall. With a satisfying symmetry, the collection also ends with a poem about her, "Son2Mother." He grants her forgiveness, knowing her emotional coldness arose from an abusive childhood and the trials of being a single mother. "Poetry is music and music is poetry, to me," Powell writes. Indeed, the work is structured like an album, with two "sides" that are followed by "bonus tracks." Stevie Wonder's Songs in the Key of Life is an acknowledged influence, and the musical references range from Tupac to the Beatles (in a playful piece composed around their song titles). The run-on phrasing, internal and end rhymes and repetition mimic rap rhythms.
In the context of the Black Lives Matter movement, Powell considers how racial aggression echoes throughout generations. For instance, an imagined monologue by a sharecropper's son laments the murder of George Floyd. Most of the verse is freeform, while three excellent haikus, particularly the alliteration-rich "Haiku for Black Boys," mark a change of pace. Elegies to the likes of Kobe Bryant, bell hooks and Sidney Poitier and allusions to Langston Hughes's poetry showcase African American contributions.
The personal and the political, the praiseworthy and the reprehensible mingle in smooth poems with a distinctive voice. --Rebecca Foster, freelance reviewer, proofreader and blogger at Bookish Beck
Soft Skull Press, $24, hardcover, 192p., 9781593767433
The Writer's Life
Reading with... Eileen Myles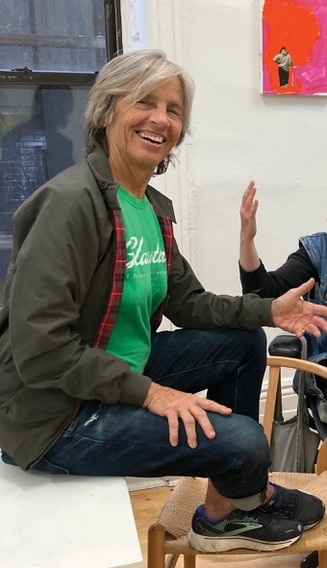 photo: Hannah Beerman
Eileen Myles is a poet, novelist and art journalist known for first-person vernacular writing in a variety of genres. They are the author of Evolution and Afterglow. In Pathetic Literature (Grove Press), they curate an anthology of 106 pieces, from poetry to prose, that examine pathos and feeling in lesser-known works by the likes of Jorge Luis Borges, Rumi, Kafka and Gwendolyn Brooks. It is the 23rd book Myles has published since the late '70s.
Handsell readers your book:
The world is ready for a book about belonging. Pathetic Literature is unified by being itself while unafraid of seeming way too much or not enough.
On your nightstand now:
Fernando Flores's Tears of the Trufflepig lives on the top of my table by the couch. It is so grounded in a south Texas reality while blasting us into an alternative not-so-future reality that is frightening in its precise detail around what science could do with genetics like even next week. He's such a good writer.
Alice Fulton's Coloratura on a Silence Found in Many Expressive Systems is hanging out there. It's rich, slow, kind of cornered and then flinging-open work.
Favorite book when you were a child:
Little Women. It was the only one that had a female writer, Jo, in it and she had her own room.
Your top five authors:
Violette Leduc who wrote La Batarde, which may be my favorite book about female unloveliness and mother attachment and sophistication and writing. She hovers between poetry and prose like a helicopter.
Maud Martha by Gwendolyn Brooks teaches anyone how to write a new novel. She paces her world step by step, placing feeling in all the cabinets and vanities and grimaces and love. It's a full and entirely alive and delicately strong book. It's a poet's novel, many of my favorite works of prose are.
Henry Miller saved my life by writing about Brooklyn and working-class reality and becoming an artist and writing about sex with such abandon and merging poetry with narrative and sex writing and suggesting women actually like sex. I'm thinking Tropic of Capricorn and Tropic of Cancer.
Can Xue has written Dialogues in Paradise and Love in the New Millennium and many more books. She proceeds with an earnest kind of telling dropping natural surrealism in with a daily philosophy. Her magic as a writer is that she looks really close and reports what she sees. The world is strange and suffering and that fact can produce remarkable results.
I just discovered Sandro Penna, an Italian poet of the 1930s to '70s. He is openly sweetly homosexual and he mixes bodies in with landscape and a relaxed pensive sense of time.
Book you've faked reading:
I pretended to read Crime and Punishment by Fyodor Dostoevsky and I didn't see the need for all the philosophy and ranting but I was pretty young. I never read what I don't want to read now. It's the most free I get.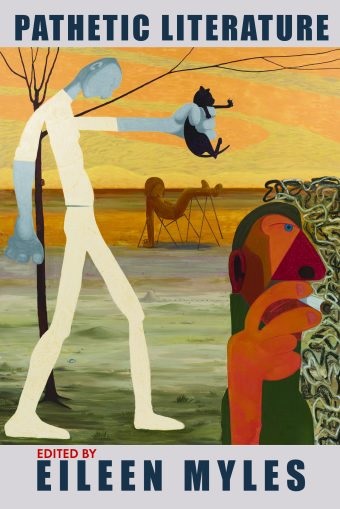 Book you're an evangelist for:
Fifteen Dogs by André Alexis. He created such a simple and exalted premise for a book and then realized it so exquisitely. It's one of my favorite books and when I published my own dog book (Afterglow) I couldn't stop talking about his.
Book you've bought for the cover:
I think there were such books but I don't remember what they were. I don't think they stuck around.
Book you hid from your parents:
I hid Fanny Hill from my mother. It's possible I stole it from my brother, but it was certainly the dirtiest book I had read thus far in my life, which I think was high school.
Book that changed your life:
Yukio Mishima's Confessions of a Mask changed my life. He explored his sexuality in such a poetic magical way and, through our mutual obsession with Joan of Arc, he explained obsession for me by indicating it was what I was doing, and that obsession had a relationship to writing. And reading.
Favorite line from a book:
"I didn't ask to be born," is my favorite line from a book and it is the first line of Henry Miller's Tropic of Capricorn or the first line I remember.
Five books you'll never part with:
Kristín Ómarsdóttir's Children in Reindeer Woods. It's like a wartime fairy tale told in such simple lucid colorful prose.
I will never part with Love by Angela Carter. It's a perfect novella, slightly psychedelic, its portrayal of the '60s almost makes it a historical novel and it's complete yet short.
I will never part with James Schuyler's Freely Espousing because it jingles and paints and does everything writing does in the youngest newest possible way.
I will never give up Carmen Boullosa's Texas: The Great Theft. It's sprawling like the Robert Altman movie Nashville. It's operatic and slips into poetic tales of life and death, it tells about an absolute time at the border before it was and everything was conspiring and breaking.
I will never give up Qiu Miaojin's Last Words from Montmartre, which is like Chris Kraus's I Love Dick, a perfect action of a book. Though in Qiu's case the punctuation on such explodingly well-expressed feeling was to end her own life.
Book you most want to read again for the first time:
Nightwood by Djuna Barnes. It's the most perfect book I ever read though it contains some extremely offensive stuff. It's the same thing with William Burroughs's Naked Lunch which is also a gorgeous abomination.
Books that didn't fit in the categories above:
Samuel Delany's Stars in My Pockets Like Grains of Sand that explained morning in space going around a planet seeing dawn again and again.
Rae Armantrout's Conjure just killed me with its absolute attentiveness to the shifts of consciousness and matter in tiny tiny language.
Edwin Mullhouse by Steven Millhauser because it invents childhood in writing and shows how cartoons invented language.
2666 by Roberto Bolaño is a total masterpiece, especially the frightening middle volume, and I'm glad a man had the courage to write that entirety of what was undoubtedly done by men to these women.
Fred Moten's The Feel Trio is still one of my favorite collections of poetry. It's wildly internal yet full of song.
Rediscover
Rediscover: Fay Weldon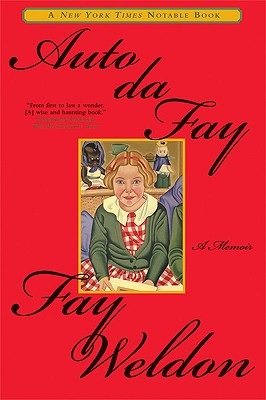 English author Fay Weldon, "who chronicled the ups and downs of British life in novels, TV dramas, plays and short fiction for more than five decades," died January 4 at age 91, the Guardian reported. In more than 30 novels, including The Life and Loves of a She-Devil, Splitting and the Booker Prize-shortlisted Praxis, Weldon "charted lives shaped by class and the sexual revolution.... The sharp dialogue, scathing wit and satirical energy of her fiction were forged in the world of stage and television, where her screenwriting credits included ITV's Upstairs Downstairs and an adaptation of Pride and Prejudice for the BBC."

Weldon began her career writing scripts for radio and television, contributing to series such as ITV's Armchair Theatre and BBC's Wednesday Play. An ITV drama, The Fat Woman's Joke, would become her first novel, published in 1967. Four more novels appeared over the following decade, as well as a series of plays for stage and screen. Her sixth novel, Praxis, was published in 1978 and earned her an appearance on the Booker prize shortlist. Auto da Fay, her autobiography, was released in 2002.

Weldon's best-known novel, The Life and Loves of a She-Devil, was published in 1983. The Observer called it her "nastiest novel so far... the most mutilating kind of satire, whose only 'point' is to bring you up against the bars of your cage." The BBC adapted the book for TV in 1986, and a film version starring Meryl Streep and Roseanne Barr was released in 1989. The Death of a She-Devil, a follow-up to her 1983 novel, was published by Head of Zeus in 2017.

Author Jenny Colgan, writing in the Guardian, recalled: "Fay was noisy in an era when women were expected to be quiet. She used her voice and took up space; she said what she felt, she brought energy and fun. And she was, as her book festival audiences could doubtless confirm, that very best and most attractive type of person: someone who is utterly, fearlessly and for ever true to themselves, to hell with the consequences. We will miss her."
Read ahead with our friends at Walker Books US and bring your besties with you!
As a subscriber to Shelf Awareness, you're already eligible to enter to win a set of ALL THREE books in the Gifts series by Caroline O'Donoghue, from Walker Books US! But why hog all of the fun for yourself? Invite your bookish friends to sign up, too!
The more of your friends who sign up, the more chances you will have to win!