Week of Friday, February 10, 2023
This week, Janine Joseph delivers 40 "hard-hitting and formally inventive poems" in her second collection, Decade of the Brain; Aubrey Gordon's "smart and informative" "You Just Need to Lose Weight" debunks 20 common myths about fat people; and in the "refreshing, revealing" picture book The Fire of Stars, Kirsten W. Larson and Katherine Roy "perfectly pair" Cecilia Payne's growth from inquisitive girl to celebrated astronomer with the birth of a star. Plus so many more!
In The Writer's Life, British poet Keiran Goddard discusses his debut novel, Hourglass--a perfect Valentine's Day read, in which the hourglass itself becomes a metaphor for equalizing past, present and future in a romantic relationship.
[A correction to last week's issue headline: we misspelled the author's name for our interview with Newbery winner Admina Luqman-Dawson. Our apologies!]
The Best Books This Week
Fiction
Science Fiction & Fantasy
All Hallows
by Christopher Golden
Bram Stoker Award-winner Christopher Golden (Dead Ringers; Road of Bones) blends 1980s nostalgia with eldritch horrors in Halloween terror-fest All Hallows. This ensemble cast horror story is a bloody race against the clock to survive the night set against a backdrop of family and neighborhood drama.
It's Halloween night in 1984 Massachusetts, and Tony Barbosa and his teen daughter Chloe have put extra effort into their annual homegrown Haunted Woods attraction. Financial troubles and an impending move are sounding a death knell for the tradition. Their neighbors on Parmenter Road face their own struggles. Barb Sweeney fights to stay strong for her kids in the face of her husband's constant infidelity. There are whispered rumors that the Burgess couple ran a brothel in their last town and abducted children. While conflict distracts the adults, the kids on Parmenter Road notice something odd while trick-or-treating: unknown, unkempt children in costumes that look like they came from bygone decades are appearing around the neighborhood. Tween Rick Barbosa and his best friend Billie are trailed by a little boy in a scarecrow costume whom they later must rescue, but Rick is sure something about the child is off. Other creepy children beg kids in the neighborhood for help hiding from "the Cunning Man," the monstrous being hunting them. His coming spells gruesome disaster as well as some surprising twists.
Golden captures the flavor of the 1980s suburb through accurate social dynamics and pop-culture references. Readers looking for supernatural scares dressed up in vintage garb will find both tricks and treats here. --Jaclyn Fulwood, blogger at Infinite Reads
St. Martin's Press, $27.99, hardcover, 336p., 9781250280299
The Don't Panic Pantry Cookbook: Mostly Vegetarian Comfort Food that Happens to Be Pretty Good for You
by Noah Galuten
At the outset of the Covid-19 pandemic, husband and wife team Iliza Shlesinger (a comedian) and Noah Galuten (a chef) started an Internet cooking series, "Don't Panic Pantry," to entertain and educate people stuck at home with pantries full of food they didn't know how to cook. Hundreds of episodes later, Galuten brings these lessons to the page in The Don't Panic Pantry Cookbook. Galuten calls it the cookbook he's "always wanted to write (deeply personal, filled with pasta and lentils and beans)," informed by his experience making videos for home cooks of every background and comfort level in the kitchen. He encourages home cooks to start with what they can, promising a set of skills and dishes that will ultimately rival any "mediocre take-out place" that tempts with convenience and ease. This mindset is then combined with seven instructions for eating well. Easy-to-follow guidelines like "balance is good" keep these from veering into toxic diet culture.
This seemingly simple approach to home cooking is not to say that the recipes in The Don't Panic Pantry are basic, boring or bland--anything but. Flavors abound in the breakfasts, snacks, sides and mains offered up here (many of which are vegetarian by default, though there are a few meat-forward dishes): Jalapeño-Pesto Hummus for a hearty snack, Ginger-Cilantro Chicken Noodle Soup for a warming meal, Krauty Beans for a fast dash of something savory. "You can cook," Galuten insists in the introduction, and with easy-to-stock ingredients and simple-to-follow instructions, The Don't Panic Pantry is an excellent tool for any home cook to find out just how true that statement is. --Kerry McHugh, freelance reviewer
Knopf, $35, hardcover, 240p., 9780593319833
Waco Rising: David Koresh, the FBI, and the Birth of America's Modern Militias
by Kevin Cook
In Waco Rising, author and journalist Kevin Cook (Ten Innings at Wrigley) revisits the 1993 siege of the Branch Davidian cult in Waco, Tex., with new reporting and insights tying the tragedy's legacy to the rise of modern-day militia movements. He begins with Vernon Howell, aka David Koresh, who "rolled in like blustery weather" to the small compound of co-religionists at Mount Carmel, outside Waco. A "self-appointed prophet," Koresh was a charismatic preacher with an encyclopedic knowledge of the Bible, particularly the book of Revelation, that eventually led to fiery sermons laced with "conspiracy theories that anticipated those of the decades to come." The heavily armed compound attracted the attention of the Bureau of Alcohol, Tobacco and Firearms (ATF), which staged an ill-conceived raid in February of 1993, lighting the fuse on a catastrophic 51-day siege.
Cook chillingly portrays the final days of those inside and outside Mount Carmel, "a tinderbox on its best day," as negotiations failed and tanks finally crashed through on April 19. The eyewitness accounts Cook tracked down are breathless and bring readers closer than ever before to the true story of Waco--one, Cook cautions, that defies a black-and-white telling. Ideas about whom to blame for the deaths of 76 Davidians "are promoted by zealots seeking to turn Waco to their own purposes. After thirty years, partisans from both ends of the political spectrum [are] still stirring Mount Carmel's ashes." This is a painful yet necessary read. --Peggy Kurkowski, book reviewer and copywriter in Denver
Holt, $29.99, hardcover, 288p., 9781250840523
"You Just Need to Lose Weight": And 19 Other Myths About Fat People
by Aubrey Gordon
Aubrey Gordon (What We Don't Talk About When We Talk About Fat), co-host of the podcast Maintenance Phase, writes of herself: "Since grade school, I have been taught that some bodies are meant to be seen, and that mine isn't one of them." In "You Just Need to Lose Weight": And 19 Other Myths About Fat People,Gordon methodically debunks anti-fat bias and 20 commonly expressed myths about fat people. "The BMI is an objective measure"; "accepting fat people 'glorifies obesity' "; and "fat people should pay for a second airplane seat": all possess flaws exposed by Gordon's research.
As Gordon explains, so much of how people think about obesity is influenced by anti-fat bias, whether consciously or not. Most fat people would be able to produce countless examples of body shaming, "helpful" food advice from strangers and interference into their lives and bodies, all of which would feel invasive and shocking to thin people. All too often, fat people are treated with disgust for "daring to show our faces and bodies in public." There's also a great deal of anti-queer and racial bias in the way that fat people have historically been treated, which further complicates issues.
Each chapter includes a myth that is carefully debunked and ends with reflection questions and/or action steps, making Gordon's book an excellent tool for those working to end anti-fat bias. Perfect for fat and thin readers alike, "You Just Need to Lose Weight" is smart and informative--and will spur many important conversations. --Jessica Howard, freelance book reviewer
Beacon Press, $15.95, paperback, 232p., 9780807006474
White Pine: The Natural and Human History of a Foundational American Tree
by John Pastor
From John Pastor, ecologist and professor emeritus at the University of Minnesota, Duluth, comes White Pine, a concise account of North America's eastern white pine tree. Pastor's book, which combines a charming professorial sensibility with the expertise and keen observations of a veteran scientist, is history for a layperson, an introduction to forest ecology, a cautionary tale of reckless natural resource harvesting and a roadmap for sustainable foresting practices to conserve precious woods and enable their flourishing. After a sobering account of the extractive logging practices that reduced once ubiquitous eastern white pine (Pinus strobus) forests into rarities, Pastor (What Should a Clever Moose Eat?) acknowledges there is a place for some harvesting, as white pine is a powerful material that can improve the material conditions for humans in a variety of ways. However, such harvesting must not submit to capitalist zealotry and, instead, should incorporate the breakthrough science of sustainable foresting with ancient wisdom from Indigenous methods of stewardship that, prior to the arrival of European settlers, maintained white pine forests for centuries.
White pines, which belong to a special category of organisms called foundation species, are not only singular organisms but they also, collectively, create microenvironments within which many other organisms can survive and thrive. While not admonishing the conservational attention paid to rare and endangered species, Pastor urges readers not to lose sight of those foundational species which make so much other life possible. White Pine's information and reverence for life, as well as the conditions life requires, endow it with value for the layperson, historian and seasoned scientist alike. --Walker Minot, freelance writer and editor
Island Press, $30, paperback, 276p., 9781642831412
Pusheen the Cat's Guide to Everything
by Claire Belton
In Claire Belton's comics collection Pusheen the Cat's Guide to Everything, the rotund, gray cat familiar from the world of GIFs has a starring role. Good-natured scenes delight in the endearing quirks of cats and other cute creatures. Pusheen, like any feline, excels at wreaking havoc in lovable ways. With an onomatopoeic "plop" and "squash," she sits where she doesn't fit, whether in a fruit bowl or wedged behind a laptop. She knocks a mug of coffee onto an open book, then promptly falls asleep on the pages. Turning her nose up at her bowl, she'll steal water elsewhere; ignoring her own bed and toys, she'll sit in a box or play with wrapping paper instead. Belton (The Many Lives of Pusheen the Cat) creates a whole family circle for Pusheen, with parents Sunflower and Biscuit; Stormy, the sister "too cute to get mad at"; and little brother Pip, who imagines himself a brave adventurer. Other pals include Sloth, Cheek the Hamster and Bo, a parakeet prone to unrequited crushes.
Rather than a single narrative, the collection features stand-alone one- or two-page spreads, largely in pastels. Seasons and holidays are prominent; topics include tips on how to beat the heat and pre-Christmas anticipation. Animals sometimes live up to stereotypes (the vacuum cleaner is Pip's archnemesis) or undertake anthropomorphized activities, such as road trips. Often, though, they wear costumes (unicorns, mermaids) or are whimsically envisioned as something else entirely (coffee drinks, baked goods). Who could resist spending time with everyone's favorite cartoon cat since Garfield? --Rebecca Foster, freelance reviewer, proofreader and blogger at Bookish Beck
Gallery Books, $16.99, paperback, 224p., 9781982165413
Decade of the Brain
by Janine Joseph
Decade of the Brain is the second poetry collection from Janine Joseph, born in the Philippines. Through formal variety and with thematic intensity, she ruminates on her protracted recovery from a traumatic car accident and her journey to U.S. citizenship. Joseph (Driving Without a License) is a co-organizer for Undocupoets, a consortium for undocumented immigrant poets and their supporters; her piece "The Night Before You Are Naturalized" recalls when she became a U.S. citizen.
In 2008, a driver rear-ended her vehicle, and Joseph suffered a concussion. It took years to reclaim her concentration and sense of self. In poems like "Janine vs Janine," she refers to herself in second person to communicate her dissociation. The faltering phrases of "Every Good Boy Does Fine" (a mnemonic for musical notes) reflect her aphasia. In "Four Darks in Red," she turns frustration into an alliterative litany: "Bad body is so/ negative. Bad body won't get dressed." She sees a counselor for lingering trauma and tries alternative medicine, including acupuncture and massage, for the "commotion in my cranium."
No two poems are the same. They differ not only in length and form, but also in alignment. For instance, the lines of "My Chiropractor Gives Me a Name" curve down the page much like a spine, while "The Reverse of Volume" repeats each couplet again and again in a staticky overlap. "Erasure," in the burning haibun form, reprints one of her neurological reports and then blacks out most of its text on the following page before reducing it to a final haiku. These inventive poems pack a punch. --Rebecca Foster, freelance reviewer, proofreader and blogger at Bookish Beck
Alice James Books, $18.95, paperback, 100p., 9781948579308
The Writer's Life
Keiran Goddard: An Unmediated Confrontation with Desire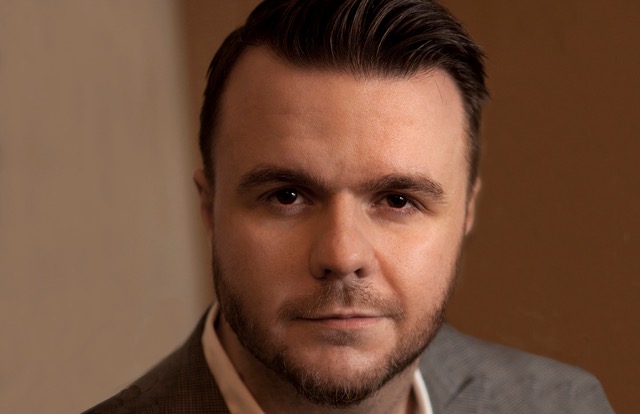 Keiran Goddard, a gifted British poet, has written two poetry collections, For the Chorus (2016) and Votive (2019). Even readers who don't know he is a poet will surmise as much from the lyrical turns of phrase and attention to detail in his debut novel, Hourglass (to be published on Valentine's Day by Europa Editions; reviewed in this issue), in which he exquisitely renders all three acts of a romantic relationship. He spoke with Shelf Awareness about Hourglass, his influences as a writer and the book's universal theme of seeking transcendence.
Why did you choose the title Hourglass? I can think of several interpretations regarding shape and time, but what meaning do you hope to convey with that title?
An hourglass is a curious sort of object. Whereas a clock tells us one thing, namely the time, an hourglass does something altogether more interesting. It shows us the past, the present and the future all at once. The sand at the bottom is the past, the sand heaped at the top is the future, while the present is reduced to the tiny, steady flow of grains that fall through the centre of the glass.
There is something interesting about that arrangement--the past and the future looming so large compared to the present, despite the present being the place we actually exist, materially speaking at least. I wanted to explore what it would mean if we worked to equalise those proportions? If we stretched out the present so that it loomed as large as the past and the future?
The book plays with this idea and its implications. Divided into three identically sized sections, each with an identical amount of subsections, it looks to disturb the interplay between these three temporal states. Tiny moments are magnified, stretched, distorted. Whole years disappear from one sentence to the next. That's the basic idea, anyway.
What was the genesis for this novel?
More than anything, I wanted to write a love story that had a genuine, unmediated confrontation with desire. With the ways it distorts us and makes us strange. Why does it make music sound so incredible? Why does it make us imagine the person we love is always seconds away from dying in some horrific and extremely unlikely way? Why does it make us use weird words and cry on public transport? Why does it make us brave, and capable of imagining new ways of living? And, crucially, how do we carry those instincts of world-making and courage beyond the limits of the relationship itself?
At times, the rhythm of the narrative made me think of poems by Pablo Neruda and Octavio Paz. I'm thinking of passages such as when the narrator refers to his girlfriend as, "Not the most beautiful person I have ever seen. The most beautiful thing. Which is a much bigger category. And I cannot turn away." Which poets have inspired you the most, and in what ways do you think they may have influenced this book?
That's incredibly flattering so, firstly, thank you. I can't say that it was conscious, but I suppose I am drawn to poets who work in a declarative, emotive and sometimes repetitive mode, including Neruda. I also love, in no particular order: Blake, Bishop, Rilke, Celan, Donaghy and a bunch of contemporary poets like Luke Kennard, Martha Sprackland and Holly Pester. In terms of how they influence the novel, I think more than anything it is to do with the heightened value placed on rhythm and image, and trusting that the emotional sense of passage is able to be conveyed in less conventional syntactic ways.
I was fascinated by the style you adopted for this work: a series of short chapters consisting of brief sentences. What was the effect you wanted to create with this structure? And how do you feel this structure mirrors the psyches of your characters, if at all?
I wanted the prose to be accretive, to give the sense of a tumbling accumulation of feelings and observations. It's also closer to how we actually think, right?--staccato and slightly impressionistic? That said, I wanted the structure to be welcoming, I hate the idea that anything that might be seen as mildly unconventional is automatically deemed to be distancing or alienating. Not least because it massively patronises the intelligence of readers. Lots of very popular things throughout history have been vaguely experimental; some of the biggest albums and most popular books are actually pretty odd. Death to the assumption of the lowest common denominator reader!--they don't exist, no matter how hard the publishing industry tries to manufacture them.
One theme that recurs throughout Hourglass is your narrator's complicated relationship with faith and religion. Early on, he writes that, on some mornings, "I think I am God." When he and his girlfriend go for a walk near the start of the novel, he says, "God was following us." By the end, he shows signs of doubt, even stating, "God is not with me." Can you talk a bit about religion's role in the narrative and what you, through your narrator, are saying about its role in modern life?
This is a really heavy question, and one that would take me pages and pages to even begin to answer. Perhaps one thing I could say, though, is that I was very interested in the resonances between the ways in which we seek transcendent experience via desire and love and the ways in which we do so via communing with god. It's sometimes really hard to distinguish between a sunbeam and the sun, between a feeling of joy and the true source of all joy. And maybe, for want of a better definition, love is just the act of being able to consistently move beyond the refraction of the light, the sunbeam, and toward its ultimate source, the sun. And if you are really, really lucky, if you are blessed, then you find someone or something that allows you to feel the sun, not the sunbeam. Even if it's just for a while. Hourglass is about catching, and ultimately fumbling, that gift.
I'm curious about your decision to investigate your themes by writing a novel rather than through poetry. As someone who has written both, what do you see as some of the advantages and disadvantages of each genre?
Hourglass was always going to be a novel. This isn't a very fashionable thing to say, but I'm not sure I have much of a choice about how, when and what form my writing comes to me. It is a mysterious process and I reckon my job is just to listen as carefully as I can and rearrange the pieces that are given to me when I do.
What are you working on next?
I have finished a second novel, I See Buildings Fall Like Lightning, which will be out in early 2024. It's a story about working-class friendship, hope, sex and despair. It's more fun than it sounds. I hope. --Michael Magras

Maame
by Jessica George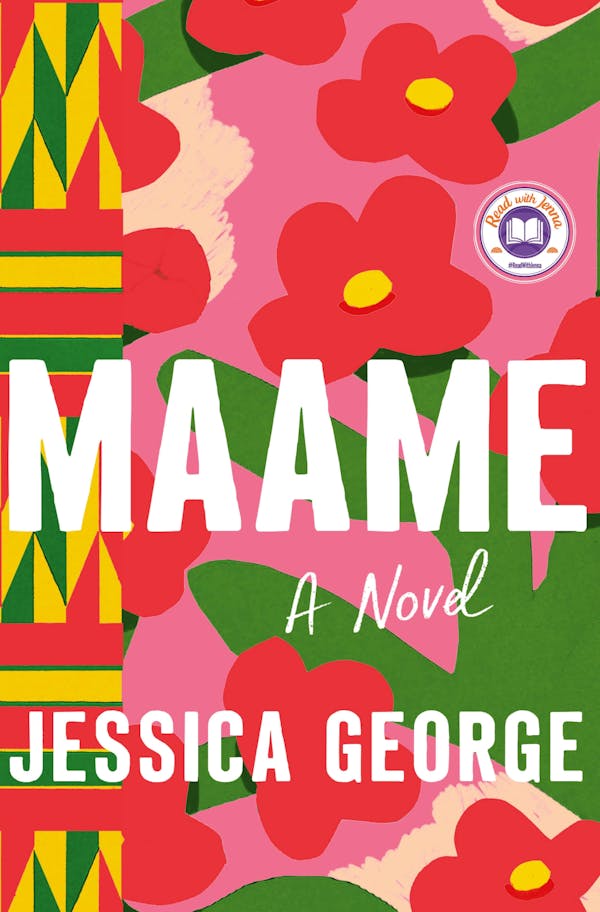 Jessica George's wry, compassionate debut novel, Maame, follows Madeleine "Maddie" Wright as she attempts to find some independence, assert herself at the publishing office where she works, deal with microaggressions from flatmates and coworkers, and maybe even find love. Maddie is used to being the responsible one. She's the dutiful daughter in her Ghanaian-British family, the one who cares for her dad as his Parkinson's gets worse and her mother spends more and more time working (and maybe doing other things) in Ghana.
"Maame," which can mean "woman" or "mother" in Twi, has been Maddie's family nickname for years, but as George's narrative opens, Maddie is beginning to resent it. She's always been a hard worker, careful with money and attentive to her family's needs. But she's tired of single-handedly dealing with her dad's care on top of her own responsibilities and resents her mother for swanning off to Ghana so often and leaving Maddie holding the bag. Her older brother, James, lives nearby, but he's usually too busy pursuing his (supposedly) high-powered career to help Maddie out, financially or otherwise. With the help of her two no-nonsense best friends, a new job at a small publishing house and a lot of late-night Google searches, Maddie attempts to reinvent herself--or simply to discover her own identity beyond Maame.
George writes with honesty and empathy for her characters, tracing Maddie's journey from insecure, anxious late bloomer to (slightly) less self-conscious twentysomething. Painfully aware that she's behind her peers in hitting a lot of the traditional milestones--first grown-up flat, first serious relationship, even first time having sex--Maddie turns to the Internet as a safe, non-judgmental space to ask her embarrassing questions. Though Maddie is intelligent and thoughtful, her anxiety about fitting in and her lack of experience often make her second-guess her own ideas and choices. Readers get an intimate glimpse into her thoughts and struggles through her Google searches, which read like a list of particular (yet universal) twentysomething concerns: What to do when you've been fired? How long do guys wait before asking a girl on a date? Is pre-date exhaustion a thing? Later, she has questions for Google about the particulars of dating: Is a first date at his house normal? Does a third date mean sex? When a family tragedy strikes, the Google searches turn somber: What are symptoms of a panic attack? How do you recover after loss?
Although much of Maddie's journey relates to her personal life, she's also dealing with career challenges--getting fired from a job she hates ("When Waterloo station approaches, I brace myself for another day at a job Google itself has deemed deserving of a bronze medal in the race to unhappiness"), then finding a new gig at a publishing house. Though she enjoys the work, navigating the office social politics proves exhausting, especially when she's usually the only Black person in the room. Readers will root for Maddie as she struggles to make her voice heard at work, while questioning whether she wants to be there at all. Her flatmates, Cam and Jo, waver between being supportive and indifferent, inviting her on a few nights out but seeming not to be too interested in her. Maddie herself, though fiercely loyal to her few close friends, isn't sure what to make of this confusing web of new social connections, especially when she finds herself attracted to Sam, one of Jo's exes who shares Maddie's thoughtful nature and her cultural background.
Despite the several meanings of "Maame" in Twi, the book delves most deeply into the ways it means "mother": both how Maddie cares for her family in an almost maternal role, and her complicated relationship with her own mother. Opinionated and loud, a devout Christian (when it suits her), Maddie's mother has strong opinions about the way her daughter should behave and the kind of man she should bring home. Part of Maddie's journey into adulthood is learning to stand up to her mother and learning to recognize the ways in which the label "Maame" has become a straitjacket she'd prefer to escape. George portrays Maddie's family members with compassion; even James has his own struggles that he's hesitant to share with Maddie. Later in the book, Maddie and her mother are able to have several honest (if still frustrating) conversations about their relationship and the things Maddie is learning about herself.
Full of dry humor and entirely relatable moments, Maame is a warmhearted, often hilarious account of one woman's journey through her awkward yet exciting 20s. Readers will root for Maddie to find self-confidence and happiness, both at work and in her personal life. As she deals with personal finances, flatmate issues, joy, grief and even figuring out what she likes to eat, Maddie is gradually getting to know herself. George's narrative is a tribute to all women who make the effort--no matter how difficult or confusing--to take control of their own lives. --Katie Noah Gibson
St. Martin's Press, $27.99, hardcover, 320p., 9781250282521
Beyond Being a Good Daughter
An Interview With Jessica George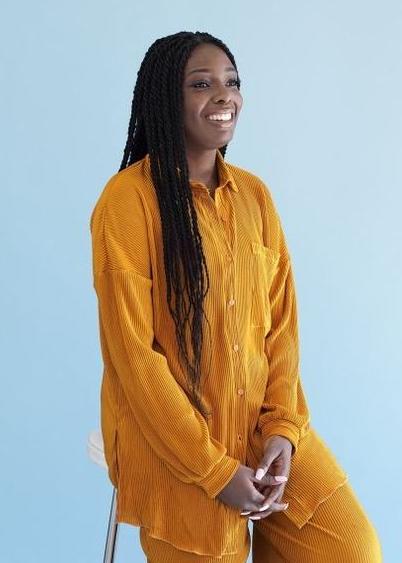 Jessica George
(photo: Suki Dhanda)
Jessica George was born and raised in London to Ghanaian parents and studied English Literature at the University of Sheffield. After working at a literary agency and a theatre, she landed a job in the editorial department of Bloomsbury UK. Her first novel, Maame (St. Martin's Press, February 7, 2023) chronicles the journey of a twentysomething woman as she comes to terms with a role she did not seek and discovers who she really is.
What was the inspiration for Maame and Maddie's story?
Maame started off as very stream-of-consciousness-heavy diary entries. I hadn't had a diary since I was 15, but when my dad died in 2020, I picked up a random notebook and began writing down how I felt. I wasn't writing so much for cathartic release at the time, but more in an effort to understand what was happening. By the time I'd finished writing, I'd realised there was no understanding it: that maybe grief exists as something that cannot be understood, only felt.
"Maame" is Maddie's family nickname, but she has complicated feelings about it.
"Maame" in itself is a lovely word, even melodic when spoken, and is often used as a term of endearment, akin to "sweetheart" or '"darling." The actual definition is: "to be a woman or a mother." I believe the words "mother" and "woman" are interchangeable in Maddie's case. In this story, Maddie's nickname is used as an excuse to give her a lot of responsibility very early on, to give her the duties of a mother without her being one. However, the responsibility and the pressure of looking after and taking care of so much, of being independent (or alone?) for so long, leads to resentment, guilt and anxiety.
By the end of the novel, Maddie chooses to detach herself from the name and focus on the positive things "Maame" has done. There are some benefits to being the responsible, caring, thoughtful one, especially for those who selflessly benefit from these attributes. Although necessary to see the effect "Maame" has had on her life, her main goal is not to pass it on. I like to think that's how Maddie will deal with the name going forward.
One of Maddie's coping mechanisms for when she doesn't know something, or feels overwhelmed, is Internet searching.
Google really is the gift that giveth and taketh away. Sometimes I think, "Where would we be without Google?," which is maybe a grossly millennial response to the Internet. I once posed this question to someone older and the response I received was: "We used our common sense." I've not posed the same question since.
However, for Maddie, her constant need to Google is used to highlight her loneliness and low self-esteem; she probably sees her questions as too inane to bother her friends with. Maddie doesn't share a lot, she shoulders everything; people can bother her with things and she'll always help, but she can't do the same--it's rarely reciprocated--except on Google. Online, she doesn't have to give in order to get anything back. There's also some comfort in anonymity when it comes to the late-bloomer aspect; she asks the Internet about first dates and first roommates, knowing that some (if not all) of her peers have already experienced these things a decade earlier.
It's also a wonderful addition in terms of hilarity. I touch on some heavy topics in Maame, but hopefully balance it out with lightness and humour too.
Maddie struggles to be a "good" daughter (dutiful, loving, responsible) and also assert her independence from her parents. This means different things with her mother and her father.
Asserting independence from your parents is perhaps a theme many will relate to, because it has more to do with thinking for yourself and doing not what you've been told, but what you feel is right. Maddie comes from a culture where disobeying your parents is practically an offence: you must always respect your elders. These expectations are ingrained in you from an early age, so they prove difficult for Maddie to shake in her adulthood. However, the independence from her father is less mental than physical. It's about creating distance between herself and someone she has spent so much of her time with, someone who perhaps needs her around. The words "independent" and "dutiful" are almost antithetical, so it comes with great difficulty to Maddie when she attempts to figure out how to be both.
As the only Black person in her work settings (and also sometimes in social settings), Maddie deals with various microaggressions and misperceptions from her white coworkers and flatmates.
It felt important to touch on this in Maame because since joining the creative industry, I have only ever worked in majority white spaces, often being the only Black person in the room. It's a more mentally exhausting environment than people would assume. There exists a level of loneliness that some colleagues will be completely unaware of. They're likely to think--and that's if it crosses their mind at all--that you can't feel lonely when you're part of a big team, a large office, when you all work closely together, but what they might not understand is that's a very easy thing for them to assume. They've likely only ever worked in homogeneous environments, so they've never experienced isolation on that level. There's also a lot of overthinking and reading-between-the-lines involved, because that which sounds innocuous very rarely is. Maddie spends a good portion of her work life attempting to navigate this.
Maddie deals with various kinds of grief throughout the novel, after personal and professional loss and challenges. How does she deal with grief and other uncomfortable emotions?
Maddie hasn't been given the space to openly express her emotions as she's often too busy dealing with the emotions of others, so when she experiences grief, she doesn't know what to do with it. Her inability to properly process leads to dubious physical relationships, battered friendships, turmoil at work and eventually, a mental breakdown. But when given the space to talk openly and honestly, it's a big turning point for Maddie.
Part of Maddie's story relates to her attempts to go on dates, maybe even find someone special. She struggles with dating, confidence, sex and love.
There's kind of a question of when do you learn this stuff? and what happens if you're learning it 5-10 years later than the average person? Some things, Maddie learns the hard (and sometimes necessary) way: personal experience. Other times she can rely on her two best friends for help. But dating, sex and love have never been the easiest areas of life to grasp, so watching Maddie traverse these fresh waters only adds to her endearing character. --Katie Noah Gibson
Shelf vetted, publisher supported.
Great Reads
Rediscover: Ted Bell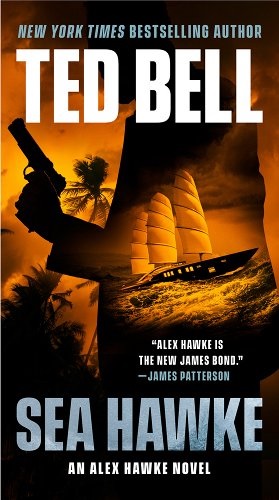 Author Theodore August Bell III--better known as Ted Bell--died on January 20 at age 76. He wrote several series: the Alex Hawke spy thrillers and the young adult adventure series Nick McGiver Adventures Through Time. Among his dozen Alex Hawke titles, Tsar dealt with the rise of the "New Russia," the return of the KGB and the new "Evil Empire"; Warlord revolved around a vendetta against the British royal family beginning with the 1979 murder of Lord Mountbatten; and Overkill dealt with Vladimir Putin and the kidnapping of Hawke's son.

Before becoming a writer, Bell had a career in advertising, which began in 1976 when he joined Doyle Dane Bernbach as a junior copywriter. He became the youngest v-p at the company before becoming creative director at Leo Burnett Co., where he was named president and chief creative officer in 1986, at age 40. In 1991, Hall joined Young & Rubicam, London, as vice chairman and worldwide creative director. After 10 years at the creative helm of Y&R, he retired in 2001 to write full time.

In 2011-2012, Sir Richard Dearlove, former chief of MI6, sponsored Bell to become a visiting scholar at Cambridge University. He was named writer-in-residence at Sydney-Sussex College, Cambridge. In 2013, Bell gave the inaugural lecture for the exhibit "Spy: The Secret World of Espionage" at the Reagan Library in California. Sea Hawke, the most recent Alex Hawke novel, is available in paperback from Berkley ($9.99).