Week of Friday, February 17, 2023
In this week's issue, we review Christopher Brean Murray's debut poetry collection, Black Observatory, winner of the 2021-22 Jake Adam York Prize--"its strikingly surreal imagery fashions situations by turns ridiculous and terrifying"; De'Shawn Charles Winslow takes readers back to West Mills in his "splendid" second novel, Decent People, a mystery in which "there's a lot more at stake than finding a murderer"; and Beth Lincoln's The Swifts, a "quippy and charming debut with beguiling illustrations" by Claire Powell. Plus so many more!
The Creative Life showcases a conversation between bestselling children's authors Grace Lin--winner of the 2022 Children's Literature Legacy Award--and Kate Messner, the illustration that inspired the seeds of a story, and the way their collaboration for Once Upon a Book unfolded.
The Best Books This Week
Fiction
In Zig Zag by J.D. O'Brien, a wry and raucous thriller, it's up to modern-day cowboy turned bail bondsman Harry Robatore to bring home the wayward son of a good friend who's skipped out on a court date.
Harry is "tumbleweeding" toward age 70. Still spry and up for most things his girlfriend might also be up for, his interest in life as a bail bondsman is waning. But when one of his closest friends, Fuzzy, turns to him for help keeping Ted, his ne'er-do-well son, out of jail for robbing a medical marijuana dispensary, Harry pulls on his boots and steps up to the challenge. A deal is made with Fuzzy to guarantee Fuzzy's bar for Ted's bail. The problem is Ted has no intention of showing up for his court date. Instead, Ted and his girlfriend, Capri, skip town with the cash and a huge quantity of Acapulco Gold marijuana taken from the dispensary safe. If Harry fails to catch Ted, Fuzzy will lose his bar and Ted will go to prison. Meanwhile, the dispensary owner sends a wannabe mercenary to retrieve their product--and bringing back Ted and Capri alive is optional. Harry and the mercenary are on a collision course, and it's inevitable someone will end up dead.
Droll humor swirls nicely with serious violence in this madcap adventure. O'Brien's bio mentions short pieces he has previously published--this is his debut novel--but the author comes off as a seasoned pro in Zig Zag. He serves up a mesmerizing story with a strong set of characters in this engrossing page-turner. --Paul Dinh-McCrillis, freelance reviewer
Schaffner Press, $26.99, hardcover, 301p., 9781639640133
Locust Lane
by Stephen Amidon
Stephen Amidon (The Real Justine; The Sublime Engine), who's written short story collections, nonfiction books and novels, delivers thrilling suspense and plenty of mystery in Locust Lane. It's a normal day in Emerson, Mass., and the parents of three high-school students don't worry when they're notified of the school's lockdown. However, in a town this size, the news of a young woman found dead quickly reaches the whole community. And with these three students last present at the crime scene, their families are pulled into the biggest town gossip of the decade. Each character, alternately narrating the events of the days following the murder, brings a new voice, new clues and new drama to the story. Parents and children unveil each other's worst vices, including misplaced loyalties, secret affairs and hushed connections to the crime scene.
The three teens connected to the crime don't provide a concrete story, especially given that drugs may be involved. However, as the kids slowly inform their parents about the events of the night in question, the timeline starts making sense. Meanwhile, the community finds an outsider to blame. The faults of the characters and the community as a whole expose lingering small-town racial and classist biases. The diverse ages and backgrounds of the narrators provide a breadth of perspectives as characters get closer to solving the mystery. This truly gripping novel, both a convoluted family drama and a suspenseful murder investigation, delivers intrigue and moral depth. --Clara Newton, freelance reviewer
Celadon, $28, hardcover, 320p., 9781250844231
Science Fiction & Fantasy
Tell Me I'm Worthless
by Alison Rumfitt
A haunted house acts as a physical embodiment of transphobia, racism and fascism in Tell Me I'm Worthless, the brutally dark debut from Alison Rumfitt. Alice is a transgender online sex worker whose life has been spiraling out of control since a night she spent in a haunted house three years ago with her friends Ila and Hannah. Alice and Ila have radically different memories of that night, although both remember a traumatic event taking place. Hannah never came out of the cursed house ("Hannah you are home, Hannah you are home," the house tells her, once she's inside); Ila has since become wildly transphobic; and Alice is struggling with the feeling of a malevolent presence in her house that sometimes takes the form of a racist pop star on a poster she only hung up to cover a mark on the wall. The two agree that in order to have any hope, they have to go back to confront the house and what happened to Hannah.
This is a raw, wrenching work of gothic horror that explores how fascism can metastasize, with a particular focus on its effects on marginalized communities in the United Kingdom. Readers who want to be aware of trigger warnings should definitely investigate before starting the novel: Rumfitt confronts an impressive range of potentially traumatizing subjects in a short work. Those who are up for engaging with the novel will be rewarded for the challenge and be eager to see more from this talented first-time author. --Kristen Allen-Vogel, information services librarian at Dayton Metro Library
Tor Nightfire, $17.99, paperback, 272p., 9781250866233
The Last Tale of the Flower Bride
by Roshani Chokshi
The Last Tale of the Flower Bride, Roshani Chokshi's first adult novel, is a dual-timeline gothic dripping with fairytale magic and twisted love. In the present, a man described only as the Bridegroom falls for Indigo, a mysterious woman with many secrets. In the past, the young Indigo befriends a girl named Azure, drawing her into her web as the two girls grow into womanhood. Indigo is a darkly charismatic character, skilled in the arts of manipulation and control. She makes Azure and the Bridegroom special by the closeness she allows them, even if she never truly lets them in. She, like Eros with Psyche, makes her new husband swear never to look at her or try to discover her secrets. Once they travel to Indigo's childhood home, the House of Dreams, he begins seeing a brother he never had--and the urge to pull back the veil grows irresistible.
Playing to classic gothic themes, Chokshi (Once More Upon a Time; The Gilded Wolves) constructs an opulent manor falling to ruin, complete with an aunt--Indigo's former guardian--haunted by ghosts unseen. The story is initially bewildering to readers, almost opaque in its structure and mystery. Chokshi wants readers as mystified as the Bridegroom and as entranced as Azure while she embraces the full range of darkness common in gothic fiction.
The Last Tale of the Flower Bride is as enthralling as Indigo herself: full of mystery and pain with enough flashes of light to enrapture and ensnare. Beautiful prose, complicated characters and terrible discoveries will captivate readers until the chilling end. --Suzanne Krohn, librarian and freelance reviewer
Morrow, $30, hardcover, 304p., 9780063206502
Emily Wilde's Encyclopaedia of Faeries
by Heather Fawcett
A prickly professor travels to a Scandinavian village to study the faerie but finds adventure instead in the whimsical, romantic fantasy Emily Wilde's Encyclopaedia of Faeries, the first adult novel from Canadian author Heather Fawcett (The School Between Winter and Fairyland; Even the Darkest Stars). Cambridge professor Emily Wilde has devoted herself to compiling a comprehensive encyclopaedia of all known species of faerie. She plans to spend her time in tiny, far-flung Hrafnsvik collecting stories about the local faerie folk from the townsfolk. She is soon joined by uninvited coworker Wendell Bambleby, "my dearest friend, which is only true in the sense that he is my sole friend." Emily is a brilliant and thorough researcher, but her indifference to social cues offends the locals, while handsome, lazy Bambleby charms them. As Emily gathers sources, she makes a deal with a brownie, becomes embroiled in the misfortunes of a family with a changeling child and sets a dangerous enchantment in motion when she finds a fairy tree. The mysteries pile up, but the greatest secret of all belongs to irritating, beguiling Bambleby, whose true motivation for following Emily will upend her life.
This funny, imaginative romp presents a fairy realm filled with wonder and delight, and Fawcett avoids making her subject too twee. The fairy creatures here display the blend of nonsensical logic and cruelty that is endemic to older, unsanitized folklore. Cantankerous, erudite Emily and devil-may-care, swoon-inducing Bambleby are an endearing example of opposites attracting. Here's hoping for more of their adventures. --Jaclyn Fulwood, blogger at Infinite Reads
Del Rey, $28, hardcover, 336p., 9780593500132
Just My Type
by Falon Ballard
Falon Ballard (Lease on Love) combines a second chance at true love with a comedic competition between exes in Just My Type, a captivating enemies-to-lovers romance. The novel follows Lana Parker and Seth Carson, high school sweethearts with a painful past. Twelve years after their breakup, Lana finds herself in one long-term relationship after another, and Seth is unable to settle down. Lana is not only single once again on the morning after an anticipated proposal of marriage from her current boyfriend; she is also regrettably hungover in her Friday work meeting. She writes for one of the trendiest websites in Los Angeles and never expects Seth, a freelance writer, to be the new hire walking through the door. Their meddling boss discovers their complicated history and pits them against each other in what Lana can only describe as a "masochistic How to Lose a Guy in 10 Days dating fucktastic challenge extravaganza": Lana is tasked with writing about staying single for a change, and Seth is to write about settling down and accepting commitment. The two create challenges that push the other toward personal growth and, unintentionally, toward each other, resulting in witty banter and resurfacing chemistry that is both amusing and endearing.
The novel explores the importance of self-care and healthy relationships, giving readers a glimpse into the pair's personal and professional obstacles and the communication, time and therapy used to overcome them. Lana and Seth are set up to go head to head, but their lingering affection may just leave them hand in hand. --Clara Newton, freelance reviewer
Putnam, $17, paperback, 368p., 9780593419939
Sweet Pea Summer
by Alys Murray
Readers can enjoy Sweet Pea Summer by Alys Murray (Small Town Secrets; The Magnolia Sisters), which features a visit to charming Hillsboro, Calif., as a standalone novel or as the second installment of the Full Bloom Farm series. May Anderson and Tom Riley were once high school sweethearts. When May decided to stay in Hillsboro the night of their high school graduation, instead of leaving with Tom as planned, he was heartbroken. His loneliness doesn't end when he returns and confronts the rumors that he was the one who broke May's heart. In a small community where everyone knows (and talks) about each other, the pair--who avoid each other as much as possible--find their past difficult to escape.
The Northwest Food and Wine Festival picks Hillsboro for the annual affair, and May and Tom unexpectedly find themselves organizing the town's biggest event of the year. Their irresistible chemistry resurfaces in the whirlwind of festival planning and creates a sweet second-chance romance. However, their reunion is riddled with obstacles. May, never correcting the assumption that Tom was to blame all those years ago, must decide if she can find the courage to risk her reputation and finally set the record straight; Tom must forgive her faults while also realizing his own. Murray crafts heartwarming moments of familial love and encouragement with a spirit of never giving up on true love. Sweet Pea Summer illuminates the importance of forgiveness and second chances as May and Tom find their way back to each other. --Clara Newton, freelance reviewer
Forever/Grand Central, $12.99, paperback, 272p., 9781538740453
Why You'll Never Find the One: And Why It Doesn't Matter
by Sarah Akinterinwa
Who knew that self-help and comics went together like the perfect couple? In Why You'll Never Find the One: And Why It Doesn't Matter, Sarah Akinterinwa, whose comic Oyin and Kojo runs in the New Yorker, offers basic dating advice born of her personal experiences as a straight Black millennial. Throughout the text, she brings these experiences to amusing and sometimes squirm-inducing life with her distinctive single- and multiple-panel autobiographical cartoons.
A self-described hopeless romantic (her book's title be damned), Akinterinwa has been on a lot of dodgy dates. There was the first date with a guy who expected sex ("You should have stated that on your profile!" she tells him; "I did!" he responds) and the bad date from which she escaped after running into an old crush at a restaurant where he was also on a dud date. Akinterinwa, in addition to spotlighting her romantic misfires, depicts friends and family members offering various levels of support, including half-hearted "wingwomen" and her mother, who unhelpfully reminds her that she's not getting any younger. Much of the book's running text reflects Akinterinwa's conviction that a prerequisite for finding love is treating oneself well. She devotes a chapter to enjoining readers to take themselves out on a date: "what's the harm in developing a relationship with yourself that reflects how you intend to be treated in a relationship?"
Why You'll Never Find the One has a few jargony hiccups, but Akinterinwa's pillowy, high-contrast black-and-white illustrations, not to mention her fighting romantic spirit, are all hers. --Nell Beram, author and freelance writer
Chronicle PA Press, $19.95, paperback, 176p., 9781797222530
Why Don't You Love Me?
by Paul B. Rainey
For some couples at an impasse, a trial separation is in order. In British cartoonist Paul B. Rainey's Why Don't You Love Me?, a rather ingenious graphic novel touched by science fiction but centered on the earthy realities of marriage, a parallel universe may be the solution. Mark and Claire Hopkins ceaselessly snap at each other and sleep in separate beds. As Why Don't You Love Me? opens, Mark is on sick leave from his job as a website manager; he's coping with "mental and emotional issues." Claire can top that: she's been diagnosed with clinical depression and is extravagantly medicated with both prescription drugs and alcohol, although she's not so medicated that she can't have an affair. And then something happens that changes everything. Well, not everything: Mark and Claire's new reality doesn't absolve them of the need to deal with each other. But as they consider, as Mark puts it, "our other selves from over there," their exchanges stir up--what's this?--emotions other than hostility.
Throughout Why Don't You Love Me?, Rainey's lines are clean and sure, his choices effectively bracing: Mark and Claire's frequently overlooked children tend to be depicted as only the tops of their heads, and Claire's face is occluded by hair or a black, cloud-like shadow when she's at her worst. Rainey (There's No Time Like the Present) may be working in the comics form, but he leaves readers with the impression that they've just consumed a full-blown novel set in an adrift couple's world(s). --Nell Beram, author and freelance writer
Drawn & Quarterly, $24.95, hardcover, 224p., 9781770466319
Spillane: King of Pulp Fiction
by James L Traylor and Max Allan Collins
Mickey Spillane (1918-2006), one of the top-selling pulp mystery writers, gets his first-ever biography with Spillane: King of Pulp Fiction, a splendid, intimate and well-researched achievement by Max Allan Collins and James L. Traylor. The two have previously cowritten books about Spillane, and Collins (Scarface and the Untouchable, with A. Brad Schwartz) co-authored/completed more than a dozen Spillane novels that were discovered and published posthumously. But this is the first full-length biography about the prolific author. For years, Spillane said he didn't want anyone writing his biography because he was going to write it himself. This book contains Spillane's entire autobiographical output--all 11 pages. (It ends in the middle of a sentence.)
Spillane gained national attention in 1947 when I, the Jury, his debut novel, introduced his violent private-eye-as-avenging-hero, Mike Hammer. The hardcover sold respectably, but the paperback sales were amazing. One book dealer reported selling 25,000 copies in one day. More Hammer novels were released from 1950-52 (including his only New York Times bestseller, Kiss Me, Deadly, and Vengeance Is Mine!, notable because it saves its surprise ending until the very last word). And then there was a decade of publishing silence. Collins and Traylor, polished writers and expert researchers, not only discover why Spillane refused to publish for a decade but also uncover his pseudonyms.
The two authors are strong and persuasive advocates of Spillane's novels. Few readers will be able to resist sampling Spillane's work after reading this engaging and definitive biography of the surprisingly affable tough-guy writer. --Kevin Howell, independent reviewer and marketing consultant
Mysterious Press, $26.95, hardcover, 400p., 9781613163795
The Bill of Obligations: The Ten Habits of Good Citizens
by Richard Haass
The Bill of Obligations: The Ten Habits of Good Citizens by Richard Haass presents a clear-eyed, nonpartisan solution to one of the greatest internal threats facing the fragile American democracy: the intractable political conflicts and lack of unity that are tearing apart the country. Haass contends that the very concept of citizenship needs to be revised if American political institutions are to endure. The Bill of Rights, enshrined in the U.S. Constitution, guarantees citizens civil liberties and privileges that, without a corresponding set of obligations, cannot sustain a successful democracy. Therefore, alongside a Bill of Rights, Haass proposes a "Bill of Obligations" that will require 10 civic-minded commitments of rights-holders.
Obligations to keep oneself informed, get involved and stay open to compromise are followed by the importance of maintaining civility and rejecting violence. Haass emphasizes that we must value norms, "the unwritten traditions, rules, customs, conventions, codes of conduct, and practices that reduce friction and brittleness in a society," and do our part to promote the common good. Respect for government service and support for the teaching of civics are followed by the profoundly character-building obligation to put country first.
Haass (The World: A Brief Introduction; A World in Disarray; Foreign Policy Begins at Home), a former diplomat, has served under Republican and Democratic administrations and is president of the Council on Foreign Relations. Written in concise, accessible language sure to appeal to readers across generational and political spectrums, The Bill of Obligations sets forth a compelling case for a revised concept of citizenship as the essential ingredient for a democracy that survives and flourishes. --Shahina Piyarali, reviewer
Penguin Press, $28, hardcover, 240p., 9780525560654
Wanting: Women Writing About Desire
by Margot Kahn and Kelly McMasters, editors
In Wanting, writer-editors Margot Kahn and Kelly McMasters have collected 33 deeply intimate and thoughtful essays by women writers on the range of what constitutes desire. In "Sex in the Suburbs," Angela Cardinale relays the yearning and loneliness of dating during the pandemic. In "An SUV Named Desire," Jennifer De Leon digs into her longtime goal of owning an SUV and its ties to her experience growing up in a working-class immigrant family. "Allergic" by Tara Conklin and "Splitting the World Open" by Lisa Taddeo take a more deconstructive view: exploring what it means to watch desire deplete itself or observing the destructive effects that desire and envy can have on compassion, respectively.
Wanting is at its best when it's demonstrating the wide scope of what desire can mean, what forms it can take and what its object might be. The styles here are wistful and tender one minute, razor-sharp and raw the next. The tendency for these stories to bend the rules of desire and to see it as a fluid, unpredictable and dynamic presence in life is perhaps most obvious in Elisa Albert's darkly funny and cutting "On Not Getting What I Wanted." Ostensibly about her struggles to get pregnant a second time, the essay soon morphs into a much more flexible metaphor for the persistence of wanting and wanting's uncanny bedfellow: consumption. "Wanting's a tricky bitch," Albert writes. "It waxes and wanes.... Wanting is like a weed; it self-sows." Wanting, in this collection, is not just a physical or emotional state; it's a complex cultural, economic and political state of being. --Alice Martin, freelance writer and editor
Catapult, $17.95, paperback, 352p., 9781646220113
Quantum Bullsh*t: How to Ruin Your Life with Advice from Quantum Physics
by Chris Ferrie
From Chris Ferrie (Where Did the Universe Come From?), a physicist and an associate professor at the University of Technology Sydney, comes Quantum Bullsh*t: How to Ruin Your Life with Advice from Quantum Physics, a precise, lighthearted and wiseacre tour through the discoveries and fundamental theoretical concepts undergirding classical and quantum physics. With plain-spoken language, colored with humorous profanity, and a minimal number of equations and esoteric terms, Ferrie's book opens doors in minds and provides a memorable grounding in a difficult topic, and makes readers much smarter by the last page than they were on the first.
Ferrie, while reveling in his love of science and the wonder of discovery, reserves stern critique for hucksters trading in pseudoscientific products with the word "quantum" in them, people who promise to perfect life in exchange for a little bit of money. He writes this book, in part, to displace their voices in the scientific conversation and to call out and scandalize their denigration of his vocation.
However, above all, it is Ferrie's mission to impart an appreciation of science not as a dogmatic system of rigid belief but as a set of habits of mind, founded upon continuous inquiry. Methodically--through persistent imagination, study, formulation, testing, reformulation, retesting, re-reformulation (all ad infinitum)--hard truths are rare but discoverable. Though the world may seem to be suffocating in "bullsh*t," which can and must be called out, Ferrie leads a joyful journey through incredible discoveries amidst a vast unknown. --Walker Minot, freelance writer and editor
Sourcebooks, $17.99, paperback, 224p., 9781728266053
Black Observatory
by Christopher Brean Murray
Black Observatory, the debut poetry collection from Houston-based Christopher Brean Murray, won the 2021-22 Jake Adam York Prize. Its strikingly surreal imagery fashions situations that are by turns ridiculous and terrifying. The opening poem, "A Welsh Scythe," relentlessly pairs nationalities and tools, reducing to absurdity jingoistic claims of superiority: "I wouldn't think/ of using a Norwegian adz/ or an Austrian sledge unless/ it was clear that a Welsh scythe/ was not available." The 18 couplets of "Hallucinated Landscapes" combine out-of-the-ordinary images with hypnotizing echoes: "Someone finds a spear on a dune at dawn./ …/ Two days drift like ammonia/ under the nostrils of an unconscious waif." Alliteration and assonance draw attention to unusual metaphors; sparse end rhymes bridge the stanzas. "Spartan Gavotte" abounds in strong plosives. Some poems stand out for the sound and word choice; others, for their plots. The speaker in the spooky "The Ghost Writer" occupies the house of a promising writer who died in a car accident. "Abandoned Settlement" spins a similarly frightening scenario, complete with a giant spider.
Much of the verse feels dreamlike--or nightmarish. The creepy White Sands Motel--in the poem of the same name--is empty of guests and inspires peculiar visions: "Last night I dreamt that a man/ was traversing a desert with a glass crutch." Thoughts can be light as clouds or so oppressive as to suffocate. The collection ends with the laugh-out-loud funny "Jaunt to Vermilion": "Recited a psalm outtake. Shook a maraca/ filled with teeth. Bit a lime." This collection is edgy fun for fans of such surrealist poets as Edward Lear and Caroline Bird. --
Rebecca Foster
, freelance reviewer, proofreader and blogger at
Bookish Beck
Milkweed Editions, $16, paperback, 88p., 9781639550265
The Creative Life
Grace Lin and Kate Messner: The Transformative Power of Stories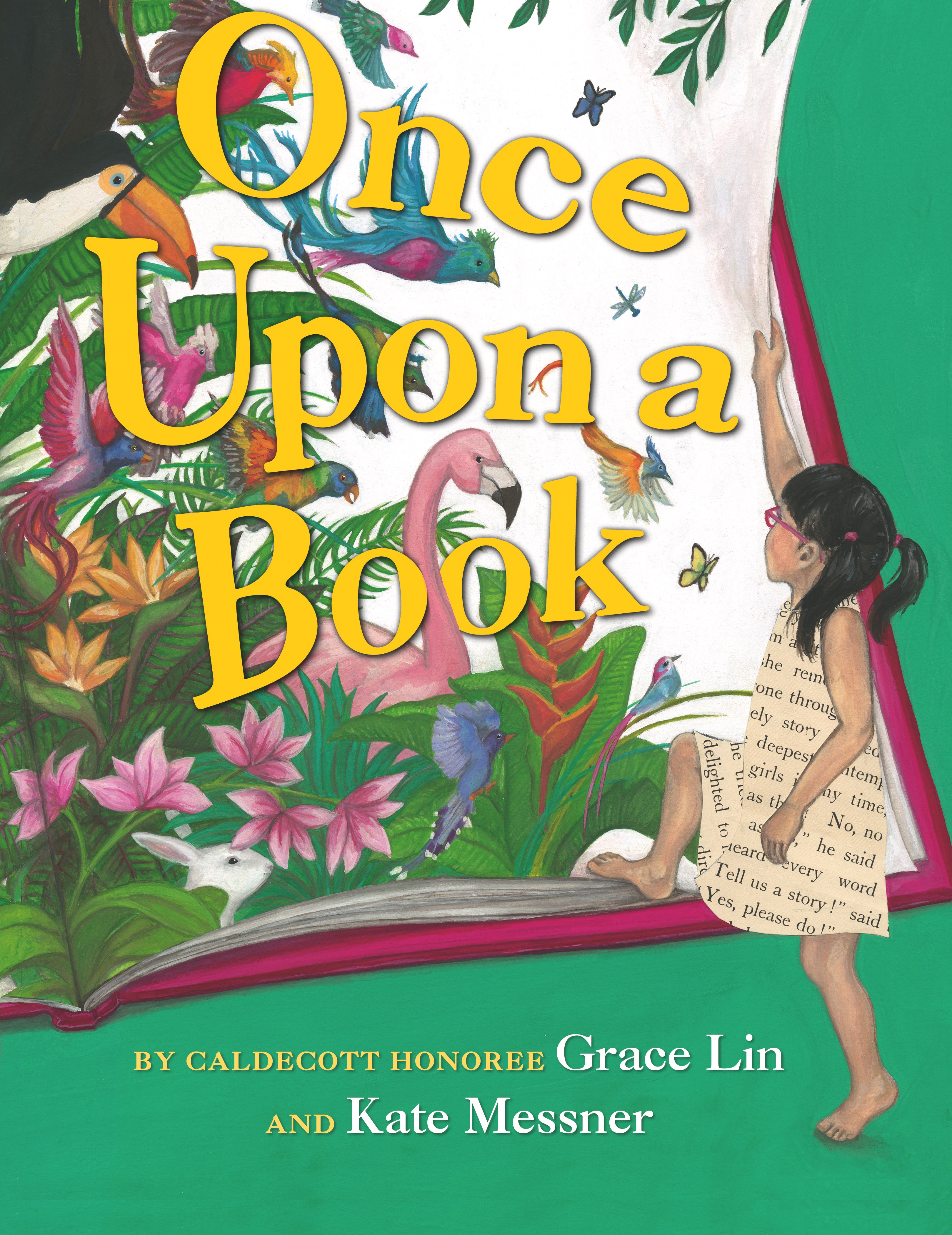 Grace Lin is the recipient of the Children's Literature Legacy Award and is the bestselling author and illustrator of more than 30 books, including A Big Mooncake for Little Star (a Caldecott Honoree); A Big Bed for Little Snow; Where the Mountain Meets the Moon (a Newbery Honoree); The Year of the Dog; and the Ling & Ting series.
Kate Messner is a New York Times bestselling author of more than 50 books for young readers. Her award-winning titles include the picture books Over and Under the Snow and The Brilliant Deep; novels Breakout and Chirp; nonfiction The Next President and the History Smashers series; the Ranger in Time adventures; and the Fergus and Zeke easy readers.
Their collaboration, Once Upon a Book (Little, Brown Books for Young Readers) is a "modern folktale" about the joy and transformative power of reading. Here, Lin and Messner tell us about the unusual and fascinating way this book developed.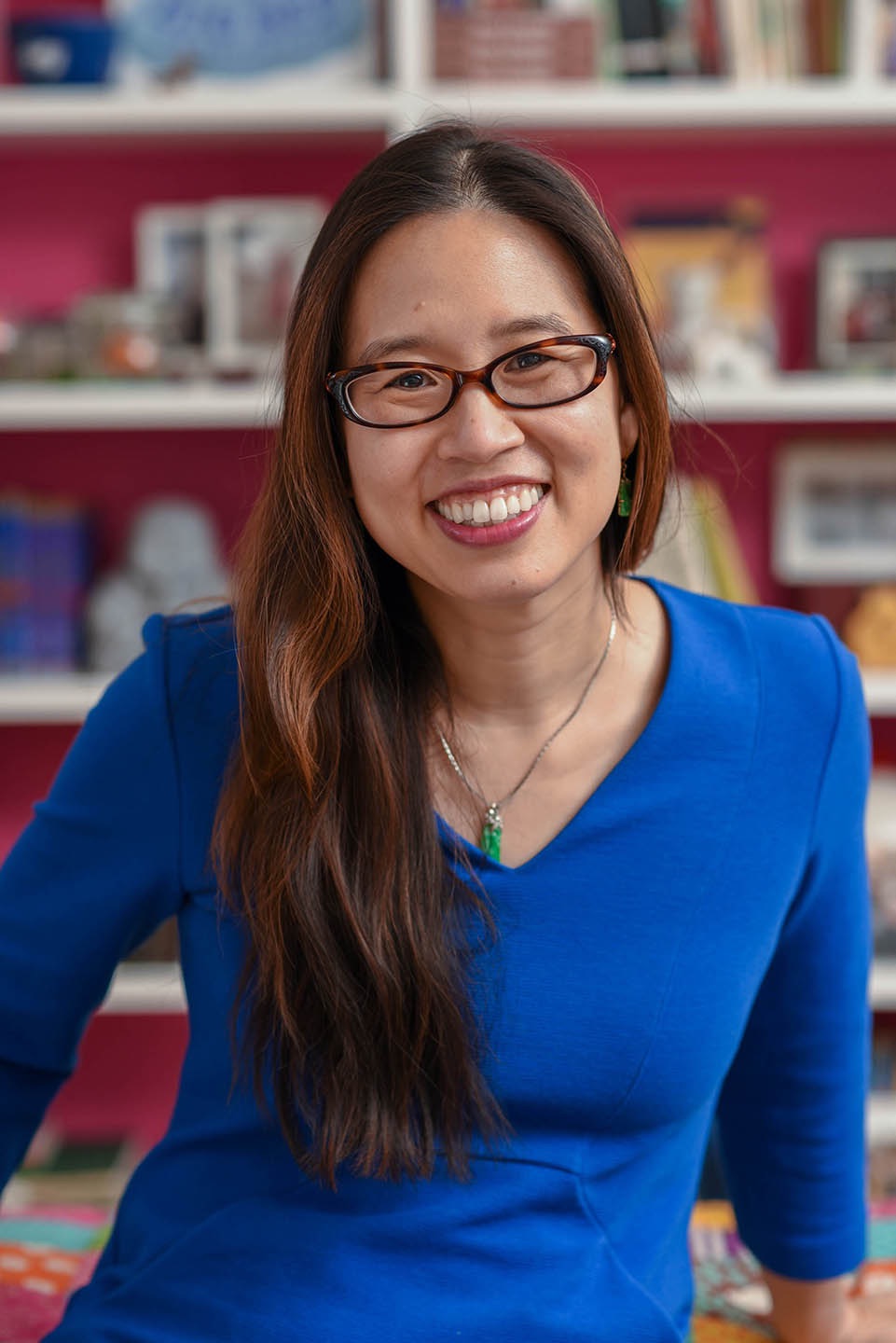 Grace Lin
(photo: Danielle Tait)
Grace Lin: Back in 2019, Children's Book Week was celebrating its 100th anniversary. As part of the celebration, Every Child a Reader decided to create a 12-artist collaborative poster, and I was SO honored that they asked me to be one of them! It's always been a dream of mine to do a Children's Book Week poster, so even though it was a bit of a squeeze to put it on the schedule I knew I had to do it.
It was also an opportunity to push my art in a direction I had been experimenting with. In A Big Mooncake for Little Star, I began using a "fadeway" style of art, where the character's figure is defined solely by the pattern of their clothing. (You can learn more about it here). Now, I wanted to see if I could make the fadeaway work even without the clothing pattern.
This felt particularly appropriate, as part of the assignment for the Book Week poster was to show a character reading. To me, reading is such an immersive experience--how many times do we "disappear" into a book?
So, using my daughter as my muse (as I often do), I painted an image of a girl walking while reading (something both my daughter and I are guilty of), "fading away" into her elaborate chinoiserie wallpaper--the exotic birds of her wallpaper just as interested in her book as she is. You can see it here.
And I have to say, when I was finished, I was really happy with it!
I definitely wanted to do more than this one image, but by then the deadline (I was writing Mulan: Before the Sword) that was breathing down my neck had come to roost, and I had no brainspace or time to delve deeper.
But I also couldn't bear to put it quietly away. So, as kind of an impulsive long shot act of creative desperation, I posted the image to a couple of writer's groups I belong to. "Anyone have an idea for a story to go along with this image?" I asked.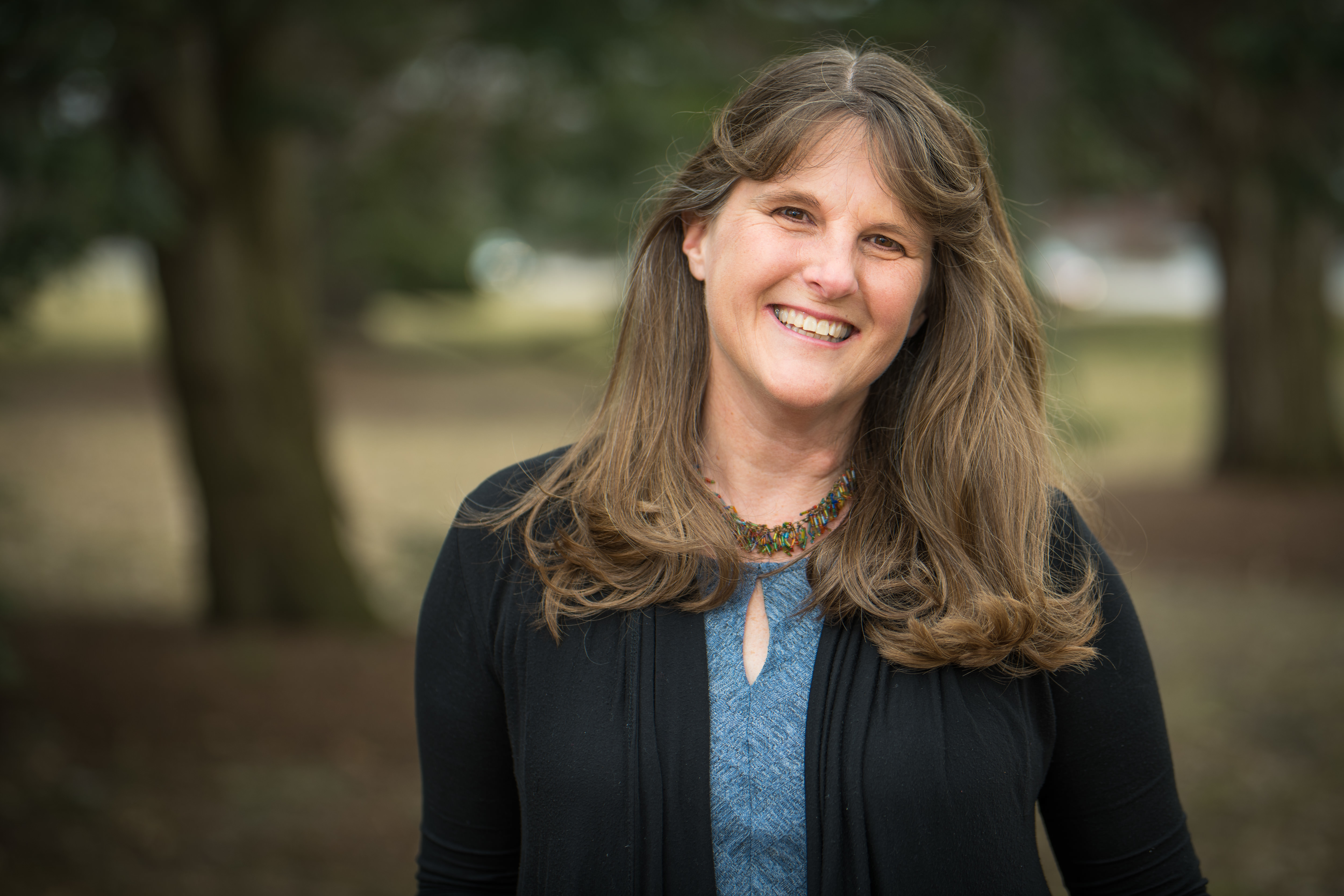 Kate Messner
(Andy Duback Photography)
Kate Messner: When I saw Grace's gorgeous art in my feed, my first thought was that I wanted to live in that painting. It was so inviting! I loved the lush green forest and the birds, and of course, the book caught my attention, too. I was busy that day--on deadline, like almost always--so at first, my only response was to post a quick comment ("This is stunning, Grace!!") and get back to work. But I couldn't stop thinking about Grace's art, and it wasn't long before an inkling of a story started following me around. I went back to the post and left a comment with a possible way into that magical world of the painting. I wrote:
"It was cold and snowing sideways but Mae was tired of boots.

So she pulled off her woolen socks and put on her most summery dress. She found the warmest, sunshiniest book on the shelf.

'Once upon a time, there was a girl,' she read to the wallpaper birds. 'A girl who wished for lush green forests where even the morning dew was warm.'

'That sounds like our forest,' said the bird reading over her shoulder. 'Come in...' "
Grace asked me to keep going but that flash of inspiration was short-lived! Over the next week, though, I worked my way through a very rough draft and sent it along to Grace.
Lin: I was so glad to see it! I read it and knew Kate had something great, but I wanted to add something more. I put her story on the back burner of my subconscious and sometime later--probably after I finished the novel--my brain said, "Make it like The Stonecutter!"
The Stonecutter is a very famous Asian folktale where a stonecutter is unhappy with his lot in life and wishes to be a rich man, so the gods make his wish come true. However, soon after, he is unhappy being a rich man and longs to be someone else. His wish is granted, but the Stonecutter soon yearns for more and more. While this does not seem to portend well for the Stonecutter, there's a happy ending, as he ends up where he started and is quite satisfied. To me, this idea, this theme of "what you truly want is what you actually already have" is the spirit of the book. Once I was able to grasp that, the story was like puzzle pieces coming together to me.
I made some light edits locking in that theme (it was already headed there anyway) and sent them to Kate. From there it was pretty collaborative.
Messner: Grace and I continued revising together in Google docs throughout the editing and illustration process, tweaking a line here, trimming a line there to balance text with art, and making sure this story would sweep readers up in the world of our book the same way our protagonist disappears into her own story. So often, people get the idea that picture books are easier than novels because they're shorter, but if anything, it's the opposite. The economy of language is more like writing poetry, and every word matters so much.
It was magical to see this book come together. I've always adored Grace's illustrations, and I'd fallen in love with this piece in particular, so it was a joy to work with her. I love the way Once Upon a Book turned out. Grace's illustrative style manages to feel classic and utterly fresh at the same time.
I honestly can't imagine spending the months between 2019 and 2023 working on a timelier story. Not long after this project sold to Little, Brown Books for Young Readers, the Covid-19 pandemic was well underway, and we were all feeling that sense of confinement and restlessness that our character feels in the book. Have we ever needed stories in our lives more than we did during these years? Our beloved books were our escape from the lockdown, from the drudgery and fear of those early days of the pandemic. It felt like such a gift to spend those months working on a project that honors the transformative power of stories.
Rediscover
Rediscover: David Harris
David Harris, the activist and journalist "who in the late 1960s became a national figure for encouraging young men to resist being drafted to serve in the Vietnam War, and who went to jail after refusing the draft himself," died February 6 at age 76, the New York Times reported. When Harris was drafted in 1968, he refused to report for induction and was almost immediately indicted by federal authorities. He was convicted in 1969, sentenced to three years in federal prison, and served 20 months.

Harris eventually wrote a letter to Jann Wenner, the publisher of Rolling Stone magazine, offering to sell him a series of antiwar essays. Wenner suggested instead a profile of Ron Kovic, a Marine whose battlefield injuries in Vietnam had left him unable to use his legs, and who went on to be a prominent antiwar activist. The article, "Ask a Marine," ran in 1973 and launched Harris's second career as a magazine journalist and author. He spent the next five years writing for Rolling Stone and in 1978 became a contributing writer for the New York Times Magazine. A decade later, he left the magazine to write books full time. Kovic would later write his own autobiography, Born on the Fourth of July.

Harris published several investigative books about sports, politics and the environment, including I Shoulda Been Home Yesterday: Twenty Months In Prison for Not Killing Anybody (1976); The Last Stand: the War Between Wall Street and Main Street Over California's Ancient Redwoods (1996); Our War: What We Did in Vietnam and What It Did to Us (1996); and, most recently, My Country 'Tis of Thee: Reporting, Sallies and Other Confessions (2020).